Baltimore Takes Down Its Confederate Monuments
The city removed them less than a week after violent protests broke out in Charlottesville, Virginia, over a statue of Robert E. Lee.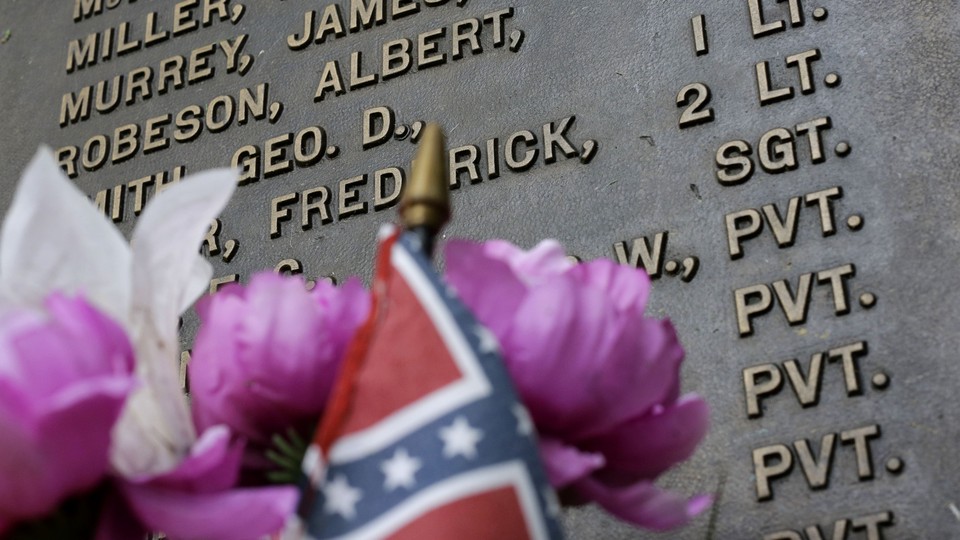 The city of Baltimore took down four Confederate monuments overnight, less than a week after white nationalists rallied in Charlottesville, Virginia, in support of a monument to Robert E. Lee. "They needed to come down," the city's Democratic mayor, Catherine Pugh, said on Wednesday morning. "We moved as quickly as we could."
In the wake of Charlottesville, where the weekend's demonstrations and counter-protests led to deadly violence, a contentious debate over Confederate symbols is once again playing out across the United States. The Democratic mayor of Lexington, Kentucky, said on Saturday that he would work to "relocate" Confederate statues, though the state's Republican governor argued on Tuesday that removing monuments would amount to a "sanitization of history." In Durham, North Carolina, on Monday, protesters toppled a statue honoring "the boys who wore the gray," an act that has already led to one arrest.
The decision to extract Baltimore's monuments during the night, and with relatively little fanfare, was reportedly motivated by city officials' desire to avoid public clashes.
"I'm proud that the city moved so quickly," said Kwame Rose, a local activist who gained national prominence during protests over the death of Freddie Gray in Baltimore police custody in 2015. "I think it stands to show that Baltimore will come to be one of those cities—even after having had so much negative press in the past—that becomes a guiding light," he told me. Other cities, he noted, have "dragged their feet."
The Baltimore monuments' removal began hours after President Trump questioned the rationale for taking Confederate monuments down. "So this week, it is Robert E. Lee," he said at a press conference. "I wonder, is it George Washington next week? And is it Thomas Jefferson the week after? You know, you really do have to ask yourself, where does it stop?" The president's comments drew criticism from historians who pointed out that Washington and Jefferson played a foundational role in establishing the United States, while Lee was a Confederate general who fought against the Union.
In response to the weekend's events in Charlottesville, the Baltimore City Council voted on Monday in support of removing the monuments. According to The Baltimore Sun, the process began Tuesday evening just before midnight local time and ended at 5:30 a.m. on Wednesday morning. Crews dismantled the Confederate Soldiers and Sailors and the Confederate Women's monuments, as well as statues honoring Lee, Stonewall Jackson, and the Supreme Court justice Roger B. Taney. As the Sun explained, while "the Taney statue makes no overt references to the Confederacy … Taney's authorship of the Dred Scott decision, which ruled that Congress couldn't regulate slavery and that blacks weren't citizens, has caused him to be linked with the Confederate cause."
Though the Baltimore monuments are now gone, there are others throughout Maryland, which was a slave-holding state until 1864. Political pressure to take them down shows little sign of letting up. In 2015, the shooting of black churchgoers in Charleston, South Carolina, sparked widespread debate over Confederate flag imagery. At the time, Maryland's Republican Governor Larry Hogan pushed back against the idea of widespread removal of rebel symbols. "Where do we draw the line?" he said that July, a message similar to Trump's remarks on Tuesday.
This week, however, Hogan expressed support for removing a statue of Taney from the grounds of the state house in Annapolis. The governor faces pressure, though, to take further steps. One of his early opponents in the 2018 gubernatorial race, Democratic candidate and former head of the NAACP Ben Jealous, said in a statement Wednesday that Hogan should now work to "pull our state together around removing all Confederate monuments from every part of our state."