Can Democrats Gain Ground in Deep-Red Alabama?
A crowded field of candidates is vying for the Senate seat vacated by Jeff Sessions, despite extremely long odds.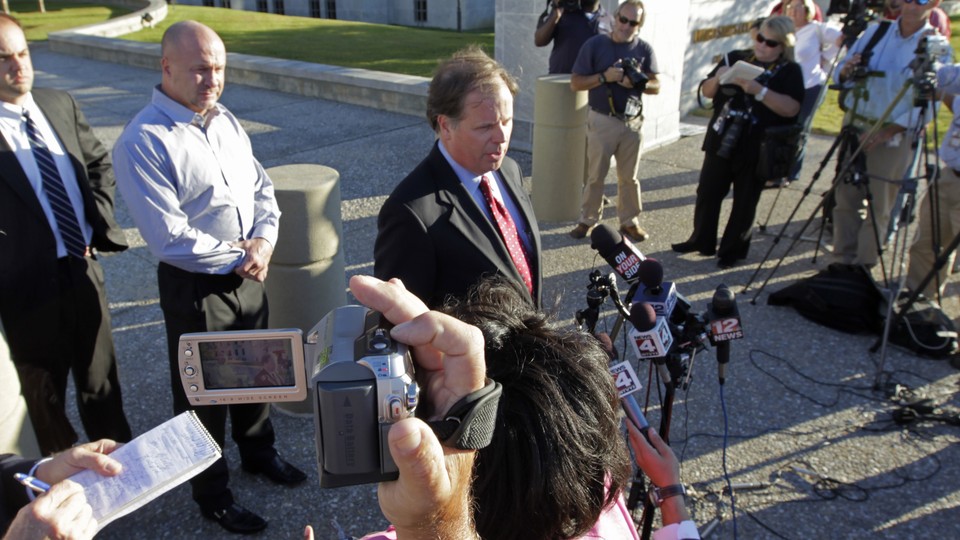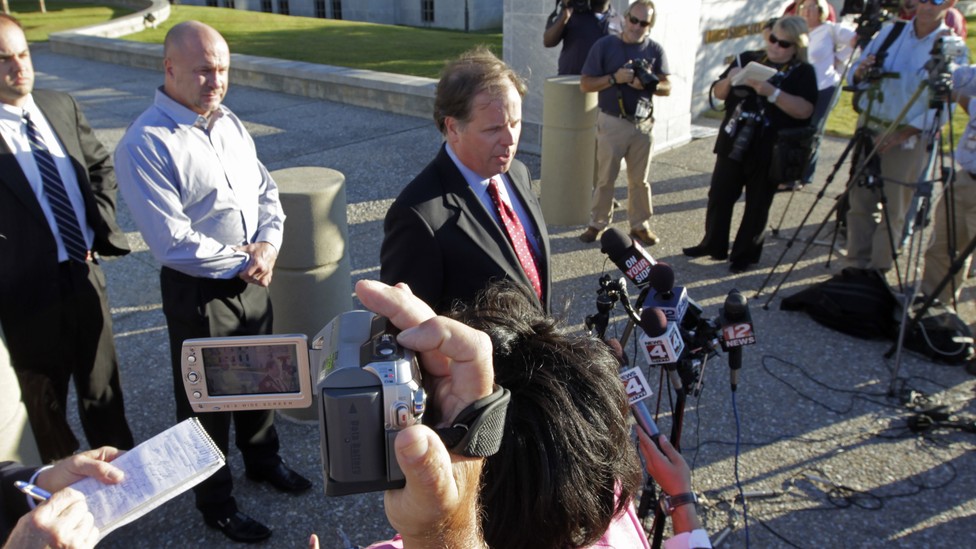 Doug Jones, a former federal prosecutor running for the Democratic nomination in Tuesday's special election primary for U.S. Senate in Alabama, sounds confident he can win in a state that hasn't sent a Democrat to the Senate in over two decades.
"The Trump administration has not only galvanized a lot of people out there who are truly opposed to a lot of [his] policies, but it's also caused a lot of hesitation and second guessing on the part of a number of people who say, 'we just really need that backstop, we need the checks and balances,'" Jones said in an interview. "That's what we're seeing."
Tuesday's primaries will decide which Republican and Democratic candidates face off in December's general election to fill the seat vacated by Attorney General Jeff Sessions. If no candidate earns a majority of the vote, the top two vote getters advance to a run-off in September.
Although a majority of Americans disapprove of the president nationwide, in Alabama, the opposite is true. A majority approve of the job Trump is doing. That's why Republican candidate former Alabama Attorney General Luther Strange, who was temporarily appointed to fill the open Senate seat, U.S. Representative Mo Brooks, and former Alabama Chief Justice Roy Moore are trying to one-up each other in proving who is more loyal to the president.
Trump's enduring popularity in the state makes it unlikely that a critical mass of Republicans will peel away from their party to vote for a Democrat in December's general election. That's part of the reason the Alabama Democratic primary has received far less national attention than other races for seats vacated by lawmakers who went on to serve in the Trump administration. Still, special election outcomes are hard to predict, and it's not out of the question that the Trump administration could energize Alabama Democrats.
"I think it's going to be a very interesting test of how deep the Trump opposition runs," said Richard Fording, a political science professor at the University of Alabama. "I have to think that the general election will be a low turnout election, and although Republicans outnumber Democrats by about 2-1 in this state, I would guess that Democratic voters are about twice as motivated to vote in this election as the Republicans to protest the Trump presidency. We could see something like we saw in Georgia—a closer than expected result but Republicans winning in the end."
Tuesday's special election primary offers a window into the messages Democrats are testing out in the hopes of gaining ground in a deep red state, even if winning outright isn't an expected outcome.
Jones, who is known for prosecuting members of the Ku Klux Klan for the 1963 bombing of a black baptist church in Birmingham, is viewed as the Democratic front-runner. That's in part due to institutional advantages like a string of high-profile endorsements from former Vice President Joe Biden,  Democratic Representative and civil rights icon John Lewis, and Alabama's only Democratic Representative Terri Sewell. An Emerson College poll earlier this month showed Jones leading in the Democratic primary field with 40 percent of the vote.
In an interview, Jones resisted questions as to whether he considers himself to be liberal, moderate, or conservative. "I don't engage in that. I think those labels are completely meaningless these days," he said, telling me he wants to focus on "kitchen table" issues like healthcare, jobs, and the economy.
His campaign website calls for a "living wage," without specifying what the minimum wage should be, and  "supporting the growth of small and mid-sized business" in part by streamlining regulations,  a pitch that might appeal to a conservative crowd. He added during the interview, however, that "we have got to have more dialogues in this country about race," saying that what happened in "Charlottesville [Virginia] has to be a wakeup call for people of conscience, for people to understand we cannot let white supremacy continue to divide us."
The few public polls conducted in the special election show a Democratic candidate named Robert Kennedy Jr.  running either in second place to Jones or beating him. AL.com reported that Alabama Democrats were unfamiliar with Kennedy when he entered the race. And despite having no relation to the famous political family, the candidate may be benefitting in polling from the name ID all the same. The Kennedy campaign did not respond to requests for an interview. His website tagline describes him as a former Naval officer and a "fiscally responsible Democrat who leads with FAITH."
A handful of other Democratic candidates will compete in Tuesday's primary, despite not having gained much traction in public polls, including Will Boyd, who unsuccessfully challenged Mo Brooks for his House seat in 2016, and Michael Hansen, a candidate who describes himself as a "progressive Democrat."
Hansen, who is running as an openly gay candidate, argued in an interview that if Democrats want to regain a foothold in Alabama, the party should stop running to the political center, and not be afraid to support liberal agenda items like universal healthcare and a $15 dollar minimum wage, both of which he backs in his campaign.
"I think if we had the guts as progressives to take a stand and talk about Medicare-for-All and how it would improve the system, then we would move the needle quickly," Hansen said. He was unsparing in his assessment of how weak the Democratic Party is in the state. "I'll put it this way: Democrats in Alabama are losing badly across the board."
But Hansen worries that Alabama Democrats won't embrace a progressive agenda out of fear they'll face criticism in the red state. He added that he's been surprised at the resistance to his candidacy from the state's established Democratic political network.
"Politics is a lot dirtier than I thought," Hansen said, claiming that he faced pressure from political allies of Doug Jones to drop out of the race. "I like Doug quite a bit, and I think this was without his knowledge," Hansen said, but he added "there was this narrative that it wasn't my turn, and I need to wait my turn." When I asked if he believes the state Democratic Party has remained neutral, Hansen said: "I'll bite my tongue."
For his part, Jones told me "we've certainly not been pushing back," against other Democratic candidates in the race. Nancy Worley, the chair of the state Democratic Party, told me that "the state party has gone out of its way to be neutral in this primary," adding that she's "taken a world of flack, quite frankly, as the chair for not endorsing a candidate."
Still, the accusations hint at the kind of tensions that Democrats across the country are confronting as different factions within the party compete to push their agenda to the front-and-center of national politics.
The Democratic candidate that prevails in the primary could help set the tone for future candidates running on the party ticket in the state. If the general election ends up as a competitive race, that alone would be a remarkable achievement for a party that has long been sidelined in Alabama.