Strange and Moore Advance to Runoff in Alabama Special Election
The Republican race tested the power of President Trump's endorsement.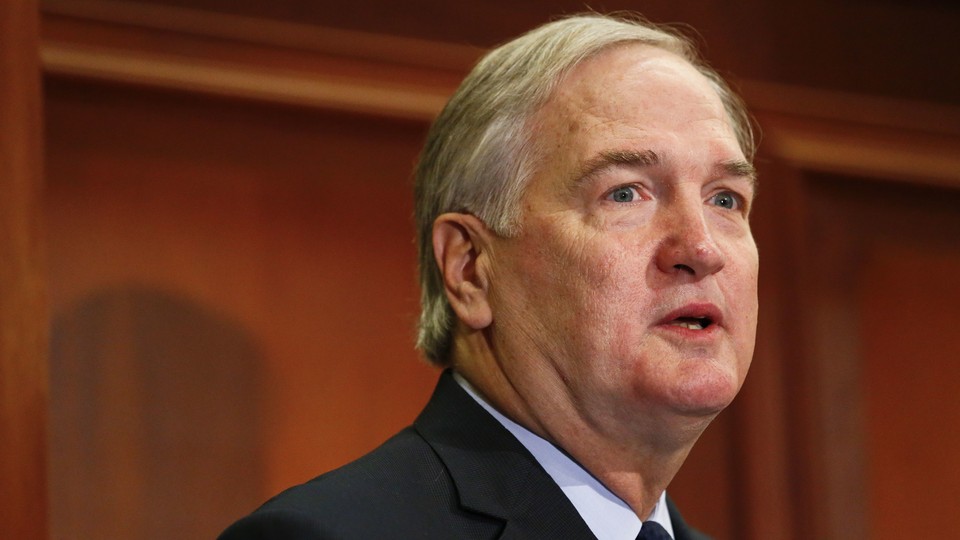 The results of the Alabama U.S. Senate special election primaries are in. In the Republican primary, former Alabama attorney general Luther Strange and former Alabama Chief Justice Roy Moore will advance to a runoff election in September after none of the GOP candidates won a majority of the vote. Whoever wins the runoff will face off against Democrat Doug Jones, who won the Democratic primary outright on Tuesday night.
Political observers predict that whoever wins the GOP primary in the deeply conservative state will ultimately win the general election, so the Republican race is seen as the more important contest. Strange won 32.5 percent of the vote to Moore's 40.1 percent of the vote as of 10:06 p.m. ET, not long after the Associated Press projected that the two Republicans would advance to a runoff.
Republican primary results:
​
Democratic primary results:
During the primary campaign leading up to Tuesday night's vote, Moore, Strange and Republican Representative Mo Brooks, another GOP candidate in the race, all rushed to embrace President Trump, a sign of the enduring popularity of the president in Alabama. Only one, however, won Trump's endorsement. The president has tweeted his support of Strange, who was temporarily appointed to fill Sessions' Senate seat by then-Alabama Governor Robert Bentley in February. Strange has also benefitted from advertising from political groups allied with Senate Majority Leader Mitch McConnell.
The primary stood as a test the power and influence of Trump's endorsement in a Republican primary. But even with Trump's help, Strange wasn't a clear-cut favorite to win. Moore fared better than Strange in most of the available public polling ahead of the vote, with Brooks in a close third place. My colleague Molly Ball recently traveled to Alabama to report on the Republican race.
On the Democratic side, former federal prosecutor Doug Jones started off as the establishment favorite with endorsements from former Vice President Joe Biden and civil rights icon and Democratic Representative John Lewis. Jones made a name for himself prosecuting KKK members for the 1963 bombing of a black church in Birmingham. Some polling ahead of the primary on Tuesday showed him leading the Democratic field. When I spoke to Jones earlier this week, he refused to define himself as either a liberal, moderate or conservative Democrat. He has talked about the importance of "kitchen table" issues like jobs, the economy and healthcare.
The wildcard in the Democratic race, however, was a man that AL.com labeled a "mystery candidate." Robert Kennedy Jr. is a virtually unknown political entity in the state, but some polls had showed him beating out Jones all the same ahead of the primary. That may be because of his famous last name, though he is not actually related to the Kennedy political family. Kennedy Jr. describes himself, via his website, as a "fiscally responsible Democrat."