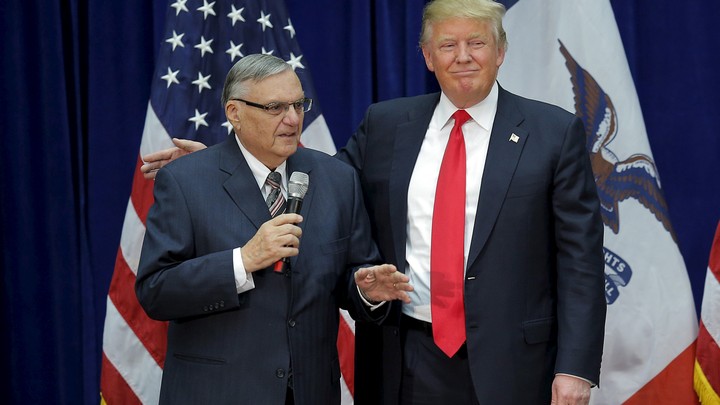 The pardon that Donald Trump granted Joe Arpaio, the former sheriff of Maricopa County, Arizona, sends this message to American law enforcement: if you violate the civil rights of Latinos while enforcing immigration law, the president of the United States approves—and even if you're one of the vanishingly few sheriffs or police chiefs that the Department of Justice charges with a crime, he'll intervene to spare you.
The pardon is thus a slap in the face to Latinos, and ought to be an affront to all fair-minded Americans who value the Constitution, the rule of law, and the legitimacy of the system.
For American citizens who look Mexican, or Guatemalan, or El Salvadoran, or Columbian, the pardon creates new vulnerability to racial profiling and other violations of the 14th Amendment right to equal protection of the law. Should outrage over the matter fade, Republicans will keep pandering to anti-immigrant voters by abetting rights violations against Latinos, knowing they won't pay an electoral price.
A backlash would not be without precedent. The whole trajectory of California politics changed after the passage of Proposition 187, a Republican-backed ballot initiative to deny state services to illegal immigrants that passed in 1994 with 59 percent of the vote, but turned the state's fastest growing constituency, who took it as an insult, against the GOP for a generation (and counting). Will Trump's political gamble fare better?
The most likely place for a backlash is Arizona, where Mitt Romney beat Barack Obama by 9 points and Donald Trump beat Hillary Clinton by four points.  In America as a whole, Sheriff Arpaio is a figure in the culture wars best known for putting prison inmates in pink underwear and insisting Obama was a secret foreigner. In Arizona, where voters only recently turned him out of office after tiring of his actions, his record is better known. I summarized its low points in 2012:
"Sheriff Joe Arpaio's Phoenix-based department repeatedly arrested Latinos illegally, abused them in the county jails and failed to investigate hundreds of sexual assaults, the Justice Department charged after a three-year civil rights investigation," the Los Angeles Times reported. The investigation found "432 cases of sexual assault and child molestation, often involving Latinos, that were not properly investigated over a three-year period." Additionally, "one Latino was intentionally hit by a patrol car and dragged, with instructions for other deputies to 'leave him there ... A Latino motorist was incarcerated for 13 days for not using his turn signal. Emails written by deputies caricatured Mexicans as being from 'Mexifornia,' and deputies derided Latino inmates as 'wetbacks,' 'Mexican bitches,' 'stupid Mexicans' and other epithets."(The Los Angeles Times)
"Maricopa County Sheriff's officials misspent $99.5 million in restricted jail funds over the last eight years ... discrepancies existed for years between sheriff's employees' actual duties and the duties reported in county payroll records." (The Arizona Republic)
"A federal judge has sided with inmates' claims that conditions in Maricopa County jails continue to violate their constitutional rights." (The Arizona Republic)
"The Maricopa County Sheriff's Office failed to adequately investigate more than 400 sex-crime cases, including dozens in El Mirage, over a two-year period because of poor oversight and former Chief Deputy David Hendershott's desire to protect a key investigator from bad publicity, according to documents pertaining to a recent internal investigation released by the Sheriff's Office." (The Arizona Republic)
"A federal investigation found that deputies had used stun guns on prisoners already strapped into a 'restraint chair.' The family of one man who died after being forced into the restraint chair was awarded more than six million dollars as the result of a suit... The family of another man killed in the restraint chair got $8.25 million in a pre-trial settlement. (This deal was reached after the discovery of a surveillance video that showed fourteen guards beating, shocking, and suffocating the prisoner, and after the sheriff's office was accused of discarding evidence, including the crushed larynx of the deceased.) To date, lawsuits brought against Arpaio's office have cost Maricopa County taxpayers forty-three million dollars, according to some estimates. But the Sheriff has never acknowledged any wrongdoing in his jails, never apologized to victims or their families. In fact, many of the officers involved have been promoted." (The New Yorker)
"The Phoenix New Times ran an investigation of Arpaio's real-estate dealings that included Arpaio's home address, which he argued was possibly a violation of state law. When the paper revealed that it had received an impossibly broad subpoena, demanding, among other things, the Internet records of all visitors to its Web site in the previous two and a half years, sheriff's deputies staged late-night raids on the homes of Michael Lacey and James Larkin, executives of Village Voice Media, which owns the New Times. The deputies arrested both men for, they said, violating grand-jury secrecy. The county attorney declined to prosecute, and it turned out that the subpoenas were issued unlawfully." (The New Yorker)
On numerous occasions Arpaio put political opponents in his cross-hairs, eventually prompting an FBI investigation that began in the last days of the Bush Administration.
That was a highly abridged account of Sheriff Arpaio's misdeeds. But it gives a sense of the man that Trump pardoned––a man every bit as cruel, immoral, and flagrant in his disregard for the rule of law and basic standards of propriety as Trump himself.
Congratulations to @RealSheriffJoe on his successful Cold Case Posse investigation which claims @BarackObama's 'birth certificate' is fake

— Donald J. Trump (@realDonaldTrump) July 18, 2012
Trump gave the sheriff's record in law enforcement as a reason for the pardon. Here's how a Phoenix newspaper summed up that record when the pardon was announced:
We've been covering Joe Arpaio for more than 20 years. Here's a couple of things you should know about him. He ran a jail that he described as a "concentration camp." Prisoners there died at an alarming rate, often without explanation. One of his jailers nearly broke the neck of a paraplegic guy who had the temerity to ask for a catheter. One time, as a publicity stunt, he marched Latino prisoners into a segregated area with electric fencing. Here's a couple of other examples of what went on in his jails.

He ran an ongoing "mugshot of the day" contest on the Maricopa County Sheriff's Office website. He arrested New Times reporters for covering him. We won a $3.75 million settlement for that one. Under him, the MCSO failed to investigate hundreds of sex abuse cases, many of which involved children. But he somehow found time and money to send a deputy to Hawaii to look for Barack Obama's birth certificate. Oh, and one time he staged an assassination attempt against himself? That was weird.

In 2013, a federal judge confirmed what literally everyone in Phoenix knew: he'd been racially profiling Latinos. So naturally, he hired a PI to investigate the judge and his wife. He also kept on profiling people, which is why he got charged with contempt of court (and was found to be guilty. He also tried to destroy some of the hard drives containing material that was supposed to be turned over the court. By 2015, his fondness for racial profiling had cost the county more $44 million. On top of, you know, ruining lives. He also paid millions to settle lawsuits like this one, where deputies stood by as an inmate was brutally beaten. Because this is the Old West or something, he had a "Sheriff's Posse." One member got arrested on child porn charges. His office was responsible for countless fiascos like this botched SWAT raid, where deputies set a puppy on fire.
Trump's decision is unforgivable. The president is a corrupt person with a perverted sense of justice, and he pardoned a corrupt sheriff who backed his political rise, beginning with a racist campaign to insinuate that Obama was a foreigner. They deserve one another, but Americans deserve better than either of them.
If the Latinos who are threatened by this action and the decent people of all races and ethnic groups who are offended by it hold it against Republicans who support the Arpaio pardon or stay silent, the GOP will deserve every last election and vote that they lose, having flagrantly failed to stand up for the creed of liberty and justice for all.
We want to hear what you think about this article. Submit a letter to the editor or write to letters@theatlantic.com.
Conor Friedersdorf
is a California-based staff writer at
The Atlantic,
where he focuses on politics and national affairs. He is the founding editor of
The Best of Journalism
, a newsletter devoted to exceptional nonfiction.