The Arpaio Pardon Is a Flagrant Assault on Civil Rights
President Trump's pardon of the Arizona sheriff sent a signal to law enforcement that there will be no consequences for violating the Constitution when pursuing people of one ethnicity. Will voters stand for that?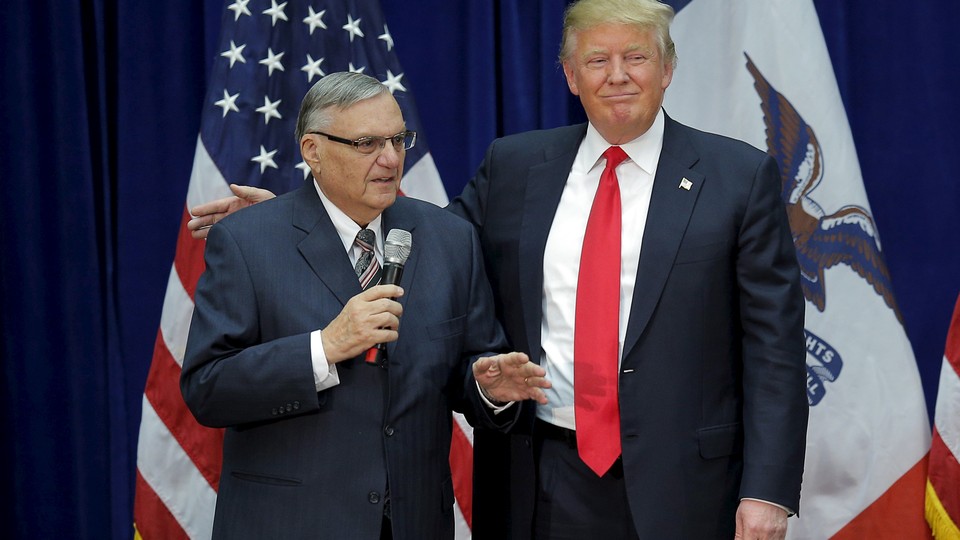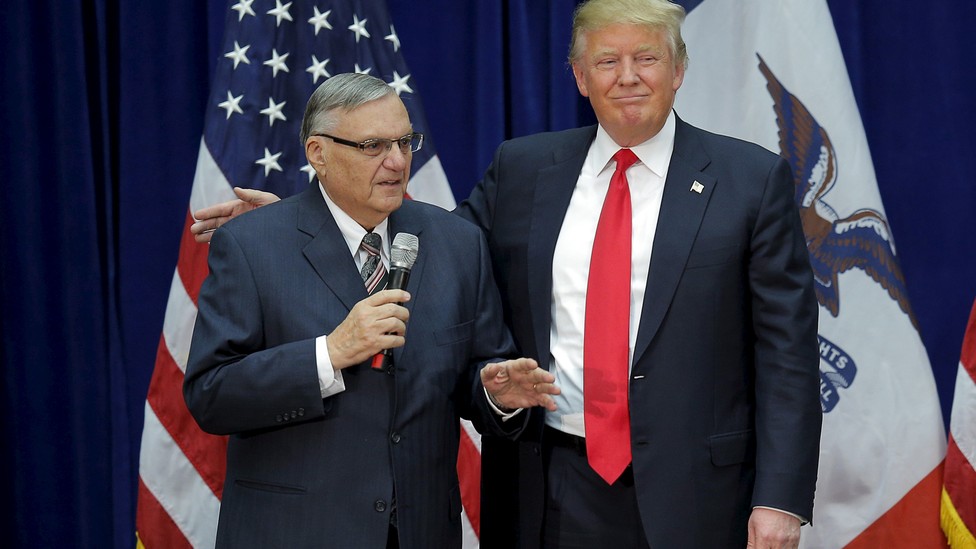 The pardon that Donald Trump granted Joe Arpaio, the former sheriff of Maricopa County, Arizona, sends this message to American law enforcement: if you violate the civil rights of Latinos while enforcing immigration law, the president of the United States approves—and even if you're one of the vanishingly few sheriffs or police chiefs that the Department of Justice charges with a crime, he'll intervene to spare you.
The pardon is thus a slap in the face to Latinos, and ought to be an affront to all fair-minded Americans who value the Constitution, the rule of law, and the legitimacy of the system.
For American citizens who look Mexican, or Guatemalan, or El Salvadoran, or Columbian, the pardon creates new vulnerability to racial profiling and other violations of the 14th Amendment right to equal protection of the law. Should outrage over the matter fade, Republicans will keep pandering to anti-immigrant voters by abetting rights violations against Latinos, knowing they won't pay an electoral price.
A backlash would not be without precedent. The whole trajectory of California politics changed after the passage of Proposition 187, a Republican-backed ballot initiative to deny state services to illegal immigrants that passed in 1994 with 59 percent of the vote, but turned the state's fastest growing constituency, who took it as an insult, against the GOP for a generation (and counting). Will Trump's political gamble fare better?
The most likely place for a backlash is Arizona, where Mitt Romney beat Barack Obama by 9 points and Donald Trump beat Hillary Clinton by four points.  In America as a whole, Sheriff Arpaio is a figure in the culture wars best known for putting prison inmates in pink underwear and insisting Obama was a secret foreigner. In Arizona, where voters only recently turned him out of office after tiring of his actions, his record is better known. I summarized its low points in 2012:
That was a highly abridged account of Sheriff Arpaio's misdeeds. But it gives a sense of the man that Trump pardoned––a man every bit as cruel, immoral, and flagrant in his disregard for the rule of law and basic standards of propriety as Trump himself.
Trump gave the sheriff's record in law enforcement as a reason for the pardon. Here's how a Phoenix newspaper summed up that record when the pardon was announced:
Trump's decision is unforgivable. The president is a corrupt person with a perverted sense of justice, and he pardoned a corrupt sheriff who backed his political rise, beginning with a racist campaign to insinuate that Obama was a foreigner. They deserve one another, but Americans deserve better than either of them.
If the Latinos who are threatened by this action and the decent people of all races and ethnic groups who are offended by it hold it against Republicans who support the Arpaio pardon or stay silent, the GOP will deserve every last election and vote that they lose, having flagrantly failed to stand up for the creed of liberty and justice for all.