Why the Senate Health-Care Bill Might Never Get a Final Vote
Two Republican critics of Mitch McConnell's proposal are vowing to block it from even coming to the floor. One more opponent, and it's dead.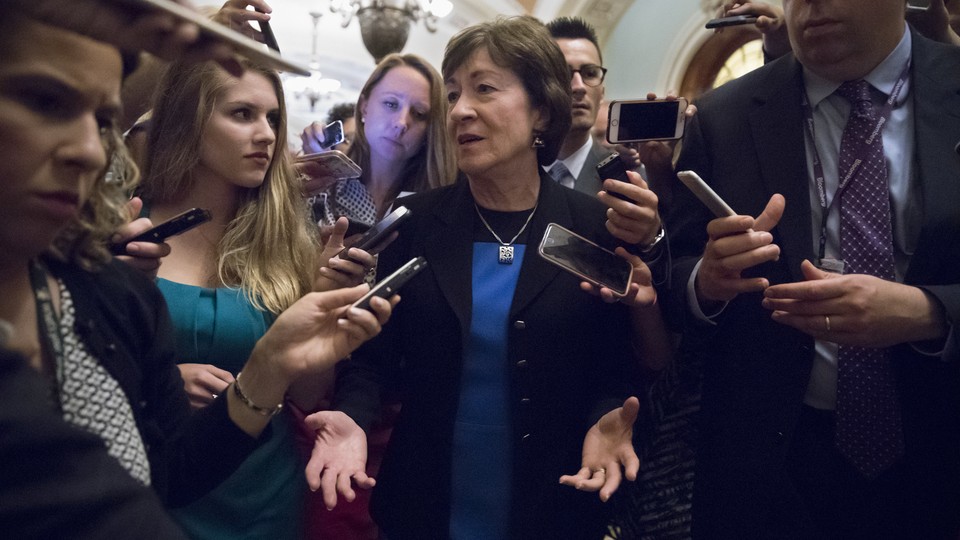 With the release of their latest draft on Thursday, Senate Republican leaders have spent more than two-and-a-half months writing an overhaul of the nation's health-care system behind closed doors.
It now may die before ever seeing an up-or-down vote.
Majority Leader Mitch McConnell's revised bill to partially repeal and replace the Affordable Care Act drew swift opposition from two Republican senators on either side of the party's ideological spectrum, Senator Susan Collins of Maine and Senator Rand Paul of Kentucky. But what was particularly notable about their positions is that Collins and Paul are not merely vowing to vote against the final legislation—they would block it from even coming up for debate next week. If just one more of the 50 remaining Republican senators joins them, McConnell's bill—and the party's broader promise to dismantle Obamacare—would be finished.
Procedure is everything in the Senate, home to the filibuster and dozens of other examples of parliamentary arcana. The first step in calling up McConnell's bill is a motion to proceed to debate, which under the rules Republicans are following is subject to the same 51-vote threshold as a vote on final passage. (The GOP is already structuring the legislation to skirt the 60-vote threshold that would face a Democratic filibuster.) Democrats won't lift a finger to help McConnell after he shut them out of negotiations, so he'll need at least 50 of the 52 Republicans. If he holds everyone but Collins and Paul, Vice President Mike Pence could break a tie to get the bill on the floor.
McConnell's problem is that at least five other Republicans haven't committed to debating the bill, much less voting for its passage. "We're not there yet," Senator Rob Portman told Politico when asked if he'd support the motion to proceed. The Ohio Republican had just come out of a meeting with other holdouts and the majority leader, who was undoubtedly trying to persuade them to at least give the bill a chance. Senators Dean Heller of Nevada, Lisa Murkowski of Alaska, and Shelley Moore Capito of West Virginia also told reporters they were undecided on the question, and a spokesman for Senator Mike Lee of Utah, a conservative, told me the same. "The new Senate health-care bill is substantially different from the version released last month and it is unclear to me whether it has improved," Lee said in a statement late Thursday afternoon.
In a floor speech earlier in the day, McConnell made an explicit plea to those senators to support the procedural vote. "I hope every senator will vote to open debate," he said. "Because that's how you change the status quo."
Voting against the motion to proceed to debate could be seen as a cop-out, and the conservative commentator Hugh Hewitt quickly assailed Collins in particular for "pure political cowardice." Supporting the procedural motion does not commit a lawmaker to voting for final passage, and indeed, there's a case to be made that a bill that has had no public hearings or debate deserves at least some formal airing. Yet Republicans leery of the bill's unpopularity know that Democrats will criticize them merely for helping to advance it even if they eventually vote it down. And they might worry that it will be even tougher to oppose the bill's final passage once the pressure builds during the floor debate.
Having already postponed debate once, McConnell is intent on voting next week and doesn't want to drag out the health-care fight any longer. And voting to begin debate would just launch another gauntlet—albeit one that might last only a couple of days. Under the budget reconciliation rules Republicans are using, the bill will be subject to nearly unlimited amendments, so wavering senators will have an opportunity to change it on the floor. But without help from Democrats, winning consensus on any one amendment among Republicans might be just as difficult as the arduous attempt to write the bill in the first place.
For McConnell, the good news is that most of the holdouts are still listening, and talking. As I wrote earlier this week, any three Republicans could end the repeal effort immediately by vowing to oppose a one-party bill and demanding negotiations with Democrats. So far only Collins is in that camp, and even she has left the door open to backing a GOP bill with significant changes. McConnell also still has more money to offer individual senators—or more precisely, their states—in an effort to win their votes. The revised bill already includes a provision designed to help Alaska in particular, which could turn Murkowski from a no to a yes.
The bad news for the majority leader is that there are plenty more obstacles that await the Senate bill, and he has no margin for error. The first is a fresh analysis from the Congressional Budget Office, which is expected on Monday. Portman and Capito, among others, have specifically pointed to the CBO as an important factor in their vote. And because McConnell has kept the original bill's deep cuts to Medicaid largely in place, the budget office is likely to again find that millions more people would be uninsured as a result of the GOP bill. If that total is anywhere close to the 22 million that CBO estimated would lose coverage under the original Senate proposal, Portman and Capito would have little reason to vote for the bill. The same goes for Heller, who is already facing renewed pressure to oppose the legislation from his GOP governor, Brian Sandoval, who said the new plan was still cause for "great concern."
McConnell won the support of Senator Ted Cruz of Texas by provisionally including a version of his amendment to allow insurers to sell bare-bones policies that don't cover people with preexisting conditions (among other benefits) as long as they offer at least one plan that conforms to Obamacare's standards. But Senate aides and health-care experts believe that provision could make the CBO score far worse, jeopardizing the support of moderates. And that amendment along with other parts of the Republican bill still face challenges that they don't abide by the reconciliation rules, which limit policy-making in the legislation to budgetary matters.
The dynamic has been the same for months in a Senate majority that's not as big as Republicans, and particularly President Trump, would like to believe. "I'd say the only thing more difficult than peace between Israel and the Palestinians is health care," the president told reporters on Air Force One, with apparently only some exaggeration. "It's like this narrow road that [is only] about a quarter of an inch wide. You get a couple here and you say, 'Great,' and then you find out you just lost four over here.
"Health care is tough," Trump concluded. He is correct about that. Republican lawmakers that once used procedural roadblocks to stymie Democrats are now considering using the same ones against themselves. And if just one more senator joins a rare intra-party blockade, the culmination of a seven-year health-care drive might never make it to the floor.