Who Is Anthony Scaramucci?
Like many current presidential advisers, the new White House communications director and former Wall Street financier made a quick pivot from Trump basher to Trump loyalist.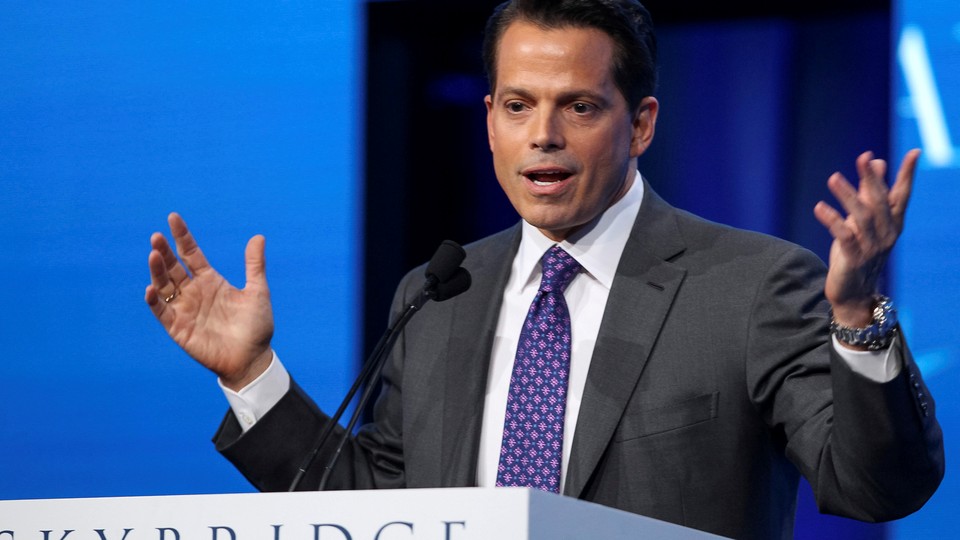 Like many of Donald Trump's closest non-family advisers, Anthony Scaramucci traveled a circuitous route into the inner orbit of the mercurial president.
The Wall Street financier and former Obama donor once called then-candidate Trump "a hack politician," a big-mouthed "bully," and "an inherited money dude from Queens County" and backed two other Republican presidential contenders, Scott Walker and Jeb Bush, before embracing Trump as the party's nominee.
Nearly two years later, Scaramucci, 52, is one of Trump's most aggressive television surrogates and, as of Friday morning, the White House communications director.
In truth, the smooth-talking Long Island native—nicknamed "the Mooch"—made the transition from Trump basher to Trump loyalist quicker than many Republicans. After a 90-minute meeting with the candidate at Trump Tower in June 2016, Scaramucci was fully onboard and soon praised Trump as "a results-oriented entrepreneur capable of delivering bipartisan solutions to common-sense problems." The soon-to-be GOP nominee, Scaramucci added, was "the only candidate giving an honest assessment of our country's ideological decay."
Scaramucci bet big on Trump, advising, raising money, and vouching for him through the fall before joining his transition team after the election and angling for a White House post. He was originally pegged to lead the White House's office of public engagement and sold his asset management firm, SkyBridge Capital, in preparation for taking a senior administration job. But Scaramucci was reportedly blocked by Reince Priebus, the chief of staff, and instead he was rerouted to a post at the Export-Import Bank, where he's been working since June.
Scaramucci has no formal experience in managing communications, but over the years he's ably displayed his ability to communicate on television—a skill that Trump holds in high regard. The other attitudes the president values most are loyalty and a willingness to fight, and Scaramucci has  demonstrated both in spades over the last several months defending Trump on television and Twitter. According to Politico, the president was particularly impressed with Scaramucci's success in winning a retraction from CNN after the network reported he was under Senate investigation for links to a Russian bank.
"I love the president, and I'm very loyal to the president, and I love the mission that the president has," Scaramucci told reporters on Friday as he addressed them from the White House briefing room for the first time.
The son of a construction worker, Scaramucci got his start in finance at Goldman Sachs after graduating from Harvard Law School. He spent 13 years at the firm before venturing out on his own, eventually starting SkyBridge Capital in 2005. Like Trump, he parlayed business success into celebrity by writing books, appearing on cable news, and even hosting his own financial show. He and the president also share a lack of ideological rigidity, which meshes with the business-first ethos of the Wall Street veterans in the White House while clashing with GOP stalwarts like Priebus and Sean Spicer, the press secretary who resigned as a result of Scaramucci's hiring.
Just as Trump gave money to Democrats before launching his own political career, Scaramucci raised money for Barack Obama in 2008 before flipping to Mitt Romney in 2012. He's spoken out in support of gun control, and (also like Trump), he was a fan of Hillary Clinton before she ran for president last year.
But for the president, none of Scaramucci's past statements were as memorable—or as hard to forgive—as the ones he made about his new boss. In the wake of his hiring, a three-minute clip of Scaramucci tearing into Trump on the Fox Business Network in 2015 resurfaced to the delight of the president's critics. Scaramucci was angry that Trump had called for a tax increase on hedge fund managers. "He's a hack politician," Scaramucci began. He continued:
He's probably going to make Elizabeth Warren his vice presidential nominee with comments like that. It's anti-American, it's very, very divisive. And I'll tell you who he's going to be president of. You can tell Donald: the Queens County Bullies Association. You've got to cut it out now and stop with all this crazy rhetoric.

…

This nonsense is going to end, and I predict it'll end before Thanksgiving.
Like so many other pundits, Scaramucci was way off in his prediction. But if Trump was willing to forgive his criticism and his doubts, he certainly didn't forget them.
"He brings it up every 15 seconds," Scaramucci joked to the press corps on Friday. "I should not have said that about him." He said he personally apologized "for the fiftieth time" to the president for saying it. "I hope some day, Mr. President, you will forget it."
And with that, Anthony Scaramucci's tenure as an official spokesman for Donald Trump had begun.