Trump Tries for an Obamacare Repeal Revival
The president bought some more time for the Republican health-care effort, but he hasn't changed any minds yet.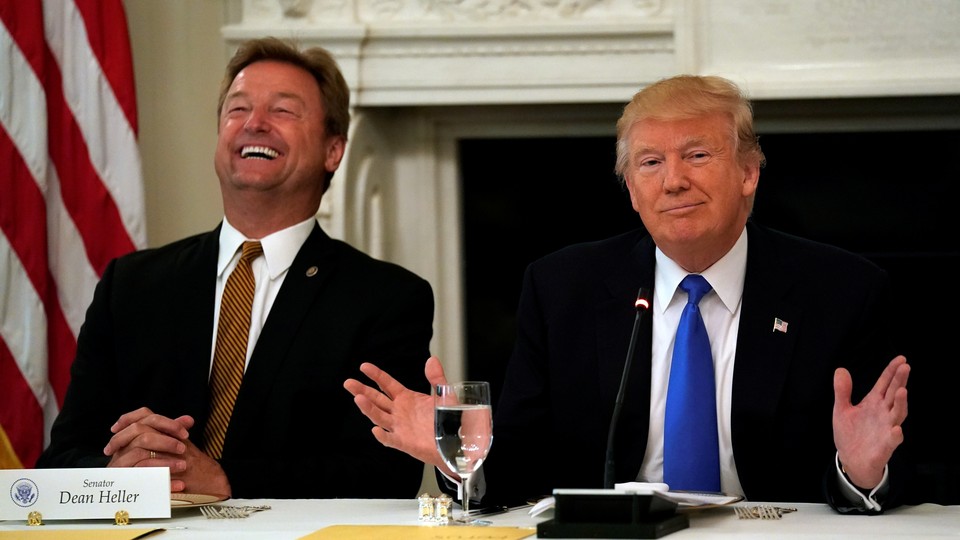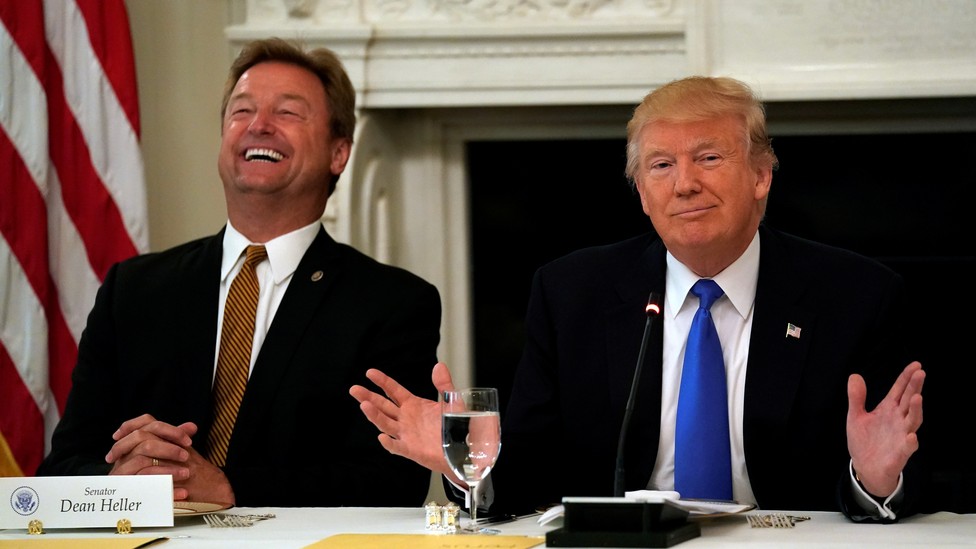 President Trump on Wednesday convened nearly all of the 52 Republican senators bickering over health care with a seemingly impossible goal in mind: to resuscitate a bill declared dead a day earlier.
By the time senators returned to the Capitol a couple of hours later, the GOP's faltering effort to repeal and replace the Affordable Care Act still hadn't quite been revived. But Trump may have at least bought it a little more time.
Majority Leader Mitch McConnell assured reporters that the Senate would vote to begin debate on a health-care bill next week, and the Trump administration dispatched Vice President Mike Pence and two other senior officials to Capitol Hill for yet another meeting aimed at assuaging concerns of Republican critics. But it was unclear exactly what plan the Senate would try to take up. Would it be the legislation drafted by McConnell and his aides to replace Obamacare? Or would it be a bill Republicans originally passed in 2015 that merely repeals—but does not replace—most of the law?
Neither measure has the votes needed to pass the Senate, and the president's pow-wow on Wednesday didn't change that.
"The gap has been closed in terms of member objections but we aren't there yet," Senator Lindsey Graham of South Carolina tweeted after the meeting, reflecting a tone of measured optimism that several members seemed to share. Yet none of the declared opponents of the Republican bill—Senators Jerry Moran of Kansas, Mike Lee of Utah, Susan Collins of Maine, and Rand Paul of Kentucky—indicated the president had persuaded them to support the bill. Republicans can afford only two defections, and several other senators are undecided or leaning against the proposal.
The last-ditch effort by Trump had the feel of a basketball player heaving up three-pointers in the final seconds of a fourth-quarter loss while his teammates looked to the next game. On Tuesday evening, Senator Joe Manchin of West Virginia held the first meeting of a bipartisan group of governors-turned-senators who plan to discuss more modest fixes to the Affordable Care Act. Attendees included Democratic Senators Jeanne Shaheen and Maggie Hassan of New Hampshire, Republicans Jim Risch of Idaho and Mike Rounds of South Dakota, and Angus King of Maine, an independent who caucuses with the Democrats.
An aide to one of the senators described the meeting as "very preliminary," but the participation of Republicans marked a notable shift. Senator Lamar Alexander of Tennessee, the Republican chairman of the Senate Health, Education, Labor, and Pensions Committee, also announced on Tuesday plans to hold hearings on proposals to stabilize the individual insurance market—a move Democrats had been seeking as the basis for bipartisan discussions.
Trump, however, wasn't ready to give up. At the outset of the private meeting with Republicans, Trump delivered a performance for the cameras—and for the assembled senators—that was at times cajoling, bizarre, and lightly threatening. The White House seated one of the bill's most prominent holdouts, Senator Dean Heller of Nevada, directly to Trump's right, and the president needled him for his opposition and suggested it might cost him his job next year. "He wants to remain a senator, doesn't he?" Trump said as Heller smiled gamely. Then he made an even more pointed reference to the senators who have said they would block repeal legislation from coming up for a vote. "Any senator who votes against starting debate is really telling America that you're fine with Obamacare," the president said. (Heller, though firmly opposed to the initial McConnell draft, is officially undecided on the current version.)
Trump spoke in more detail about the particulars of the Senate bill than he has in any previous setting. But he was reading carefully from a set of bullet points, and it sounded as if he was learning about the bill himself for the first time.
The president also has contributed more than anyone else to the sense of confusion about the Senate GOP's strategy. In a series of tweets venting about the party's struggle on health care, he staked out three different positions within a matter of three days: In one, he called for the Senate to simply repeal Obamacare and enact a replacement later, in another he said the GOP should "let Obamacare fail" and wait for Democrats to beg for a bipartisan replacement, and by Wednesday he was chastising Republicans for not promoting McConnell's replacement plan aggressively enough.
The presidential whiplash continued at the White House meeting. On Tuesday, McConnell announced that because the requisite 50 Republicans could not agree on a replacement for Obamacare, the Senate would instead move to a vote simply repealing the law with a two-year delay—the same bill the GOP-controlled Congress sent to then-President Barack Obama for his veto in 2015. But that plan drew swift opposition from a trio of Republican women, who said they would not support a repeal of the ACA without a replacement ready to go. Alexander told CNN Wednesday he didn't believe there were even 40 votes for that plan now. And later in the day, the Congressional Budget Office released an analysis finding that the bill would leave 32 million more people uninsured by 2026—nearly 50 percent more than the McConnell replacement plan that most health-care groups opposed.
By Wednesday, Trump, too, was back on the repeal-and-replace bandwagon.
"We can repeal it but we should repeal it and replace," the president said, imploring Republicans to stay in Washington and postpone their August recess if they haven't passed a new health-care bill.
While the meeting was going on, a spokesman for McConnell said Trump's comments would not change the majority leader's plans: The Senate would first vote to begin debate on the health-care bill and then call up the 2015 repeal-only bill as its first amendment. But when McConnell left the White House, that was again in doubt. The Senate would definitely vote to begin debate—a procedural necessity for any bill—but the actual bill they'd be considering was still to-be-determined. "I think we all agree it's better to both repeal and replace, but we could have a vote on either," McConnell told reporters outside.
For now, the key vote is the procedural motion to begin debate. Right now, McConnell doesn't have 50 Republicans supporting even that, and he implored them to reconsider after the meeting with Trump. They would not get a free pass, and he would not be postponing the vote any further, he insisted. "It's pretty obvious we've had difficulty in getting 50 votes to proceed," McConnell said. "But what I want to disabuse any of you of is the notion that we will not have that vote next week. We're going to vote on the motion to proceed to the bill next week."
Unless and until that first vote passes, the Republican health-care bill isn't coming back to life.