Why Trump Is Threatening the Wrong Republican Senator on Health Care
Lisa Murkowski of Alaska is no vulnerable GOP squish—she wields significant power over the Interior Department and once won her seat as a write-in candidate.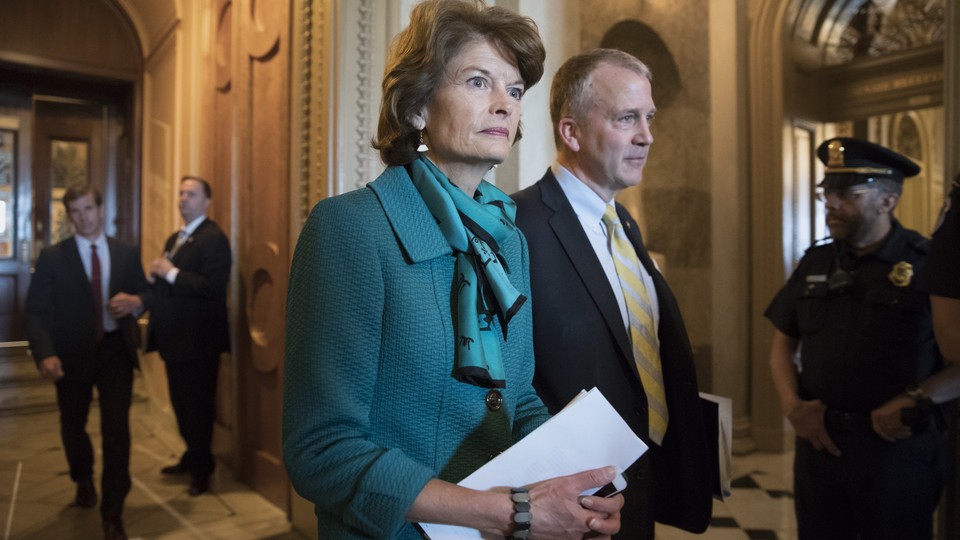 Updated on July 27 at 1:22 p.m. ET
It's arm-twisting time in the Senate as Republicans close in on a decisive health-care vote, and the arm President Trump has decided to wring hardest belongs to Senator Lisa Murkowski of Alaska.
Murkowski, a former member of the party leadership now beginning her third six-year term, angered the president by defying him on a key procedural vote to begin debate on Tuesday. Along with Senator Susan Collins of Maine, she was one of two Republicans voting against the motion, which succeeded only when Vice President Mike Pence broke a 50-50 tie. Trump ignored Collins but assailed Murkowski in a tweet on Wednesday morning, saying she "really let the Republicans, and our country, down yesterday."
But the retaliation didn't stop with a tweet. According to the Alaska Dispatch News, both Murkowski and fellow Alaska Senator Dan Sullivan (who did vote to begin debate) received a call from Interior Secretary Ryan Zinke warning them that Murkowski's vote, in the newspaper's words, "put Alaska's future with the administration in jeopardy." Sullivan would not be specific, but told the Dispatch News that he feared "that the strong economic growth, pro-energy, pro-mining, pro-jobs and personnel from Alaska who are part of those policies are going to stop." The paper speculated that could refer to nominations of Alaskans to administration posts and support for expanded oil drilling advocated by the two senators.
According to a spokeswoman for the senator, Murkowski confirmed to reporters in Washington that she had received a call from Zinke but she said only that he conveyed to her that the president "wasn't pleased" with the vote that she'd taken, which she already knew from Trump's tweet.
The goal of the threat was likely twofold: Trump surely wants to send a message to other Republican senators wavering on the party's still-to-be-announced ultimate health-care proposal, and he wants Murkowski's vote on final passage of the bill.
But she is an odd choice of a senator to bully for a number of reasons. First, as she pointed out to NBC News on Wednesday, she was reelected just last fall and doesn't have to run again until 2022. That distinguishes her from Senator Dean Heller of Nevada, another Republican holdout who was subject to Trump's taunts—and a brief ad campaign by his supporters—after he came out against Majority Leader Mitch McConnell's first health-care draft. Heller is the most vulnerable Republican up for reelection next year, and under intense pressure from the administration, he voted to open debate on Tuesday.
Murkowski is not only safe for another six years, she has an electoral achievement no other member of the Senate can claim: In 2010, she successfully won reelection to her second term as a write-in candidate after a Tea Party challenger, Joe Miller, defeated her in the Republican primary. Murkowski, whose father served as governor of the state, defeated Miller by just 10,000 votes in the general election that year, but in 2016, she secured the GOP nomination and easily beat back Miller's third-party bid. Trump did win more votes than her in Alaska last fall, but Murkowski's political standing in the state appears firm.
Trump also should not have been surprised by Murkowski's vote on Tuesday. She had been a harsh critic of both the process and the substance of the McConnell bill, worried about its deep Medicaid cuts and impact on Alaska. The administration might have been peeved because it had already steered cash to Murkowski's state in a revised version of McConnell's proposal, but even then, she had been clear that it might not be enough to win her support.
According to The New York Times, Murkowski even stood up directly to Trump during a meeting of Republican senators at the White House earlier this month. "With all due respect, Mr. President," she reportedly told him, "I didn't come here to represent the Republican Party. I am representing my constituents and the state of Alaska." After Tuesday's vote, she called for a bipartisan approach to overhauling health care. "I have repeatedly said that health-care reform, and especially major entitlement reform, should go through the committee process where stakeholders can weigh in and ideas can be vetted in a bipartisan forum," Murkowski said.
Beyond all of that, it's not even clear what leverage Trump or his administration has over Murkowski compared to the power she might wield over them. While Sullivan is a first-term senator, Murkowski is chairman both of the Senate's Energy and Natural Resources Committee and of the appropriations subcommittee for energy and the environment. What that means is she leads congressional oversight over policy and funding for Zinke's department and can thwart his goals just as much if not more than he could thwart hers.
In a statement Thursday, Murkowski said:
"I pledged early on that I would work with the President to help advance Alaska's interests. I will continue to do that—to help build and strengthen our economy, keep the promises made to us as a state, and ensure access to healthcare. While I have disagreed with the Senate process so far, the president and I agree that the status quo with health care in our country is not acceptable and that reforms must be made. I continue working to find the best path for what I believe will achieve that—a committee process where we can work issues in the open and ensure Alaskans have the healthcare choices they want, the affordability they need, and the quality of care they deserve."
She may also have responded in another way: The committee she leads announced it was postponing indefinitely a meeting to consider nominees to the Department of Energy and Zinke's Interior Department. A spokeswoman cited "the uncertainty of the Senate schedule," according to NBC News.
Trump may yet get his way. Murkowski has not ruled out voting for the so-called "skinny repeal" McConnell is expected to call up as the Senate's final health-care proposal on Thursday. But for now, it appears the president has picked on the wrong Republican senator.