'Who Will Fill That Void in the White House Now?'
The departure of chief of staff Reince Priebus could jeopardize the administration's tenuous connection with Republican institutions in Washington.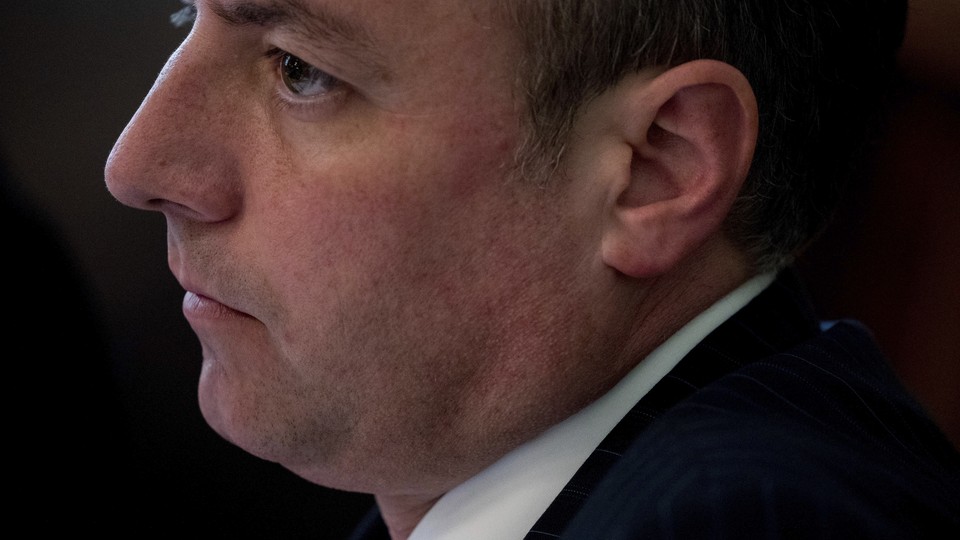 President Trump's ouster of his chief of staff Reince Priebus on Friday could end up severing his White House's already fragile relationship with the Republican establishment in Washington, multiple GOP sources said.
Trump announced Priebus's departure in a series of tweets late Friday afternoon that also introduced followers to his replacement: Department of Homeland Security Secretary John Kelly, who's a retired Marine general.
Priebus's exit seemed an inevitability after months of staff infighting and rumors of Trump's dissatisfaction with his leadership. But recently, his future looked even more uncertain. Priebus had been under attack all week from the new White House communications director, Anthony Scaramucci, a brash New York financier and Trump loyalist who'd clawed his way onto staff.
Though Scaramucci insisted at first that he and Priebus were "like brothers," he dropped the charade quickly. First, in a tweet Wednesday he seemed to imply that Priebus should be investigated for leaking White House intel to the press. The next morning, after initially denying a feud with Priebus, Scaramucci again attacked him for alleged leaking—this time on CNN. By Thursday evening, The New Yorker had published his now-infamous tirade unloading on Priebus and on White House chief strategist Steve Bannon.
All of which is to say that Scaramucci's style is a far cry from the buttoned-up culture Priebus was accustomed to from working at the Republican National Committee. Really, the whole White House is. "Their culture just doesn't fit into Trump's New York reality TV world," said Rick Tyler, a Republican consultant and former spokesman for Texas Senator Ted Cruz. "What we'll get in the future is more [Trump] mini-mes, Scaramucci types."
"Reince was doomed from the beginning," Tyler added.
Priebus was never truly empowered as chief of staff to control the White House, a product perhaps of Trump's freewheeling management style. His weak position was only underscored when Scaramucci announced that he would be reporting directly to the president—not, as is typical, to the chief of staff. But Priebus was one of few White House senior aides who had seen the levers of Washington power up close and knew how to work them. A Wisconsin Republican, he was particularly close with House Speaker Paul Ryan, and his connections on Capitol Hill could have proved a boon for the White House.
But in the end they didn't: The latest setback in Trump's legislative agenda came in the wee hours of Friday morning, when the Republicans' last-ditch attempt to repeal parts of the Affordable Care Act failed in the Senate. "Legislatively, this presidency is over," Tyler said. "Nothing is gonna happen in Congress because they lack the skill set to do it."
As president, Trump is the de facto leader of the Republican Party. But in truth, he's a johnny-come-lately to GOP politics, and his relationships with the party establishment have been fraught, to say the least. It seems doubtful they'll improve with Priebus gone.
"Reince was the person with the relationships with the national committee, the members [of Congress], and a lot of the donors," said Trygve Olson, a Republican strategist who comes from the same Wisconsin political class that Priebus does. "The question becomes, who will fill that void in the White House now?"
Olson wondered whether Trump's break with Priebus and other RNC-aligned aides meant the president would now turn away from the traditionally conservative agenda he had been pursuing. Upon Scaramucci's hiring last week, Sean Spicer, the press secretary and a key Priebus ally, resigned; in the spring, Priebus's deputy Katie Walsh, who'd worked with him at the RNC, had also left.
"Does this mean Trump's gonna pivot to a much more independent, populist place?" Olson asked. "I think at the end of the day, the problem he faces is that the Republican Party as a coalition has got pieces that are incongruent with each other."
Michael Steele, the former chairman of the RNC, also predicted that Priebus's departure would create greater ideological distance between Trump and the GOP. "The White House is looking to create, ultimately, a separation. It wants to be independent of the party, because it sees the party as an anchor to its agenda and not a balloon," he said. Steele added that Trump "didn't give a rats patootie about Obamacare"—despite his demands that congressional Republicans repeal it—and is "agnostic on health care."
"The agenda that the Hill wants to push is not the agenda the president wants to push," Steele said. "He does not want to be manhandled by Capitol Hill and by the party apparatus on the Hill."
Asked whether the administration recognizes how Priebus's departure could affect the White House's relationships with GOP institutions, one source close to the White House said: "I think it's something the White House certainly realizes." But this source argued that Priebus's tenure was ill-fated from the start by his bringing on Spicer, who was "destined to fail," and that everyone "obviously knew Reince was a goner when he couldn't even defend Katie Walsh."
One potentially reassuring sign for nervous Washington Republicans is the fact that Priebus is not being replaced by a divisive Trump loyalist—for example, Corey Lewandowski, who was among the names floated for the job and who, along with conservative super-activist David Bossie, was visiting with the president this week. (Lewandowski told reporters at the Trump Hotel on Thursday night that he's happy working outside the White House as a consultant, but that if the president wanted him he would consider it.)
"Trump is not elevating a loyalist, he's elevating a very respected person who's familiar with the ways of Washington," said Alex Conant, a Republican consultant and former Marco Rubio aide. "He's not elevating someone from his campaign team, he's elevating one of the more respected members of his Cabinet." Before becoming DHS secretary, Kelly was head of the U.S. Southern Command; he was confirmed by the Senate in January with bipartisan support. "Kelly will build strong ties to both sides of the aisle," said former House Speaker Newt Gingrich in an email.
But the triumph of Scaramucci over Priebus could become an issue with congressional Republicans. "No matter who is chief of staff, if Scaramucci is reporting directly to the president and feels like he has the authority to fire people and say the sorts of things he's been saying, congressional Republicans are going to have a huge issue with that," Conant said.
A White House spokesperson didn't return a request for comment about whether Scaramucci will report to Kelly or directly to the president.
On Friday afternoon, after Trump's Twitter announcement, Priebus made a public show of loyalty to the president. "I'm always going to be a Trump fan," Priebus said on CNN. "I'm on Team Trump, and I look forward to helping him achieve his goals and his agenda for the American people." Only now, he'll be doing so outside the White House.