The Other Putin-Trump Meeting
The U.S. and Russian presidents met for a second, undisclosed time at the G20 summit, though it's not known what they discussed.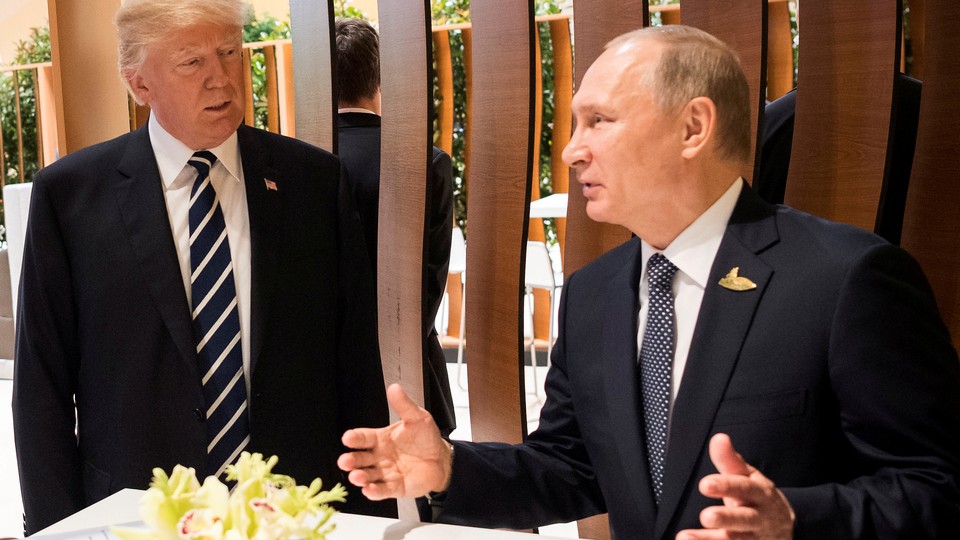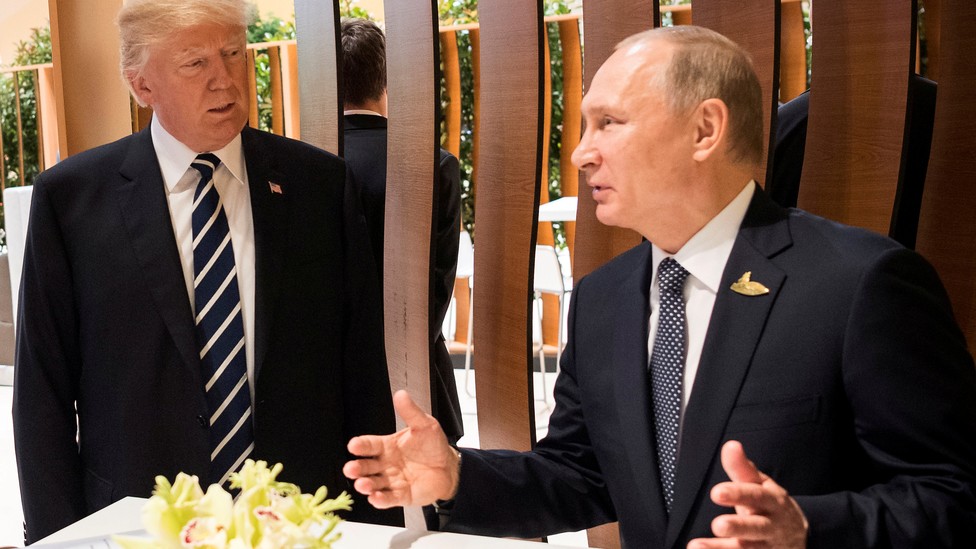 Updated at 7:16 p.m. ET
When President Trump's meeting with Russian President Vladimir Putin went for more than two hours, well past the scheduled half-hour, it was a major news event. But it turns out that wasn't even the end of the conversation between the two men.
Ian Bremmer, president of the Eurasia Group, first reported the second meeting Tuesday. Other outlets also reported the news, and the White House confirmed it to Reuters. (BuzzFeed journalist Alberto Nardelli had previously reported about a meeting.) Trump reportedly met with the Russian leader for an additional hour of informal chats after a dinner of G20 leaders—though the White House in a statement reported late Tuesday by NBC's Hallie Jackson called the encounter "brief" and denied it constituted a second meeting. While the first meeting was small—the only attendees were Trump, Putin, the Russian foreign minister, Secretary of State Rex Tillerson, and one interpreter from each country—this was even smaller: just Trump, Putin, and a Russian interpreter. Trump did not have his own interpreter.
Trump's meeting with Putin was notable because of Russian interference in the U.S. election and because of allegations, currently being investigated by Special Counsel Robert Mueller, that the Trump campaign may have colluded with Russians to influence the outcome of the race. During the campaign, Trump made unusually flattering statements about the Russian leader, from comparing his leadership favorably to Barack Obama's to condoning the annexation of Crimea to pleading with Russia to hack Hillary Clinton's emails (a request aides said was made in jest).
After the first July 7 meeting in Hamburg, both sides offered conflicting accounts. The Americans claimed Trump had pressed Putin hard about Russian interference, while the Russians said Trump had accepted Putin's protestations of innocence. In any case, Tillerson called for moving on after the meeting. The two sides also announced a joint task force on cybersecurity, though Trump torpedoed that several days later in a tweet.
There's no indication of what happened in the second meeting. White House aides only learned of it from Trump, and there was no official readout of the conversation. But given the collusion questions and the conflicting accounts of the earlier meeting, the content could be important.
It's all the more significant because it is the second time in less than two weeks that Trump and those close to him have been less than forthcoming about meetings with Russians. As Trump returned to the country, news broke that his son Donald Trump Jr. had met with a Russian lawyer. Trump Jr. initially claimed the meeting had been to discuss adoptions, but he later released emails showing that he believed he was meeting with a Russian government lawyer offering damaging information about Hillary Clinton. "If it's what you say I love it," Trump Jr. told an intermediary, though he now says it wasn't: The lawyer didn't deliver any dirt, he complained. Since then, the public has learned there were at least eight people present, including Trump Jr.'s brother-in-law, Jared Kushner, now a White House senior adviser, and Trump campaign chair Paul Manafort.
As my colleague James Fallows notes, it is highly unusual for a president to meet with a foreign leader without an interpreter. Typically, an American president would speak in English and his interpreter would then render what he said in Russian. But Harry Obst, who worked as an interpreter for seven presidents, told me that Richard Nixon also sometimes met with foreign leaders without a U.S. interpreter because he distrusted the U.S. State Department, which runs the interpretation program, and worried interpreters would pass along information to the secretary of state. Trump has sometimes shown tendencies toward paranoia himself, and the initial meeting in Hamburg was reportedly kept small to minimize leaks—which makes it all the more ironic that news of the second meeting still emerged.
Trump and his defenders had long insisted there was no evidence of collusion to be found. But since Trump Jr.'s emails clearly indicate a willingness to collude, the president and others have adopted a new line: that such collusion is normal. That defense is unconvincing for several reasons. Pull-asides between foreign leaders are not unheard-of, but the Trump team's changing stories about the Trump Jr. meeting and the new focus on collusion guarantee the second Trump-Putin encounter will draw close scrutiny.