A Shake-Up on the Trump Legal Teams
The president added a new lawyer to his staff on Friday, while son-in-law Jared Kushner reshuffles his representation.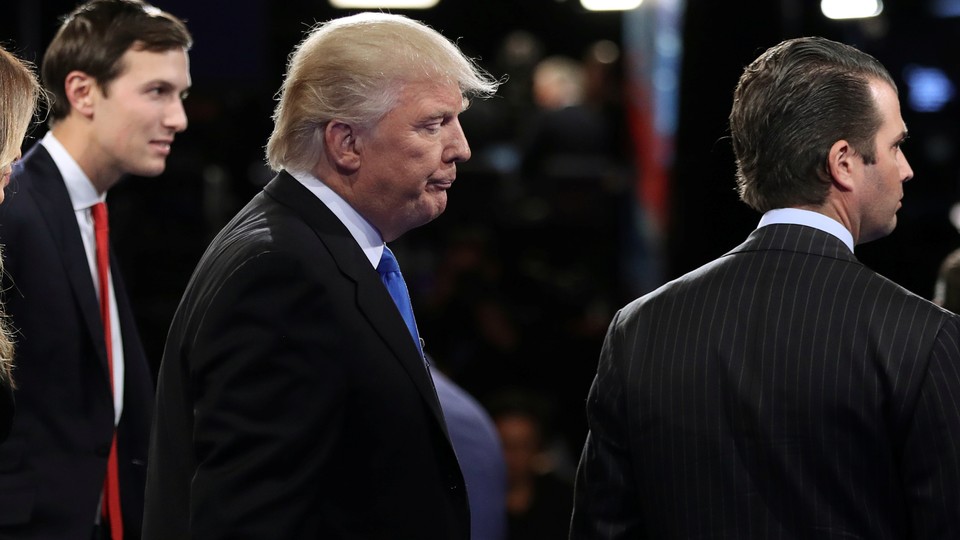 As the Russia investigation took center stage once again in the headlines, Jared Kushner reshuffled his legal team while his father-in-law added a new face to the battalion of lawyers representing him in the sprawling federal inquiry.
Kushner, the president's son-in-law and one of his top White House advisers, tapped high-profile trial lawyer Abbe Lowell to take over his representation in Russia-related matters. That role was previously filled by Jamie Gorelick, a former deputy attorney general in the Clinton Administration who navigated Kushner through federal ethics rules during his transition to the White House.
The shuffle appears to be tied to the appointment of former FBI Director Robert Mueller as special counsel overseeing the Russia investigation in May. Mueller and Gorelick both worked at the prominent WilmerHale law firm, reportedly raising questions among some in Kushner's orbit about possible conflicts of interest. In mid-June, Gorelick said her team "advised Mr. Kushner to obtain the independent advice of a lawyer with appropriate experience as to whether he should continue with us as his counsel."
In a statement Friday, Gorelick said she would continue to represent Kushner in other ethics-related matters. "As we have stated, once Bob Mueller and three of our partners left the firm to form the Special Counsel's Office, we advised Jared to get independent legal advice on whether to continue with us as counsel," she said. "As a result of this process, Jared decided that Abbe would represent him in the Russia-related inquiries."
Lowell, who joined his legal team in late June, brings significant experience as a trial litigator who specializes in high-profile scandals. Among his clients include disgraced financier Charles Keating after the savings-and-loan collapse in the 1980s, lobbyist Jack Abramoff during his mid-2000s corruption investigation, and former vice-presidential candidate John Edwards in his federal campaign-finance trial. He also worked as a House Democratic counsel in the Clinton impeachment trial in 1998.
Elsewhere in the White House, President Trump added Washington litigator Ty Cobb to his team to "enforce discipline in the White House regarding Russia matters," Bloomberg reported Friday. Cobb, a partner at D.C. law firm Hogal Lovells, specializes in defending white-collar and corruption cases. His role is reportedly distinct from the team led by Marc Kasowitz, a longtime legal fixer for Trump who heads the president's team of outside counsel.
News of Cobb's addition comes after a week of reports from multiple news outlets of friction between the Trump legal team and its presidential client. The New York Times reported Wednesday that Trump has "trained his ire" on Kasowitz as the Russia scandal returned to the top of the news cycle in recent days. Adding to the frustrations, the Times claimed, were tensions between Kasowitz and Kushner, who grew uncomfortable about possible advice the president's son-in-law may be giving to their client. The account also claimed he was contemplating offering his resignation, although his spokesman disputed that assertion in a public statement.
Kasowitz himself has also had a rocky week. On Thursday, ProPublica published a series of emails in which the veteran Manhattan litigator lashed out at an unnamed citizen who urged him via emails to quit representing Trump. Kasowitz subsequently apologized for his vivid, personal language, saying he had sent the "inappropriate" communications "at the end of a very long day that at 10 p.m. was not yet over."
The hirings and reshuffles come after a week of intense developments in the Russia investigation. On Tuesday, Donald Trump Jr. revealed he had agreed to a meeting in June 2016 with a "Russia government attorney" who claimed to have damaging information about Hillary Clinton that was provided by the Russian government to explicitly aid his father's election. The revelations are the first public evidence that Trump campaign officials knew Moscow wanted to aid their electoral prospects before the U.S. intelligence community publicly warned of Russian interference, contradicting months of White House denials that campaign officials had met with Russian officials during the election.
In the wake of the week's revelations, Trump Jr. hired Alan Futerfas, a longtime New York City defense attorney, to represent him in Russia-related matters. He also pledged to cooperate with congressional and Justice Department inquiries into Russian interference in last year's election.