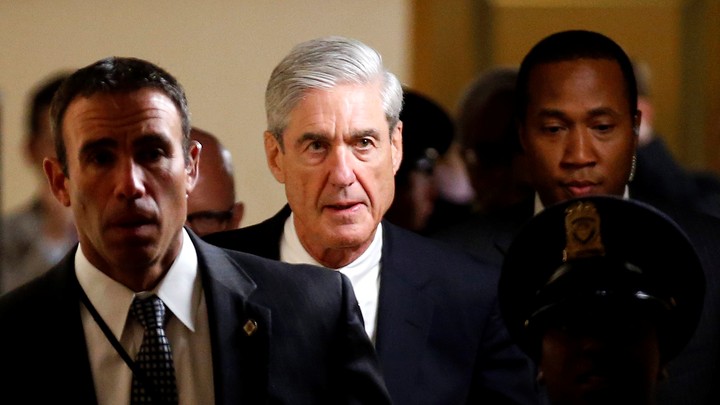 President Trump is exploring steps to curtail Special Counsel Robert Mueller's criminal investigation into the president's campaign and business dealings, inching the country closer to uncharted constitutional waters.
The New York Times reported Thursday that Trump's private legal team is scouring the backgrounds of Mueller and his prosecutors for potential conflicts of interest and damaging information to be used against them. According to the Times, that research is part of a broader effort by Trump to curtail and discredit the former FBI director's probe into whether the Trump campaign colluded with the Russian government to influence the 2016 election.
The Times's account depicted a president who is increasingly angered by the sprawling Russia investigation that has become a central feature of his young presidency. Trump displayed flashes of that anger during a lengthy interview Wednesday with the Times, in which he flitted between channeling his ire towards Mueller, Attorney General Jeff Sessions, Deputy Attorney General Rod Rosenstein, and Deputy FBI Director Andrew McCabe, as well as James Comey, the former director of the FBI ousted by Trump in May.
Trump's lawyers defended their investigations of Mueller's team as part of an effort to ensure he stays within the lines prescribed to him by the Justice Department. "The fact is that the president is concerned about conflicts that exist within the special counsel's office and any changes in the scope of the investigation," Jay Sekulow, the second-in-command of Trump's private legal team, told the Washington Post. "The scope is going to have to stay within his mandate. If there's drifting, we're going to object."
The Post and Times reports drew a swift reaction from members of the legal community, especially among former Obama administration officials. "If Mueller is fired, will any high-level DOJ officials resign in protest?" asked Preet Bharara, the former Manhattan federal prosecutor who was ousted by Trump in March. "Trump cannot define or constrain Mueller investigation," Eric Holder, the former attorney general, wrote on Twitter. "If he tries to do so this creates issues of constitutional and criminal dimension."
Trump's aggressive efforts follow weeks of his allies taking aim at Mueller and his staff for perceived conflicts of interest. A recurring talking point is past political donations for Democratic office-holders by some members of the special counsel's team. Former House Speaker Newt Gingrich, who initially supported Mueller's appointment, tweeted last month that Republicans "are delusional if they think the special counsel is going to be fair," citing FEC reports. (Trump and his family have also donated to Democrats in past election cycles.)
The news also comes as the investigation inches closer to members of Trump's immediate family. Donald Trump Jr., the president's eldest son, is under scrutiny for a June 2016 meeting in which he welcomed an offer purportedly made on behalf of the Russian government to provide damaging information about Hillary Clinton. Also present at that meeting was Jared Kushner, the president's son-in-law, whose business dealings and communications with Russian officials have also reportedly drawn Mueller's attention. Both Kushner and Trump Jr. have denied any wrongdoing.
The Post also reported Trump has asked advisers about his ability to issue pardons and whether he could use it to shield "aides, family members, or even himself" from Mueller's inquiry. Such a move would almost certainly provoke a substantial political backlash. There is no precedent in American history for a president pardoning himself—the Constitution is silent on the matter, aside from noting pardons can't prevent impeachment. Any legal dispute about it would almost certainly be resolved by the U.S. Supreme Court.
Any direct efforts to undermine Mueller's inquiry could pose serious challenges for the American rule of law. In prior administrations, presidents have typically insulated themselves from the day-to-day investigative work of the Justice Department to avoid perceptions of political interference. The relationship hasn't always been smooth: Bill Clinton and his White House frequently clashed with Independent Counsel Kenneth Starr during the Whitewater and Lewinsky investigations, although Clinton lacked the power to remove Starr from his post.
But the Trump administration is not a typical presidential administration. In contemporaneous memos, former FBI Director James Comey depicted a president who sought Comey's pledge of personal loyalty and asked him to drop an investigation into a close adviser. Trump has disputed Comey's accounts of those incidents, which would represent a serious breach of the post-Watergate firewall between the White House and the FBI. The traditional separation between the president and the bureau developed to avoid politicizing the FBI's immense powers.
In his Wednesday interview with the Times, Trump went even further and suggested that the nation's top law-enforcement agency answers to him personally, not to the Justice Department. "When Nixon came along [inaudible] was pretty brutal, and out of courtesy, the FBI started reporting to the Department of Justice," Trump told reporters in the Oval Office, according to the Times transcript. "But there was nothing official, there was nothing from Congress. There was nothing—anything. But the FBI person really reports directly to the president of the United States, which is interesting."
We want to hear what you think about this article. Submit a letter to the editor or write to letters@theatlantic.com.
Matt Ford
is a former associate editor at
The Atlantic
.