Trump Criticizes Sessions Over Russia Recusal
In an interview with The New York Times, the president said he never would have chosen his attorney general if he knew he would end up recusing himself from the ongoing federal inquiry into the 2016 election.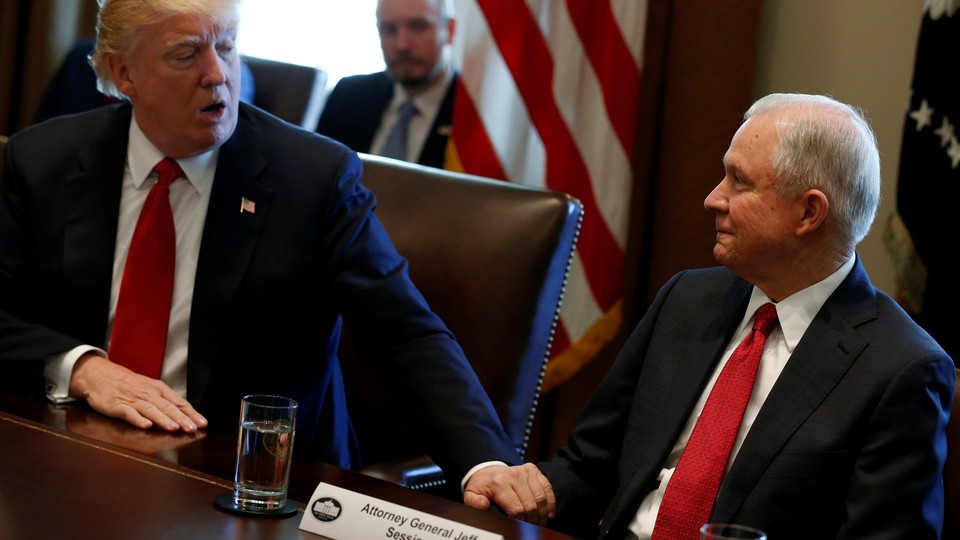 President Trump strongly criticized Attorney General Jeff Sessions and the upper ranks of the Justice Department on Wednesday, telling The New York Times he would never have chosen Jeff Sessions as attorney general if he knew Sessions was going to recuse himself from the Russia investigation.
The president delivered the extraordinary public rebuke of a close political ally and key Cabinet official in an Oval Office interview with the Times on Wednesday. "Sessions should have never recused himself, and if he was going to recuse himself, he should have told me before he took the job and I would have picked somebody else," the president said.
Sessions, one of Trump's earliest high-profile supporters, recused himself in March after media reports that he had met with Russian officials during the campaign, in direct contradiction of his testimony before the Senate that he had no contact with any such officials. The revelations meant Sessions could be questioned by investigators as part of the sprawling federal probe into Russian interference in the 2016 election. Internal ethics rules require Justice Department officials to remove themselves from investigations in which they may be a witness.
The public rupture between Sessions and Trump first spilled into public view in June after months of private consternation from the president towards the attorney general. According to the Times, Sessions offered Trump his resignation at one point, which the president apparently declined. The move marked a low point in a relationship forged on the 2016 campaign trail, when Sessions, a longtime hardliner on immigration and criminal-justice matters, became the first major Republican-elected official to publicly back Trump's insurgent candidacy.
In the interview, Trump also lashed out at Special Counsel Robert Mueller and Deputy Attorney General Rod Rosenstein, the Justice Department official who took over supervision of the Russia investigation following Sessions's recusal and who appointed Mueller to oversee the Russia investigation. Federal investigators are looking into whether there was any collusion between the Trump campaign and what U.S. intelligence agencies have concluded was a Russian government effort to sway the contest in Trump's favor using hacking and disinformation.
Trump told the Times that Mueller would cross a red line if his inquiry "expanded to look at his family's finances beyond any relationship to Russia," and expressed frustration that Rosenstein had recommended that former FBI Director James Comey be fired and then appointed Mueller, who in his role as special counsel is now said to be looking into whether or not that firing amounted to obstruction of justice.
The president's ire comes as the Russia investigation inched closer to his children this month. The Times revealed earlier this month that his eldest son, Donald Trump Jr., met with a Russian lawyer during the presidential campaign who promised damaging information about Hillary Clinton. Trump Jr. subsequently released emails in which he welcomed receiving the information, despite being told it came from the Russian government as part of an effort to help elect his father. He has denied any wrongdoing.
Wednesday's interview isn't the first time Mueller has drawn the president's ire. In June, Trump reportedly considered firing the special counsel from the Russia investigation, only to be persuaded against it by virtually all of his closest advisers. Rosenstein later told members of Congress he had not seen "good cause" to remove Mueller, a legal prerequisite to dismiss a special counsel under Justice Department rules. If Trump fires Mueller, it would be the first time an American president removed an independent prosecutor since President Richard Nixon ousted Archibald Cox as part of the Saturday Night Massacre during the Watergate crisis.
Sessions, Mueller, and Rosenstein are but the latest targets of the president's frustration over the investigation. Trump abruptly fired then-FBI Director James Comey in May after what Comey described as an effort to sway him into dropping an inquiry into former National Security Adviser Michael Flynn. Although the Trump administration initially denied it, the president later acknowledged in interviews that he had fired Comey over the Russia investigation.
Comey reportedly took contemporaneous notes of that encounter that are now in the special counsel's possession. In the interview with the Times, Trump accused Comey of lying in his sworn testimony before the Senate about the incident. "His testimony is loaded up with lies, O.K.?" Trump told the Times.
Previously, the president had suggested in a tweet that there were "tapes" of that encounter, before saying there weren't. He then said the tweet was meant to ensure that Comey told the truth in his testimony, which Trump's attorneys later said vindicated the president's version of events.
"I don't remember even talking to him about any of this stuff," Trump told the Times on Wednesday.
Trump's dismissal of Comey sparked a month-long political firestorm that only abated when Rosenstein tapped Mueller, a former FBI director with broad bipartisan respect in Washington, to take over the reins of the Russia investigation as special counsel. The president also named Christopher Wray, a former federal prosecutor, to take over the bureau in June. Wray insisted he would preserve the FBI's political neutrality during his confirmation hearing earlier this month; the Senate Judiciary Committee is set to approve his nomination with bipartisan support on Thursday.