The Trump Family's Explanations Are Straining Credulity to Its Breaking Point
The story that Donald Trump Jr., his father, and their aides told about a June 9 meeting with a Russian lawyer made little sense—even before the latest revelations.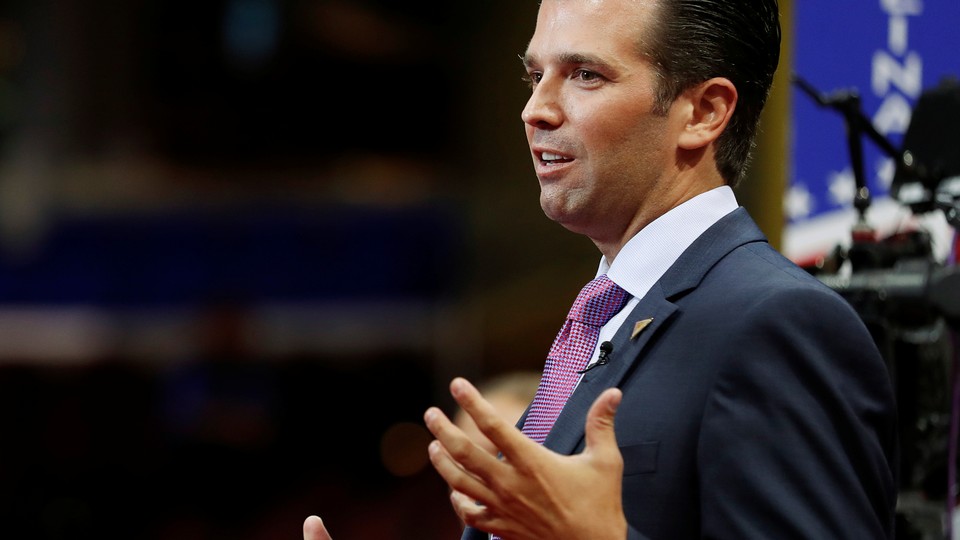 As an American statesman once said, "Fool me once, shame on you. Fool me twice—can't get fooled again." The Trump family has little love lost with the Bush family, but the president, his son, and their aides and legal team would do well to heed the 43rd president's mangled maxim, as they continue to offer an increasingly implausible story to the public about a meeting involving a Russian lawyer, Donald Trump Jr., and his brother-in-law, White House senior adviser Jared Kushner.
The account that the Trumps are offering is implausible on three counts. First, it is challenging to believe on its face, as I wrote earlier this week, that Trump Sr. would never have been told about the meeting. Second, the continued flow of new revelations itself suggests that whatever story the principals are peddling should be considered incomplete by default. Finally, the specifics of the string of new revelations about who attended the meeting and when it came to light make the story seem increasingly improbable.
Start with the original story—or rather, the story that Trump Jr. and others landed on on Tuesday, after he released emails about the June 9, 2016, meeting, in an attempt to get ahead of a New York Times story. (That in itself was already at least the fourth separate account Trump Jr. had offered.) Trump Jr. wanted the public to believe that he had a meeting with someone he believed to be a Russian government lawyer, offering information damaging to Hillary Clinton, because the government of Russia wished to aid his father; that he brought two other people heavily involved in the campaign to the meeting, Kushner and campaign chairman Paul Manafort; and that although his father was at Trump Tower, the site of the meeting that day, and although the family trumpets its closeness, no one told Donald Trump until he found out in recent days. Trump, through both his personal lawyers and White House staff, has said he only found recently.
And the improbable claims were only starting. For example, Trump Jr. has claimed that he was annoyed that rather than deliver good dirt on Hillary Clinton, the lawyer with whom he met had wanted to talk about Russian adoptions. He claims he left the meeting and more or less forgot about it. That account requires believing that Trump Jr. did not recall the meeting—or mention it to anyone on the campaign—even when the Democratic National Committee subsequently announced it had been hacked by entities it believed to be Russian intelligence, even when Clinton campaign chair John Podesta's email was hacked, even as accusations that Russia backed Trump's candidacy became more and more common through the fall and since the election, and even after four major U.S. intelligence agencies offered the conclusion that Russia had interfered in the election to help the Trump campaign.
In addition, even as the Trump campaign fought what most people (including the president) believed was a losing battle for the presidency, neither Trump Jr. nor any other staffer thought to return to the Russians and see if they had any other dirt, even though top officials clearly had no ethical reservations about accepting help from Moscow.
While it has been somewhat overshadowed by the question of opposition research, it's also difficult to believe that Trump Jr. would simply have let it slip his mind that he was told, in writing, that the Russian government supported his father's candidacy—unless he and others on the Trump campaign already had some reason to believe that or had been previous informed it was the case. (Either way, it makes Trump Jr.'s July 24, 2016, CNN appearance, in which he called the accusation that Russia backed his father "so phony" and "disgusting" seem dishonest.)
Furthermore, this version requires people to believe that Kushner didn't recall the meeting, either, even as he reportedly discussed setting up a back channel to allow Trump staffers to communicate with Russia using Russian equipment, circumventing U.S. channels, after the election. It also requires that neither Kushner nor Trump Jr. recalled the meeting after Attorney General Jeff Sessions acknowledged he had not disclosed meetings with the Russian ambassador to the Senate, and after National-Security Adviser Michael Flynn was forced to resign for lying about his discussions with the ambassador to Vice President Pence (although he may also have lied to the FBI).
When Trump Jr. released the emails on Tuesday, he claimed he was doing so in the name of transparency. You shouldn't really get credit for transparency when you're just beating a newspaper by minutes, as Shep Smith pointed out, and yet there were plenty of defenders willing to take up that line of argument. As Ed Rogers wrote in a harshly but fairly maligned column, "In reality, Trump Jr.'s emails show he has nothing to hide." Buying this requires one to believe that although Trump Jr. did not tell the truth in the first three explanations he proffered, the fourth was the one in which he had told the truth, the whole truth, and nothing but the truth.
If this view required peculiar credulity on Wednesday, it is downright untenable on Friday. On Wednesday, Trump told Reuters that he had learned of his son's meeting "a couple of days ago," but Michael Isikoff reports that Trump's legal team was informed of the meeting three weeks ago. That means Trump is either not telling the truth about the meeting or that his lawyers concealed the meeting from him.
The meeting came to light when lawyers for Jared Kushner discovered it in the course of revising his SF-86 form, required to obtain a security clearance. Kushner originally left more than 100 names of foreign individuals with whom he had met off the form. Isikoff reports, "His lawyers have said this was inadvertent and that a member of his staff had prematurely hit the 'send' button for the firm before it was completed." This excuse is, as Amy Zegart and Susan Hennessey point out, also implausible, especially given that it took Kushner until mid-May to file his amended version, and then only after press reports revealed he had failed to disclose some meetings.
New revelations also cast doubt on Trump Jr.'s portrayal of the meeting as a casual, small encounter. NBC News revealed that another individual came to the meeting with Natalia Veselnitskaya, the Kremlin-connected lawyer with whom Trump Jr., Kushner, and Manafort met. That person, whom the Associated Press identifies as Rinat Akhmetshin, is a former Soviet intelligence agent who now holds American citizenship. Akhmetshin told the AP that the meeting was not substantive, contrary to his expectations. Trump did not disclose Akhmetshin's presence. He also initially claimed not to know who Veselnitskaya was or who she was working for, but his emails proved that claim false.
The businessman Bill Browder has accused Akhmetshin of working as a lobbyist for Russian causes without registering under the Foreign Agent Registration Act. Browder did business in Russia; his lawyer was Sergei Magnitsky, who died in government custody. Magnitsky's death inspired Congress to pass the Magnitsky Act, which targets Russians accused of human-rights abuses. Vladimir Putin, outraged, barred American adoptions of Russian children, the putative topic of the June 9 meeting. Two days after the meeting, Akhmetshin registered as a lobbyist for Human Rights Accountability Global Initiative Foundation, which advocates for overturning the adoption ban, and which Veselnitskaya also represented. HRAGIF was registered by Denis Katsyv, the son of a Kremlin insider. Veselnitskaya represents both Katsyvs.
Akhmetshin said Trump Jr. lost interest in the meeting when Veselnitskaya couldn't substantiate claims of Russian money being funneled to the Democratic Party. He mentioned to the AP that Veselnitskaya brought with her a folder of documents, though he said he did not know what they were, where they came from, or whether she left them. Both Trump Jr. and Veselnitskaya have claimed that he did not receive any actual dirt of Clinton during the meeting.
Akhmetshin is not the only person in the room whom Trump Jr. did not initially disclose. NBC News reported, based on a statement from Trump Jr.'s attorney Alan Futerfas, that there was a sixth person in the room: Trump Jr., Kushner, Manafort, Veselnitskaya, Akhmetshin, and the final mystery individual.
During an off-the-record conversation with reporters aboard Air Force One, parts of which were later placed on the record at the president's behest, Trump indicated that the question about adoptions "maybe … was mentioned at some point," but New York Times reporter Maggie Haberman, who was present, said that Trump's comments were general, and that he was not indicating that he'd been told about the June 9 meeting.
Surprisingly, given his penchant for improvisation, the president's story on the meeting—that he had no idea at the time, and was only informed in the last week—is the one account that has remained consistent throughout the twists and turns of the story of the June 9 meeting. Everything else has changed. Trump Jr.'s story has repeatedly been proven incomplete. Kushner's explanation is challenging. Isikoff claims Trump's lawyers knew of the meeting before. Given the pattern of the last few days, it is hard to see why anyone would assume that the public has received a full and honest reckoning of the June 9 meeting—or why anyone would give Trump Jr. and the White House the benefit of the doubt.