The Troublemaker
The same qualities that made Donald Trump Jr. his father's political heir may have put him at the center of the latest scandal.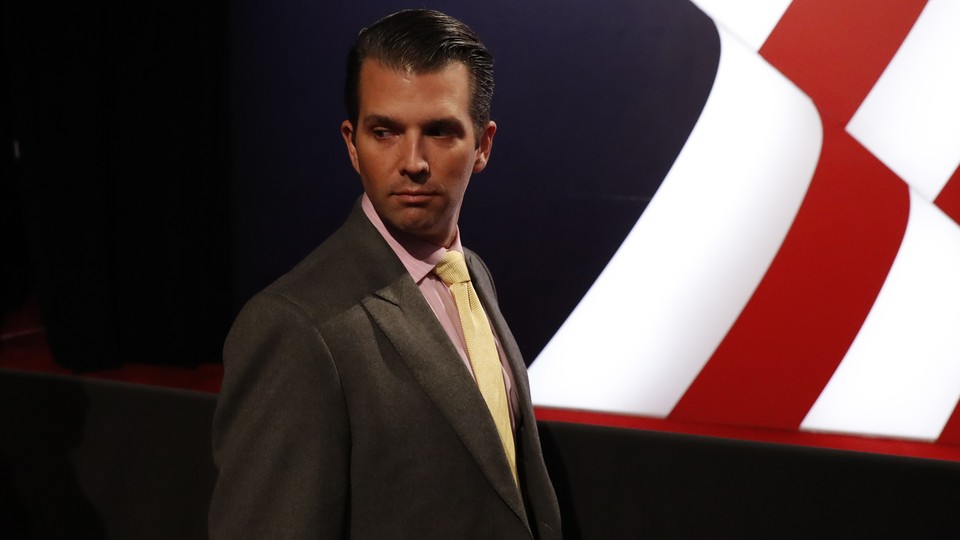 Many years ago, when his eldest son was still a boy, Donald Trump was interviewed by Barbara Walters, along with his family. Which child, she asked the real-estate mogul, did he consider the troublemaker in the family?
Trump didn't hesitate for a moment. "Don," he shot back, according to the story Don himself—Donald Trump Jr., now a 39-year-old businessman—loves to tell. Don Jr. told me the story with a grin when I interviewed him for a profile last year. "I was the wild one of the three," he said of his siblings. "I always made good grades and did well, but I had a lot of fun."
Brash, strong-willed, risk-taking: These qualities made Don Jr. the most visible of the Trump children during the campaign. But this week's revelations—the June 2016 email exchange, published Tuesday, in which Don, presented with potential campaign assistance from a supportive Russian government, replied, "I love it"—cast those same qualities in a different light. Once again, Don Jr. is his father's troublemaker, but this time the trouble is much more than fun and games.
On Wednesday, I texted Don and asked how he was doing. "Fantastic," he wrote back—followed by the "laughing crying" emoji. He declined to comment further.
His father's foray into politics brought Don a new kind of fame that he clearly relished. While Ivanka and Eric and Jared, the other members of the Trump brain trust, mostly exerted influence behind the scenes, Don stormed into the spotlight. "He seems to have a very natural political instinct," Donald Trump, the father, told me last year. Don's knack for politics pleased his father, who described his eldest son as the best "salesman" of his children. (Eric's strength, he said, was construction, while Ivanka's was her imagination.) "People like him a lot. People have great trust in him," he said.
Don's feisty Twitter presence and aggressive television interviews made him a hero to the alt-right and the Trump base. An electrifying speech to last summer's Republican convention stoked rumblings that he might follow his dad into elected office, perhaps by running for mayor of New York City or governor of New York state. Don clearly relished the idea: "The politics bug bit me," he reportedly told a gun club in April. Going back to business for the rest of his life after the exhilaration of 2016 would be "boring."
Under different circumstances, in a more successful Trump administration, this could have been Don Jr.'s moment—the emergence of a potential political heir, perhaps even a second President Trump in the making. Instead, Don is the radioactive center of the controversy that's consuming his father's presidency, and his no-holds-barred zealotry looks more like downright recklessness—if not something more sinister.
The Russia emails, as Don described them to Sean Hannity on Tuesday, were the product of a son who just wanted to do whatever it took to help his father. He had thrown himself into the campaign from the start, finding the political arena a good showcase for his intense and combative personality. Ivanka got the most buzz, but her few campaign appearances were carefully choreographed; Don was the one who was out there on television and Twitter and on the stump, loudly defending his father—and bashing his opponents—at every turn.
It was Don, too, who best embodied his father's particular brand of conservatism, unlike Ivanka, a supposed moderate who was always trying to sand off her dad's rough edges. Don was all about the rough edges. He was the rough edges. He didn't much care about social issues, but he loved guns, and he argued forcefully for the proposed Muslim ban and border wall. In one campaign controversy, he compared Syrian refugees to Skittles; in another, he was interviewed by a white supremacist radio host—unwittingly, he said. In March, Don went after the mayor of London, who is Muslim, as a terrorist attack was unfolding in that city. In his amplification of alt-right memes and pugilistic responses to controversy, Don could seem like a more instinctive proponent of Trumpism than even President Trump himself.
But Don wasn't always his father's Mini-Me. An angry and petulant youth, he actually didn't fully buy into Trumphood until after college. Don had been a preteen when his parents' separation and divorce began to consume the New York tabloids. After his mother, Ivana, got full custody, he left for boarding school and didn't speak to his dad for a whole year. In college, at the University of Pennsylvania's Wharton School, Don was known mostly for drinking and picking fights. He didn't care about being one of the cool kids, a contemporary told New York magazine, but he had the hottest girlfriend.
After graduation, Don moved to Colorado, where he worked as a bartender, fly-fished, and ski-bummed for more than a year. He wanted to make sure he didn't wake up in the family business 10 years down the road full of regret about the road not taken. But after a while, he hankered for a faster-paced world. He returned to New York, quit drinking, and started to act like a Trump. By the time his father ran for president, he was brokering hotel deals and co-hosting The Apprentice.
The campaign, like the Trump Organization, was a family affair. Don was in the inner circle. It was Don who broke the news to Trump's first campaign manager, Corey Lewandowski, that he was being fired. Don was the most comfortable of the children on the hustings, introducing his father at rallies and stumping for him solo. (I met him when Don and Eric hosted a Super Bowl party at a Buffalo Wild Wings in Manchester, New Hampshire, just before that state's primary.) Whatever ambivalence he might once have had about his birthright was gone—Don wanted to win.
Last month, when the former FBI director James Comey testified before the Senate, President Trump stayed quiet, but his namesake wasn't about to let the family's newest enemy off the hook. Don rebutted Comey in real time on Twitter, jeering, jousting, and picking apart Comey's testimony. He questioned Comey's "character," accused him of leaking, and declared the whole investigation "10 months of nonsense whose only apparent goal was to take down #POTUS & stop him from doing what he was elected to do."
Don was in his element—the taunter, the brawler, the freelance troll. In politics, the Trump family troublemaker had found his perfect niche. But now he may have earned a very different role: the fall guy. The New York Post editorial board rendered the most brutal verdict on the would-be political savant in a headline in Wednesday's paper. "Donald Trump Jr.," it proclaimed, "is an idiot."