The Strange Phenomenon of Voter Self-Suppression
As a Trump-commissioned panel searches for phantom fraud, its requests for data have convinced some citizens to opt out of their right to vote preemptively.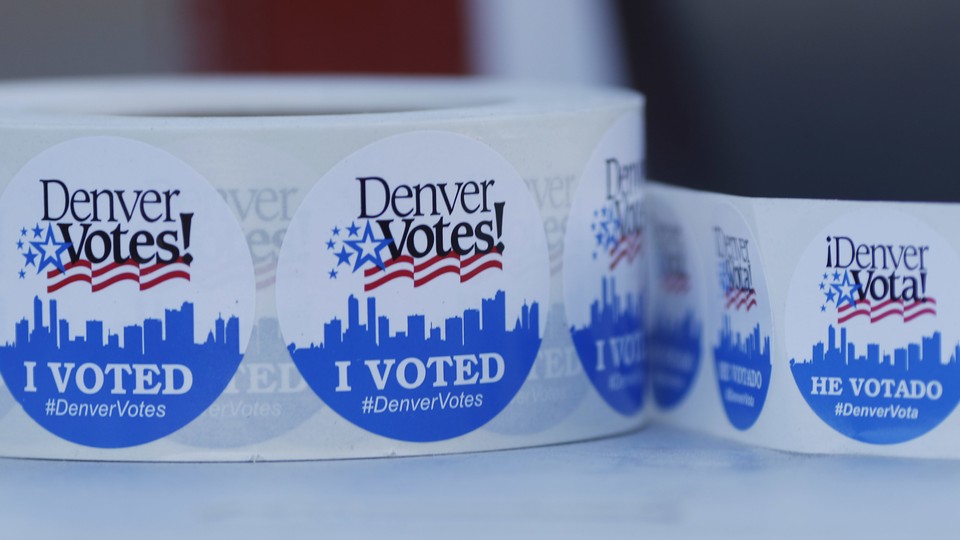 From the moment the president announced the creation of a panel to examine voter fraud and elections, voting-rights advocates warned that the real purpose of the commission was to suppress lawful votes. Then a series of reports from around the country over the last two weeks played directly into those fears, as voting officials in several states said citizens had been calling and asking to have their registrations canceled, rather than turned over to the commission as part of a huge request for data. Instances popped from Florida to Washington state and North Carolina to Colorado.
The good news is that so far there don't actually seem to be that many cases of voters actually canceling, with most of them concentrated in Colorado—though nearly 4,000 people have withdrawn there, enough to swing a close election. Yet even if the scale of the problem is not great, the phenomenon of Americans willingly surrendering one of their most fundamental political rights in order to protect their privacy is a worrying one that touches on the future of voting in the United States as well as on the question of how public records like voter rolls should function in the internet age.
In charging that the commission is aimed at suppressing votes, critics have noted that it was created to answer an illusory problem of illegal voting; its de facto leader, Kansas Secretary of State Kris Kobach, has a history of attempting to disenfranchise legitimate voters and wrote in a recently divulged email that he wants to enact stricter registration requirements; and the methods it appears to be considering are both methodologically unsound and risk exposing private data.
Cancellations by privacy-minded citizens represent extremely effective voter suppression: Simply by requesting voter rolls from states, the election panel has convinced people to take themselves out of the voting game. Keeping people from registering is a venerable voter-suppression technique—it was a staple of the Jim Crow south, achieved by placing barriers like poll taxes and literacy tests in the way of, or simply intimidating, would-be registrants—but this would be a modern and streamlined way to achieve the same result.
Kobach, a longtime crusader for stricter voting laws whose penchant for producing false positives for supposed fraudulent votes has become a leitmotif, embraced the idea that the commission is already causing voter self-suppression. In an interview with Breitbart, he speculated that those with concerns were actually the fraudulent voters.
"It's interesting," he said. "It could be a number of things. It could be, actually, people who are not qualified to vote, perhaps someone who is a felon and is disqualified that way, or someone who is not a U.S. citizen saying, 'I'm withdrawing my voter registration because I am not able to vote.'"
The epicenter for voter withdrawal is Colorado, where almost 4,000 voters had canceled their registrations as of earlier this week. Amber McReynolds, the director of the city of Denver's elections division, estimated that 700 to 800 of those were in the Mile-High City.
"I've been reading through a lot of emails, and I spoke to voters myself. They've absolutely been stating it's because of privacy concerns," she said. "It's very disheartening. I've done this for over 12 years. I never thought I would come to work and see more withdrawals in a week than registrations."
But Colorado is an outlier, at least so far. In Pasco County, Florida, for example, elections supervisor Brian Corley said the number of concerned citizens getting in touch had surprised him. "It's really surreal to be honest with you," he said. But he told me that he and his staff had been begging voters not to cancel registrations, and that as far as he knew, those pleas were successful: Only three Pasco County voters—out of some 350,000—had actually canceled their registrations.
Officials in some other jurisdictions also reported that despite widespread concern about the Trump commission's request, they weren't seeing an unusually large number of canceled registrations. The North Carolina State Board of Elections and Ethics Enforcement has received hundreds if not thousands of messages of concern about the elections commission, spokesman Patrick Gannon said, and at least one person has written to the board asking to cancel their registration because of the collection. But he said the state board doesn't have a tally of how many cancellations have occurred, because counties handle both registration and withdrawal.
Elections officials in several of the state's largest counties said they hadn't seen an unusual number of cancellations. In Guilford County, home to Greensboro and High Point, there hasn't been a noticeable uptick. In Durham County, there have been eight cancelations by voters for any reason in July, out of 220 registrations removed from the rolls overall. Mecklenburg County's elections board, which covers Charlotte, said about five voters have called a day recently inquiring about withdrawal. Wake County (Raleigh) hasn't seen any uptick in withdrawals, despite many complaints about the panel, either. Voters can choose to offer a reason when they cancel a registration, but they don't have to.
Nor has Washington seen many cancellations. "We have had only a handful of people who have responded to the election commission's request for data call our office or email our office and inquire about dis-enrolling from the database," said Erich Ebel, spokesman for the Washington secretary of state. He said his office had received "thousands" of emails, plus hundreds more phone calls and social-media contacts. "Of all of those I would say maybe a dozen to two dozen specifically asked about disenrollment," he said. (Ebel pointed out that Washington just reached an all-time high for voter registration.)
One factor in Colorado is that the state has made much of its registration system easily available online: A voter can complete the registration process from his web browser. But he can also easily withdraw his registration on the same site, meaning Coloradans who decide to withdraw don't encounter the friction of filling out a paper form, nor do they have to call a board of elections official who might try to them them out of it.
Another big difference in Colorado seems to be that the office of the secretary of state actually recommended that people cancel their registrations and then re-register later if they were concerned about privacy. "I heard that and I thought, why would they ever suggest that?" McReynolds told me.
Elections officials I spoke to told me that was probably not a wise move. Citizens risk failing to re-register, in which case they have voluntarily surrendered their right to vote. Meanwhile, it's far from certain that tearing up a registration will really protect anyone's data. Washington, for example, requires that voting records be maintained as a public record for several years, so withdrawing only prevents voting. The Kobach commission could also request past or future records, several officials noted.
Even if the numbers of de-registrations are small, they could be significant. Several states saw vote margins in the 2016 presidential election of just five figures. In Colorado, for example, Senator Michael Bennet won in 2010 by fewer than 30,000 votes. Thousands of people withdrawing from rolls, especially in urban areas that tend to vote Democratic, like Denver, could help swing elections. (Democrats like Missouri's Jason Kander, a rising party star, leapt to convince voters not to withdraw.) Beyond that, any de-registration is remarkable because it represents a citizen surrendering one of her fundamental rights.
The election commission didn't make these things public records, but it did alert many citizens to just how much information is available publicly. What Washington, Florida, Colorado, and North Carolina share is that they have fairly open voter-records laws. In some cases, that means the information is easily available on state websites. (The commission's letter to states muddied the waters by asking for some information that is standard record, along with some that is typically not, like the last four digits of voters' Social Security numbers.)
The Trump commission's request has revealed, and exacerbated, a tension in the Internet era between privacy and public records. Voter rolls have historically been public information in most jurisdictions—one tradeoff of getting to participate in a democracy is that the public is entitled to know who votes. Those rolls are how candidates and political parties know who is registered as a Democrat or Republican, where to mail campaign literature, what doors to knock, and who to call. But getting that information used to require traipsing down to the board of elections to collect it.
Today, much of that is available online. In some cases, states make the information readily available (you can look up any North Carolina voter with just a first and last name). In other cases, states' registration-lookup requires more detailed information, but third parties have purchased rolls and put them online in easily searchable forms, like flvoters.com. A network of such sites, sometimes including propaganda about illegal voting, is owned by Tom Alciere, a former Republican New Hampshire state legislator who resigned after endorsing the killing of police.
Voters didn't necessarily realize that information like their address, birth date, and party registration was public until now, though. "Because of the letter from Secretary of State Kobach, it caused a realization of just how much information is publicly available online," said Corley, the Pasco County official. He said the fact that the information came from the government seemed to rattle people, in a way that other information available about them online did not.
The easy availability of so much information does present some difficult dilemmas. Corley pointed out that in Florida, citizens can pre-register to vote at 16. Even though they can't vote, these minors' names and information are included in the public record. (More than one angry parent has called his office.)
Officials also said they had heard from victims of domestic violence or other crimes who were concerned that their abusers would be able to track them down. Some states offer confidential voter registration, in which a voter can sign an affidavit that having their information public could expose them to danger or harassment.
These tensions existed, theoretically, in the pre-internet era, but the easy availability of the data online now makes the balance between privacy and public record harder to strike. Some election officials believe laws need to be modernized.
But many of the voters who have called their local authorities since the Kobach commission request have had far more mundane objections.
"A lot of people have really expressed more concern about their party affiliation being public than anything else," McReynolds said. "That's just something that people considered to be their own."
Individual voters aren't the only ones objecting to the election commission's request for data. State officials, including many Republican state officials, have argued that the data demand is an imposition on citizens' privacy rights. "They can go jump in the Gulf of Mexico and Mississippi is a great state to launch from," that state's GOP secretary of state, Delbert Hosemann, memorably replied. Some states have complied at least in part, even while critiquing the request, because of obligations under state public-records laws.
Many officials also complain that the panel has not offered clear guidance on how it intends to safeguard the data it has already received. The administration didn't give much reason for hope when it released correspondence it had received about the voting commission without redacting voters' personal information.
"There's been confusion because the commission hasn't really outlined its plans, its mission, its goals," McReynolds said. "Until they clearly define what their mission is, people will be concerned."
There are several reasons to suspect the goal of the commission is to make it harder to vote, and to register to vote. But during its first meeting on Wednesday, members spoke about how they saw the panel as one way to bolster faith among ordinary citizens in the voting process, so as to foster greater engagement in civics. So far, however, the commission seems only to have undermined faith in the electoral process to the extent that thousands of Americans have decided they'd rather opt out altogether.