The Senate's Blind Vote on 'Skinny Repeal'
Three Republicans issued an unusual demand on Thursday, saying they will only vote for Mitch McConnell's latest proposal if they are assured it won't become law.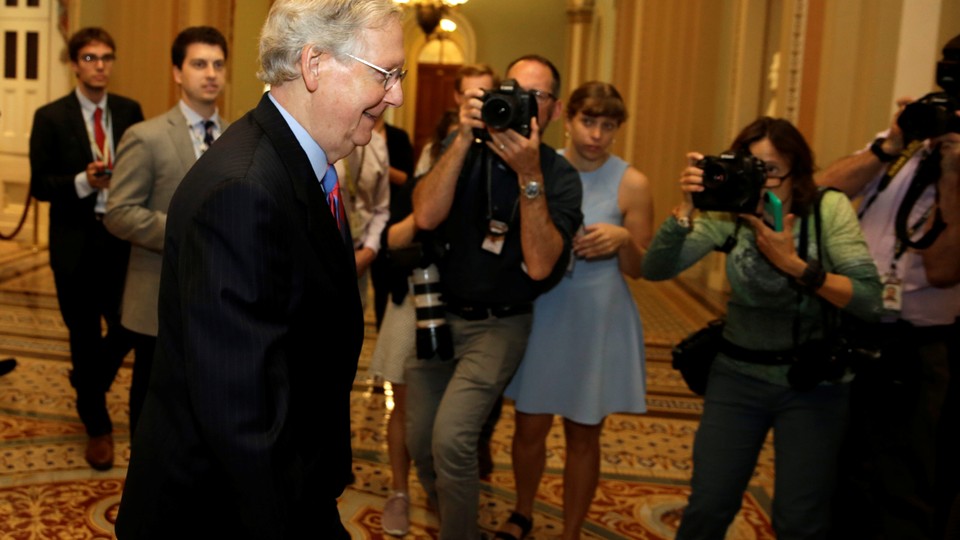 Updated on July 27 at 10:23 p.m. ET
Is the "skinny repeal" of the Affordable Care Act that is nearing a vote in the Senate a means to an end, or the end itself?
That is the crucial question that GOP senators are facing as they consider Majority Leader Mitch McConnell's latest—and likely final—proposal for rolling back Obamacare. Shortly before 10 p.m. on Thursday, just hours before a scheduled vote, McConnell introduced what Republicans are calling the Health Care Freedom Act, a bare-bones, eight-page bill that the majority leader said would "repeal the core pillars of Obamacare."
The proposal might be small in size, but it would have a significant effect on the health-care system. It would eliminate the ACA's individual insurance mandate permanently and its employer mandate for eight years, defund Planned Parenthood for a year, and allow states at least some flexibility to opt out of Obamacare's requirement that insurers cover certain essential health benefits. It also delays implementation of an excise tax on medical devices, and in a win for conservatives, it increases contribution limits for health-savings accounts.
In a brief floor speech, McConnell signaled that the goal of the last-ditch effort was to launch negotiations on a final bill with the House. But unlike some Republicans, he extolled the policy merits of the plan on its own, suggesting he would be fine if it became law. "Passing this legislation will allow us to work with our colleagues in the House toward a final bill that can go to the president, repeal Obamacare, and undo its damage," McConnell said.
Not many Republican senators like this plan. It doesn't fully or even broadly repeal Obamacare. It certainly doesn't replace the law with a new health-care system. It contains none of the cuts to Medicaid that many of them prize. And on its own, according to the Congressional Budget Office, it would still leave somewhere close to 16 million more people uninsured over a decade and increase premiums immediately.
As with previous GOP proposals, it has drawn fierce opposition from a bipartisan group of governors and just about everyone connected to the health-care industry—among them insurers, doctors, the American Cancer Society, and the AARP. Republican Senator Lindsey Graham of South Carolina called the idea a "disaster" and "a fraud" during a Thursday press conference; his colleague Ron Johnson of Wisconsin said it was "very sad."
Yet despite all of this, 50 Republican senators might still vote to pass this proposal in the wee hours Friday morning, after lawmakers conclude an all-night session of largely symbolic amendment votes known as the "vote-a-rama." And many of them might support this skinny repeal for contradictory reasons.
A few, like Senator Rand Paul of Kentucky, would vote for it on the assumption that the House would pass it without amendments, and it would become law as soon as President Trump signs it. Paul now believes that a partial repeal of Obamacare is better than none at all, and that it is better than the GOP trying to replace the law with another government-backed program.
A trio of Republicans—Graham, Johnson, and Senator John McCain of Arizona—announced late Thursday afternoon that they would only support it with "assurances" that the House would not pass the bill as is, and would instead enter into a conference committee with the Senate to hash out a compromise on a broader health-care bill.
"I need assurances from the speaker of the House, and his team, that if I vote for the skinny bill, it will not become the final product," Graham declared at a Capitol press conference alongside McCain and Johnson. "If I don't get those assurances, I am a no, because I am not going to vote for a pig and a poke, and I'm not going to tell people back in South Carolina that this product actually replaces Obamacare, because it does not. It is a fraud."
Graham repeated criticisms of the policy made by Democrats and health-policy experts—that it would unravel the individual insurance markets and cause premiums to rise. That the three are banding together is important because they alone have the power to sink the legislation, since McConnell cannot afford to lose more than two of his 52 Republican members. "We're not trying to tank anything here," Johnson insisted to reporters. Like Graham, he said he'd vote for skinny repeal with an commitment from House Speaker Paul Ryan—a fellow Wisconsinite—that he'd move to set up a conference committee rather than take the bill as written. In other words, these senators would be voting for a bill only on the promise that it would not actually become law.
This is a risky strategy. Unlike previous votes Republicans have taken during this lengthy, at times chaotic health-care debate, GOP senators would have no guarantee of getting another shot to amend or stop the bill. Shortly before the three senators made their demand, House leaders advised lawmakers to "remain flexible in their travel plans" in the coming days in case they need to act on health care, and they've set in motion a process that would allow the House to expedite its consideration. Later Thursday evening, however, Ryan issued a statement reluctantly relenting to their condition, at least in part. "Senators have made clear that this is an effort to keep the process alive, not to make law," he said. "If moving forward requires a conference committee, that is something the House is willing to do."
But the speaker added a demand of his own: If the House-Senate conference committee strikes a deal, the Senate must pass it first.
The reality, however, is that repealing and replacing Obamacare still ultimately requires the Senate to produce 51 votes for an actual plan. The House remains committed to finding a solution and working with our Senate colleagues, but the burden remains on the Senate to demonstrate that it is capable of passing something that keeps our promise, as the House has already done. Until the Senate can do that, we will never be able to develop a conference report that becomes law.
In taking a shot at Republicans across the Capitol, Ryan is reflecting the frustration of House lawmakers that the Senate appears unwilling to own a tough vote and wants instead to extend what has been an ordeal for the GOP another several weeks or months. Ryan is itching to be done with health care so that Republicans can tackle an even higher priority of his: overhauling the tax code.
It wasn't immediately clear whether Ryan's statement was enough to secure the votes of wavering Senate Republicans. McCain told reporters it was "not sufficient," and Bloomberg News reported that he wanted a stronger guarantee that skinny repeal would never become law. But a subsequent phone call between Ryan and the other holdouts appeared to be enough to sway them. Graham and Johnson said they would vote yes. It also wasn't known how many other Republicans were withholding their support. Senators Shelley Moore Capito of West Virginia and Lisa Murkowski of Alaska wouldn't disclose to reporters how they planned to vote.
In his statement, Ryan stopped short of issuing ironclad guarantee that if the Senate skinny repeal bill passed, it would never become law. If the House and Senate do form a conference committee to reconcile the differences between their two proposals, the House would, at any time, have the option of passing the Senate bill if the two chambers can't reach an agreement. Ryan's statement did not address that possibility, which Democrats had already been raising alarms about.
"Don't delude yourself that this bill won't become law. There is a very good chance that it will," Senator Chris Murphy of Connecticut warned on the Senate floor. He excoriated Republicans for unveiling their bill just hours before the vote, and he likened the underlying policy to "arson." "This process is an embarrassment," Murphy said. "This is nuclear-grade bonkers what is happening here tonight."
"This bill, the Democrat continued, "is lighting the American health care system on fire, with intentionality."
The Senate's passage of a skinny repeal is far from a done deal. There is no final score from the CBO, and McConnell might not have locked down the 50 votes needed to pass it. It's not clear whether all of its provisions will comply with the Senate's budget reconciliation rules. The demands of McCain and other holdouts could still scuttle the whole thing, particularly if they do not take Ryan's statement as a strong enough assurance. But they could also be self-fulfilling: By trashing the policy of skinny repeal so thoroughly, Graham might have ensured it would not get 218 Republican votes in the House even if it came up for a vote.
For now, the Senate is barreling toward a dramatic conclusion of a years-long health-care fight in a matter of hours, and Republicans appear to be voting blind.