Donald Trump Is Testing Twitter's Harassment Policy
The president's latest outbursts suggest the social-media platform imposes no editorial standards. But should it?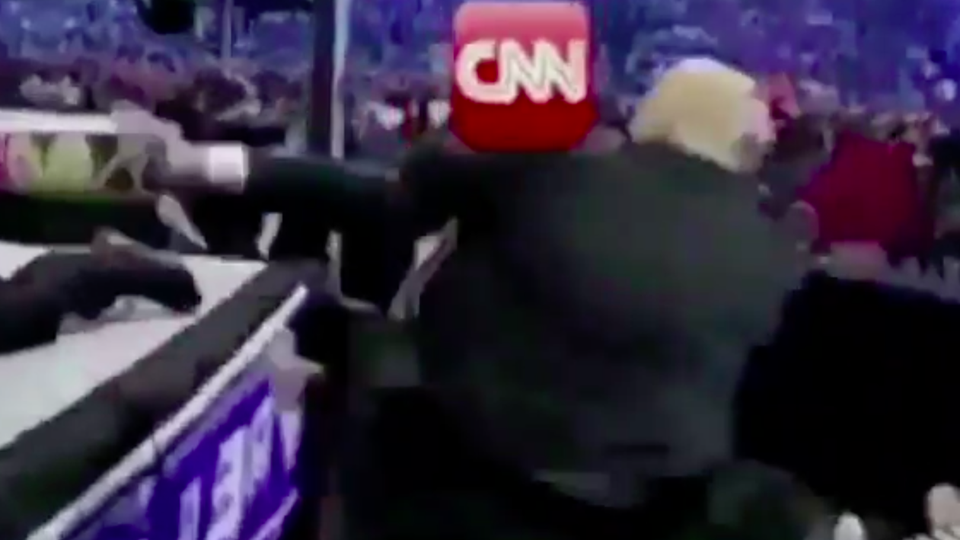 The rules are simple, okay? No threats of violence. No targeted abuse or harassment. No inciting anybody else to engage in targeted abuse or harassment. No hateful conduct.
Now think about Donald Trump's tweeting habits. Is he breaking those rules, which come from Twitter's terms of service?
Violent threats (direct or indirect): You may not make threats of violence or promote violence, including threatening or promoting terrorism.
Harassment: You may not incite or engage in the targeted abuse or harassment of others. Some of the factors that we may consider when evaluating abusive behavior include:

if a primary purpose of the reported account is to harass or send abusive messages to others;
if the reported behavior is one-sided or includes threats;
if the reported account is inciting others to harass another account; and
if the reported account is sending harassing messages to an account from multiple accounts.

Hateful conduct: You may not promote violence against or directly attack or threaten other people on the basis of race, ethnicity, national origin, sexual orientation, gender, gender identity, religious affiliation, age, disability, or disease. We also do not allow accounts whose primary purpose is inciting harm towards others on the basis of these categories.
Trump has long been criticized for his impulsiveness, but less than six months into his presidency, alarm over his Twitter conduct has hit fever pitch.
On Sunday morning, Trump tweeted a short video clip showing him pummeling another person outside of a wrestling ring—with the other person's face blocked out by the CNN logo. If that's not a direct threat of violence against the American citizens who work for CNN, it's certainly a celebration of violence.
The president is not only aware of the firestorm he's ignited, he appears to be relishing it. "My use of social media is not Presidential," Trump tweeted on Saturday. "it's MODERN DAY PRESIDENTIAL."
These latest messages came came on the heels of a bizarre barrage of tweets—odd even by the president's standards—that set off a new round of scrutiny of his use of social media. Beginning on June 29, Trump began tweeting repeated insults at Joe Scarborough and Mika Brzezinski, the hosts of the MSNBC talk show, Morning Joe. Trump's treatment of Brzezinski was particularly strange. In addition to calling her "dumb," "crazy," and "low I.Q." in three separate tweets, he claimed that she and Scarborough traveled to Mar-a-Lago for New Year's Eve and insisted on seeing Trump while Brzezinski was "bleeding badly from a face-lift." (Brzezinski and Scarborough published a rebuke in The Washington Post, calling the president's claim "a lie.")
In true Trump fashion, the president doubled down, calling Scarborough "crazy" and Brzezinski "dumb as a rock."
Does that constitute targeted harassment? And given Trump's huge following—more than 33.1 million Twitter followers on his primary account—does a string of attacks against the same two individuals constitute inciting harassment? "We don't comment on individual accounts, for privacy and security reasons," a Twitter spokesperson told me on Saturday. Twitter also declined to tell me whether, when considering the question of a user inciting harassment, it takes into consideration that person's number of followers or public status—a movie star or politician, for example.
Twitter's website does offer some clarification on how it assesses abusive behavior. The company says it assesses whether the primary purpose of an account is to harass or send abusive messages; and it looks at whether the reported behavior is "one-sided."Setting aside Twitter's notoriously bad track record for actually enforcing its own standards on harassment, the question of one-sidedness poses an interesting problem here.
When one of the people involved in a Twitter fight isn't just a public official but also the president of the United States, is it fair to consider anyone he's attacking an equal player in a fight?
We know what Trump would say. This is a man whose 2007 book Never Give Up has multiple chapters dedicated to the subject of fighting with people. There's Chapter 5 ("I Love a Good Fight") and Chapter 29 ("You Will Be Attacked For Trying to Change Anything") and Chapter 38 ("When You're Attacked, Bite Back"). If Trump doesn't like what a person says about him, he attacks them. Period.
But Trump's Twitter conduct also raises a question about what Twitter is, and what it should be. Often, the service is treated as a new kind of public square, a place for the unfiltered exchange of ideas (and, clearly, hurling of insults). Silicon Valley has rarely stepped in to correct the persistent cultural conflation between the actual right to free speech—that is, the constitutionally protected right that says the government cannot make a law that inhibits people's freedom of expression—and the idea that people should get to say whatever they want wherever they want to without consequence. (Complicating things further, Twitter must answer to its shareholders, and having the president use its service so routinely—and so bombastically—certainly keeps the service relevant.)
In reality, though, Twitter is a media company. Just like CNN and The New York Times are media companies. Except, unlike in a traditional model where publishers and readers are distinct groups, everyone can be both on Twitter. So what's a company like Twitter to do when one of its users—who is also the president of the United States, by the way—incessantly publishes attacks against individuals? Nothing, apparently. At least nothing yet. The thornier question is: What should it do? Only rarely would any news organization turn down the opportunity to exclusively print or broadcast a message from the president. (U.S. senators and presidential candidates, however, are another story.) Though it's not like the president doesn't have plenty of opportunities for his voice to be amplified. He has said he likes Twitter because it's a direct channel to the American people, but he has his own website where he could be live-streaming or blogging, for instance. He is also a constant subject of media attention; his press conferences—when the White House permits it—are broadcast over cable and network television.
Presidents have historically made good use of new media platforms. Franklin Roosevelt's fireside chats may seem quaint to us now, but they were a revolutionary experiment with a nascent media platform when they began in the 1930s. But, as with all things Trump-related, looking to norms and historic conventions can only get you so far. Imagine if Roosevelt had used his radio access to relentlessly criticize individual Americans by name. Trump knows that his critics are disgusted by the way he represents the country on Twitter, and he trusts that his supporters delight in their disgust.
"It never stops, and I wouldn't have it any other way," he wrote in The Art of the Deal. "I try to learn from the past, but I plan for the future by focusing exclusively on the present. That's where the fun is. And if it can't be fun, what's the point?"
If Twitter were to suspend or even outright ban Trump, his most fervent left-wing critics would surely rejoice. His supporters would likely boycott Twitter. Their outrage could help him keep their support. And in Trump's worldview, this may well look like a win-win.