Republicans Reject Another Obamacare Repeal Plan
The GOP's options are dwindling after the failure of an amendment that would scrap Obamacare without replacing it. Party leaders are now looking for any plan that can pass.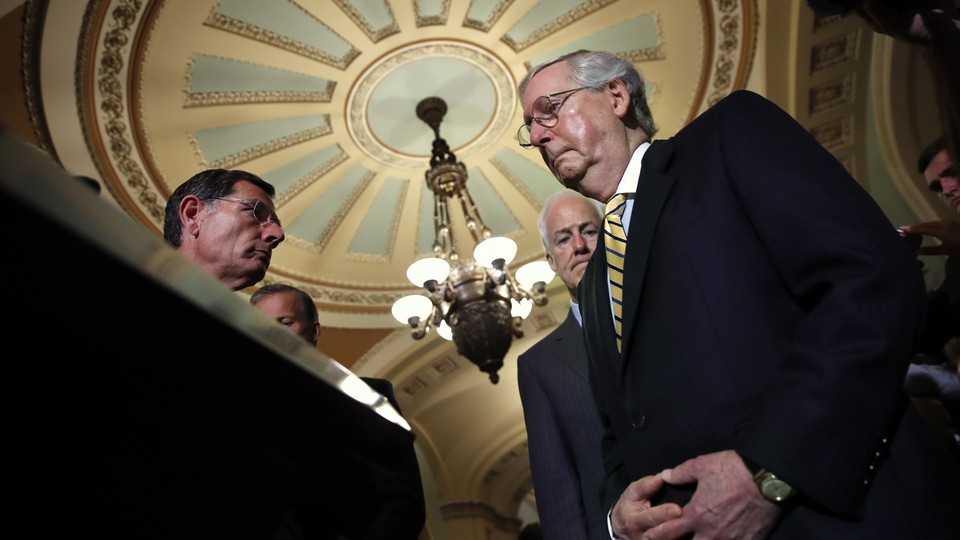 Updated on July 26 at 4:35 p.m.
One by one, the Senate's options for overhauling the nation's health-care system are dwindling—but they still have a few left.
Republicans on Wednesday rejected a straight repeal of much of the Affordable Care Act, leaving them far short of a consensus one day into debate on health-care legislation passed by the House in May. The amendment was virtually identical to legislation Republicans passed on a party-line vote in 2015 and would have scrapped the law on a two-year delay. Then-President Barack Obama vetoed the measure. Conservatives led by Senator Rand Paul of Kentucky have tried to revive the "clean repeal" option in recent days to break the impasse within the GOP, but moderates are—for now—objecting to proposals that only repeal but do not replace the current law. The vote was 55-45 against.
Seven Republicans voted against the proposal, including Senator Lamar Alexander, the chairman of the Health, Education, Labor and Pensions Committee. "I agree with President Trump that we should repeal and replace major parts of the Affordable Care Act at the same time," Alexander said in a statement after the vote. "I don't think Tennesseans would be comfortable canceling insurance for 22 million Americans, and trusting Congress to find a replacement in two years. Pilots like to know where they're going to land when they take off, and we should too." GOP opposition also came from Senators Susan Collins of Maine, Shelley Moore Capito of West Virginia, Lisa Murkowski of Alaska, Dean Heller of Nevada, Rob Portman of Ohio, and John McCain of Arizona.
The defeat is the second consecutive setback for Republican leaders. Hours after narrowly agreeing to begin debate on health care legislation, Republicans voted down the latest version of Majority Leader Mitch McConnell's Better Care Reconciliation Act, the most expansive replacement measure the Senate has considered. Nine out of 52 Republicans opposed the plan, leaving it far short of the majority it would eventually need to pass. Opposition came from across the GOP conference, including from Paul and Senator Mike Lee on the right, as well as Collins, Murkowski, and Heller closer to the center. Senators Lindsey Graham of South Carolina, Bob Corker of Tennessee, and Tom Cotton of Arkansas all cast surprising "no" votes against the leadership plan.
Yet none of the votes in opposition were as surprising as McCain's vote in favor of the McConnell bill. In a floor speech just hours earlier, the Arizona senator who returned from a brain-cancer diagnosis for the health-care debate denounced the same bill and vowed he would not "vote for this bill as it stands today." McCain spokeswoman Julie Tarallo said Wednesday said McCain's vote "was procedural."
"It was not a vote in support of, or in opposition to, the substance of the amendment that was pending at the time," Tarallo said. "In his speech yesterday, Senator McCain said he would not vote for the health care bill in its current form—and he will not." Later on Wednesday, McCain unveiled three proposed amendments to the GOP replacement plan, two of which would draw out the end of Obamacare's Medicaid expansion to 10 years—much longer than conservatives want—and raise the program's growth rate.
It is true the BCRA vote was procedural in nature. Democrats had raised a point of order against the amendment because it contained provisions that had not been scored by the Congressional Budget Office; therefore, it could not be known whether it complied with the Senate's budget rules requiring legislation to reduce the deficit by a certain amount in order to pass with a simple majority of 51 votes. What the senators were voting on was to waive the point of order, and the motion needed 60 votes to succeed. So while there was no doubt that the amendment would fail, it was clear that senators were taking a proxy vote on McConnell's proposal, and the breadth of opposition to it among Republicans suggests it would need major changes in order to come back later in the health-care debate.
The repeal-only amendment senators considered on Wednesday fell despite needing just a 51-vote threshold to pass, and the failure of the two measures, though not surprising, leaves a gaping question for the party: What happens next?
The Senate will take potentially dozens more amendment votes over the next two days, many of them coming in an all-night "vote-a-rama" tentatively set for Thursday evening. Many of them will be political in nature, offered by Democrats to throw off Republicans. Others will, like the first two proposals, be subject to procedural challenges. Partisanship held on the first Democratic amendment, a proposal from Senator Joe Donnelly of Indiana that would have sent the bill back to committee with instructions to remove its Medicaid. Both Collins and Murkowski voted with every other Republican to defeat the amendment, in a sign that they would not buck McConnell altogether. The biggest votes likely will come at the end of the process, when McConnell takes stock of where Republicans are and offers a final amendment representing what he thinks 50 of them might be able to agree to.
"We'll consider many different proposals throughout this process from senators on both sides of the aisle," the majority leader said Wednesday morning. "Ultimately, we want to get legislation to finally end the failed Obamacare status quo through Congress and to the president's desk for his signature. This certainly won't be easy. Hardly anything in this process has been."
Increasingly, what McConnell is eyeing for a final product appears to be a bare minimum of changes to Obamacare—the so-called "skinny repeal" option in which Republicans would simply scrap the law's insurance mandates for individuals and employers as well as its medical device tax. Tom Price, the secretary of health and human services, all but confirmed the new strategy in an appearance on CNBC Wednesday morning. "What we need to do in the Senate is figure out what the lowest common denominator is, what gets us to 50 votes so that we can move forward on health-care reform," he said.
The goal of passing a "skinny repeal" through the Senate would be to set up a conference committee in the House. And some Republicans, including Heller, appear to be warming to the idea. But others, like Graham, have called it for what it is—"a political punt." The upside of the plan would be to keep the health-care plan alive and allow senators to say they voted to repeal at least some of Obamacare. But it would not bring Republicans much closer to a workable policy, and because of the complex rules for budget reconciliation, a conference committee with the House would have no guarantee of producing a compromise that could pass both chambers without Democratic votes.
The Congressional Budget Office has not analyzed a "skinny repeal" plan, but health policy experts believe it would result in about 15 million fewer people having insurance over a decade as well as higher premiums for those who do. That would make it another difficult vote for Republican senators, particularly those like Senators Rob Portman of Ohio and Shelley Moore Capito of West Virginia who have said they don't want to leave their constituents in the lurch without an immediate replacement plan.
The Senate might also vote on two compromise plans offered over the past few months by Senator Bill Cassidy of Louisiana—one with Collins and another with Graham. Both are premised on the idea of giving states the option of keeping parts of Obamacare or ditching them as they see fit. Conservatives have opposed the idea as leaving too much of the law in place, but as the options for consensus continue to dwindle, the Cassidy plans could see a revival.
McConnell's best hope for getting a bill through is that 50 of his 52 members set aside their grand hopes and decide that passing something—anything—is better than nothing. In the end, it might be all they can agree on.