The Everybody-Does-It Defense of Collusion
After months of vehement denials, Trump supporters and surrogates are trying a new tack: If collusion occurred, it was no big deal.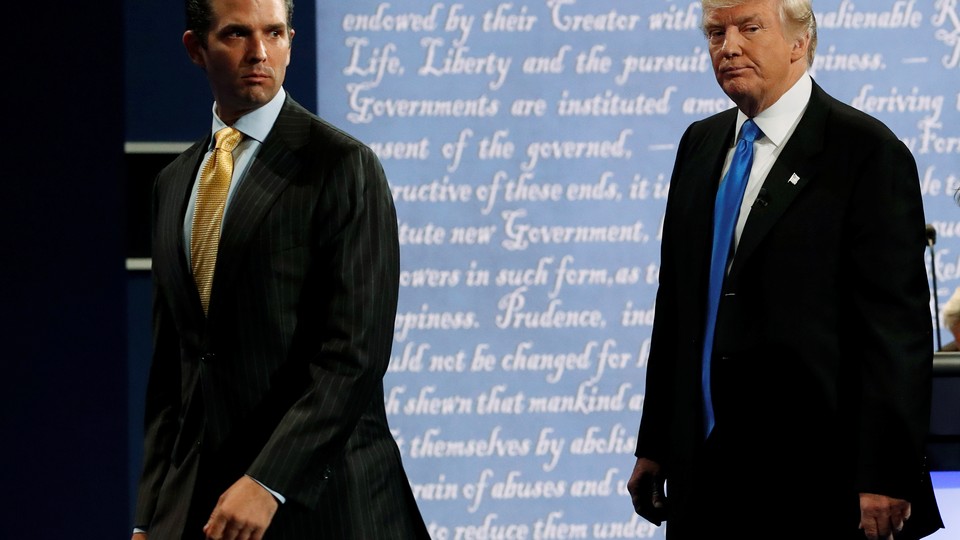 As evidence continues to mount suggesting the Trump campaign worked with Russia to influence the 2016 election, the president's allies have shifted to a new defense. As former House Speaker Newt Gingrich put it: "You could argue it's dumb, but it's not illegal."
For months, the White House has fervently denied allegations of collusion, with President Trump routinely dismissing Russia stories in the press as "fake news," and calling himself the victim of an historically unprecedented "witch hunt." His Republican defenders have largely followed suit, rejecting the entire collusion narrative as a "hoax," or at least a partisan smear.
Now, however, many of Trump's high-profile supporters and surrogates are changing tack. A series of explosive New York Times stories this week revealed that three campaign officials—Donald Trump Jr., Jared Kushner, and Paul Manafort—met with a Kremlin-connected lawyer in June of last year in hopes of discovering valuable dirt on Hillary Clinton. The drip-drip procession of Times stories prompted Donald Jr. on Tuesday to release his private emails, revealing that the man who set up the meeting explicitly said the Russian government was trying to aid Trump's candidacy.
These revelations—and the possibility that more is yet to come—have made it increasingly untenable for Trump's supporters to argue that there is nothing to the collusion story. And so, many have now begun to argue that even if there was collusion of the kind suggested by the Times, it wouldn't be a crime—or even all that out of the ordinary. Some Trump loyalists are even making the case that it was smart and savvy for the campaign to pursue help from the Russians.
In an interview Tuesday, Gingrich, who has become one of Trump's most vocal defenders, said that the entire story was an "absurdity."
"If somebody in the middle of the campaign walks in the door and says 'I have information that will harm your opponent,' virtually every campaign in the world will say show me, what do you have," he said.
Sam Nunberg, a former adviser who helped Trump launch his presidential bid, defended the campaign officials' meeting with a Kremlin-connected lawyer by positing a hypothetical. "What would have happened if … somebody contacted Chelsea [Clinton] from Ireland, said they had dirt on Trump from a foreign investment or something? Would they not take that meeting?" Nunberg said. "I'm not saying it's a nice thing, but this is politics."
Nunberg even framed the campaign's apparent willingness to cooperate with Russia as proof of the hard-charging, no-holds-barred style that made Trump victorious. "In general, one of the reasons Donald Trump was able to win was that he said, 'I'm going to do whatever it takes to win,' and he went in with that mentality."
Asked for comment Monday night, after the Times story revealing the existence of the email was published, the Trump confidant and Newsmax CEO Chris Ruddy responded by sending a link to his column from earlier that day which called the recent revelations a "nothingburger." Ruddy wrote, "There is nothing illegal or improper in a campaign talking to a foreign national about their election opponent. It might actually be wise if they feel the foreigner has information the public should know."
The Fox News host Todd Starnes tweeted to similar effect on Tuesday, saying "If digging up dirt on your political opponent is a crime, then what about Mrs. Bill Clinton?"
Any campaign, Gingrich argued, would have done the same.
"I have yet to see anything that comes anywhere close to being illegal," Gingrich said.
"You're dealing with businessmen who'd never been involved in politics before and didn't understand the delicate nuances of pleasing The New York Times," Gingrich said. When reminded that one of the meeting's attendees, Paul Manafort, had actually been involved in politics for decades, Gingrich said "It would be more fair to say to Manafort, 'Why didn't you warn Don Jr. that this was not clever?'"
Gingrich also called attention to the Obama administration's "actively, overtly trying to defeat Netanyahu in the Israeli election," a reference to the State Department's giving funds in 2013 to a nonprofit that later built campaign infrastructure used to campaign against Israeli Prime Minister Benjamin Netanyahu's reelection in 2015.
The Israel incident was also brought up by another source close to the White House, who spoke on condition of anonymity.
"If you're asking how people that are close to the Trump White House are responding, they're laughing at it," the source said.
Campaigns, the source said, "will take any information from anybody." The source also brought up a January story in Politico that revealed Ukrainian officials' efforts to boost Hillary Clinton's campaign, arguing that it's no different from Trump insiders meeting with the Russian lawyer last summer. "Why is the media focused on one and not the other? Because the media is abusively biased."
An article in Breitbart News, the right-wing outlet whose former chairman is White House chief strategist Steve Bannon, pointed out that Trump Jr. had said he thought he would be receiving "political opposition research" and concludes that "the email does not refer to any cooperation, coordination or collusion between the Trump campaign and the Russian government."
The message being spread by Trump allies is also coming from White House officials. National-security aide Sebastian Gorka argued on MSNBC Tuesday morning that taking such a meeting is "standard political practice," and said that the meeting had not been organized in good faith.
Asked if he'd been sent any talking points from the White House, Gingrich said, "If they have I didn't notice them" and "I don't remember seeing anything about it this morning."
Trump Jr. will have the opportunity make the case for himself in an appearance on Sean Hannity's Fox News show on Tuesday night, where he is unlikely to face tough questioning. Hannity has been supportive publicly, retweeting a Wikileaks tweet about the Chinese ambassador's requesting a meeting with Clinton campaign officials and accusing the media of "fake news" and "selective outrage."