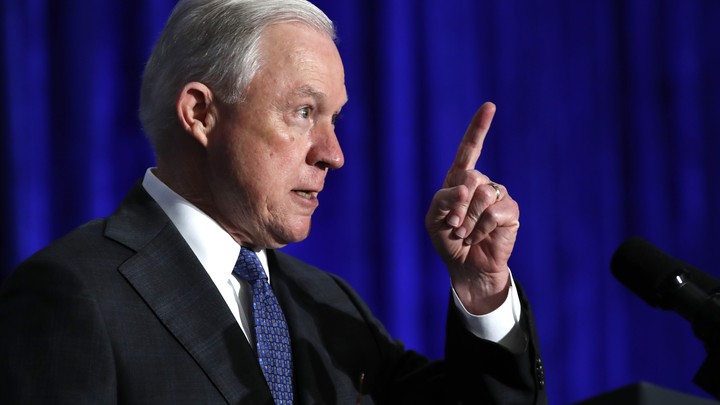 One of the toughest voter ID laws in the country might soon be back in use, only this time with a stamp of approval from the Department of Justice.
On Wednesday, the department submitted a brief to the U.S. District Court in Corpus Christi, Texas, in support of the state's Senate Bill 5. The legislation is currently facing a lawsuit in that court from plaintiffs who claim it discriminates on the grounds of race. In its current form, it requires voters to have an authorized photo ID—driver's license, passport, military identification, or gun permit—or a signed affidavit and other identifying documentation, like a utility bill, in order to cast a ballot.
This is the third time a Texas voter ID law has gone through the courts, each time through Judge Nelva Gonzales Ramos, who in 2014 called a 2011 bill's even stricter ID requirement—it didn't offer affidavits as an option—a "poll tax without the tax." Ramos's conclusion that the law represented such a tax, because it imposed the cost of acquiring identification on would-be voters, has since been overturned by the Fifth Circuit Court. Her finding that the law had discriminatory effects, however, was upheld by that court, a finding that paved the way for the creation of the new, more relaxed S.B. 5.
Under former President Barack Obama, the Justice Department was a party in the lawsuit against that 2011 bill, S.B. 14, and filed key briefs on behalf of the plaintiffs. The department argued then that the law not only had a discriminatory effect, but that its passage after Texas state lawmakers scrutinized racial differences in access to identification also constituted a discriminatory intent. The intent question was important: Since the Supreme Court struck down federal preclearance of state election laws in the 2013 Shelby County v. Holder decision, one of the few ways courts can bring states back under strict federal review is by finding that they have intentionally discriminated against certain voters.
Last July, after the Fifth Circuit found S.B. 14 to have discriminatory effects, it sent the law back to Ramos's district court. The judges wanted her to reconsider her original ruling that the bill also had discriminatory intent, saying that she'd relied too much on Texas's history of racism in her original finding. In February, with Ramos's reevaluation under way, the Justice Department under newly appointed Attorney General Jeff Sessions dropped its objection to the law that alleged discriminatory intent. In April, Ramos concluded again that the body of evidence supported her original finding.
In order to minimize the chances of Texas being put under preclearance once again, the state legislature began crafting a new voter ID law as Ramos made her considerations. In June, Governor Greg Abbott signed S.B. 5 into existence, which looks just like S.B. 14 but for the addition of an affidavit option. The revised law actually resembles a relaxed version of S.B. 14 that courts allowed Texas to deploy in the 2016 elections, but plaintiffs state that the continued, racially biased effects of voter ID, as well as Ramos's intent findings, should wipe the law off the books entirely.
Following on its first pivot under Sessions, away from the discriminatory-intent objection, the Justice Department has now essentially abandoned the case altogether. Its latest finding, detailed in the brief submitted Wednesday, that S.B. 5 "removes any 'discriminatory effect'" inherent in S.B. 14 undercuts the plaintiffs' case—even though there's no real data yet to support that claim. The department also found that the state legislature's very willingness to craft a new bill handles the question of discriminatory intent.
But its additional conclusion that the new law "advances Texas's legitimate 'policy objectives' in adopting a voter ID law" has wider implications beyond just the future of voter ID in Texas. That statement seems to suggest that strict voter ID laws are legitimate and proper. It also likely sets the bar even higher for when the Justice Department will get involved in future voter ID cases.
That's bad news for the laws' opponents, especially because the department has traditionally been one of the most reliable advocates, and initiators, of legal action on local election matters. If the department pulls back—as its recent decisions all but indicate it will—that puts more of the onus on private citizens, as well as a strained network of nonprofit groups, to challenge ID laws that have discriminatory effects or alleged discriminatory intent.
For the laws' supporters, this decision—along with some wiggle room from the Supreme Court on their constitutionality—is about as close as they'll get to an official endorsement of their approach. They'll likely press their advantage.
We want to hear what you think about this article. Submit a letter to the editor or write to letters@theatlantic.com.