The Case for Kid Rock
The singer and rapper who once expressed a desire to be a cowboy now just wants to be a senator, baby.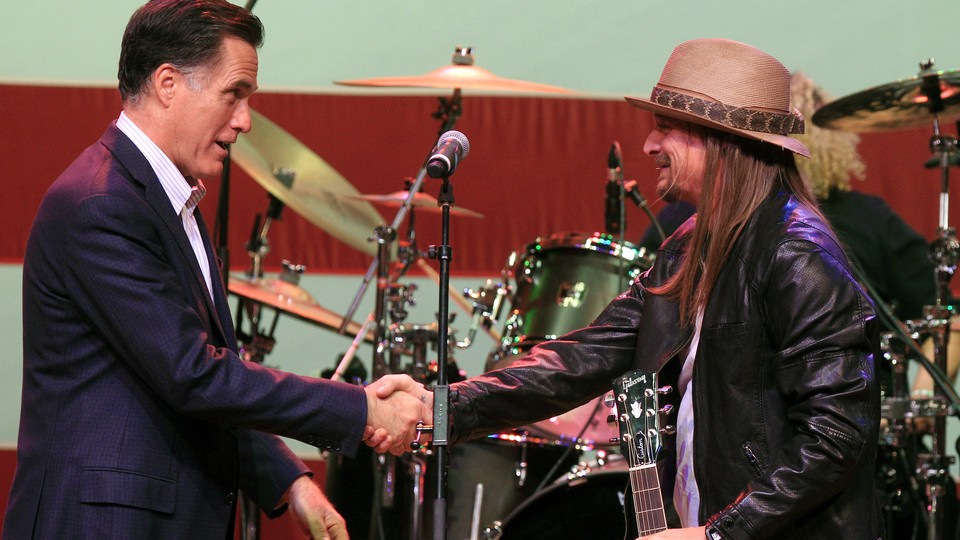 Kid Rock claims he is running for United States Senate. While I am skeptical—
OK, go ahead and get those jokes out. I'll wait.
Are you good now? Those name jokes are not as funny or original as you think.
—anyway, while I am skeptical that we see a Senator Rock, or even a nominee Rock, in the near future, it's also not entirely crazy to think that a run for office by Robert James Richtie could be, uh, "So Hott."
There are many questions to be answered about Rock's trial balloon. He has been rumored, semi-jokingly, as a candidate for the Senate race in 2018 in his home state of Michigan. He's now launched a website, and on Wednesday tweeted this:
The website is missing some essential details—for example, what state he intends to run in, and for what party. A link to a store leads, as Evan McMorris-Santoro noted, to a domain run by Warner Brothers, his record label.
But let's assume that Rock would run in his native Michigan, and that he would run as a Republican. Start with the fundamentals of the race. The seat is held by Democrat Debbie Stabenow, who's seeking her fourth term in the Senate. Stabenow's polling isn't terrible—47 percent of Michiganders approve of her performance, against 38 percent who don't, according to Morning Consult. That still places her in the bottom third of senators for popularity, although she easily won her last two races. Meanwhile, Donald Trump won the state in the 2016 presidential election, the first Republican to win there since 1988.
Trump is of course the obvious analogue: a celebrity entertainer with a reputation for behavior that ranges from louche to boorish and a long backlog of potentially damaging comments in his past. (As Ben Jacobs points out, Rock would be the first, and likely only, senator to have appeared in a sex tape with Creed's Scott Stapp.) But while Trump demonstrated that under the right circumstances this baggage needn't be fatal, Rock is arguably much better positioned than Trump for a successful political run.
For one thing, he has much deeper roots in the Republican Party than Trump did, and the goodwill that comes from helping fellow party members. Rock endorsed Mitt Romney, a fellow native of the Detroit area, in 2012, played rallies for him, and gave Romney his campaign theme song, "Born Free." Romney credited Rock with helping him over the top in a hard-fought GOP primary against Rick Santorum, Kelefa Sanneh wrote in a 2012 New Yorker profile. Four years later, Rock was an early passenger on the Trump Train, getting aboard in February 2016.
Parties like to recruit celebrity candidates because they bring to the table broad name recognition, access to wealthy donors, and often the ability to self-fund a campaign, at least in part. Rock has all three. He has the fame that can only come from a hit song in which he shouts his own name; he is godfather to the child of Peter Karmanos, who owns the Carolina Hurricanes; and his own fortune has been estimated at $80 million. Other famous Michiganders, like Eminem and Bob Seger, are friends and could stump for him.
Rock isn't the only potential celebrity candidate in the race; he's not even the only potential long-haired, washed-up, libertine rock star, since Ted Nugent is also rumored to be interested in the race. But that might not be so bad for Rock, because being the less-crazy celebrity in a campaign can provide a leg up. Just ask Arnold Schwarzenegger, who became governor of California in 2003 after defeating a field of candidates that included a pre-HuffPost Arianna Huffington, porn star Mary Carey, and porn magnate Larry Flynt.
What might a Rock platform look like? He'd be well-positioned to chart a populist, Rust Belt course, characterized by fiscal conservatism and social liberalism. Given his own colorful reputation, Rock would hardly have had the option anyway of running as a moral crusader, but he also told Sanneh, "I don't give a fuck if gay people get married," even as he expressed concern about the size of social-welfare programs.
Rock is both a businessman in his own right—he owns a clothing company called "Made in Detroit"—and the son of a car-dealership owner. He loves Detroit, giving him classic blue-collar cred in spite of a fairly privileged upbringing, and could easily feel at home in both wealthy and earthy settings, a necessary ability for a good politician. He's a military booster. Michigan is one of many states grappling with the opioid crisis; Rock has previously offered a message of inclusion for users, shouting out "all my heroes at the methadone clinics" in "Bawitdaba."
We'll be frank: Rock would be unlikely to do well with black voters. But African Americans only constituted 14 percent of the electorate in the 2014 Senate race, Michigan's last non-presidential-year contest. And it might be hard to paint Rock as a racist. He is the father of a biracial son, and as a kid, he was obsessed with African American music and tried (mostly in vain, it must be said) to cultivate a career as a rapper before sliding toward rock and roll and, more recently, country music. A man who can write a song interpolating both "Sweet Home Alabama" and "Werewolves of London" should be able to appeal to both rural partiers and snarky urbanites.
That catholicity and indifference to genre boundaries that Rock displays in his music also comes across in his politics. He is friends with the often-fringe liberal Sean Penn, praised Barack Obama's 2008 win as "a great thing for black people," and after backing Romney in 2012, yukked it up with Obama a month after the election at a White House reception. "It was nice. I saw the president tonight. He said, 'I'm still here.' I said, 'No hard feelings,'" Rock recalled. Such bipartisan equanimity would be welcome in today's fractious politics.
Now, I know what you're thinking: It's all a sham. The Michigan GOP chair told the Associated Press that he hadn't heard anything from Rock's camp. But we've heard that before. Even if this is all just a publicity stunt, that's no reason to assume he won't end up in office. Just ask Donald Trump.