The Atlantic Politics & Policy Daily: Too Mooch Too Soon
President Trump removed Anthony Scaramucci from his role as White House communications director, just 10 days after Scaramucci was brought on staff.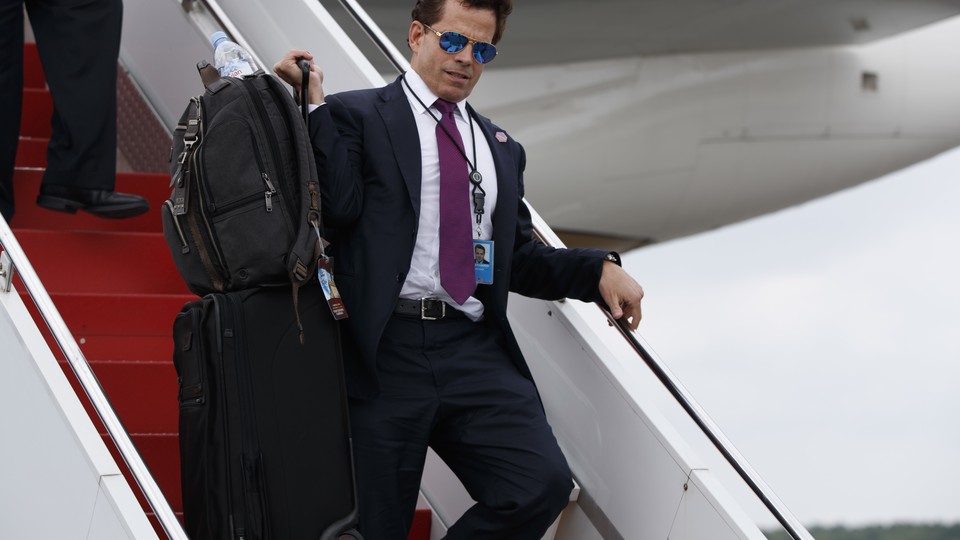 Today in 5 Lines
President Trump removed Anthony Scaramucci from his role as White House communications director, just 10 days after Scaramucci was brought on staff. The move reportedly came at the behest of John Kelly, who was sworn in as chief of staff earlier in the day. White House Press Secretary Sarah Huckabee Sanders said that "everybody at the White House" will report to Kelly. Treasury Secretary Steve Mnuchin and National Security Adviser H.R. McMaster announced that the White House imposed sanctions against Venezuelan President Nicolas Maduro. A federal judge found former Sheriff Joe Arpaio guilty of contempt of court for ignoring a court order to stop traffic patrols that targeted immigrants.
---
Today on The Atlantic
John Kelly's Challenge: Eliot A. Cohen explains the many downsides of President Trump's decision to appoint the retired Marine four-star general to replace Reince Priebus as White House chief of staff.

'You've Let Me Down': In defending his decision to kick 755 American diplomatic staff out of Russia, Vladimir Putin wants to appear like the reasonable adult in the room, writes Julia Ioffe. But the rapidly deteriorating situation is bad for everyone involved.

Another One Bites the Dust: George Selim, the Homeland Security official charged with leading the federal Countering Violent Extremism Task Force under Obama, resigned on Friday, signaling a shift away from federal outreach to Muslim communities. (Peter Beinart)
Follow stories throughout the day with our Politics & Policy portal.
---
Snapshot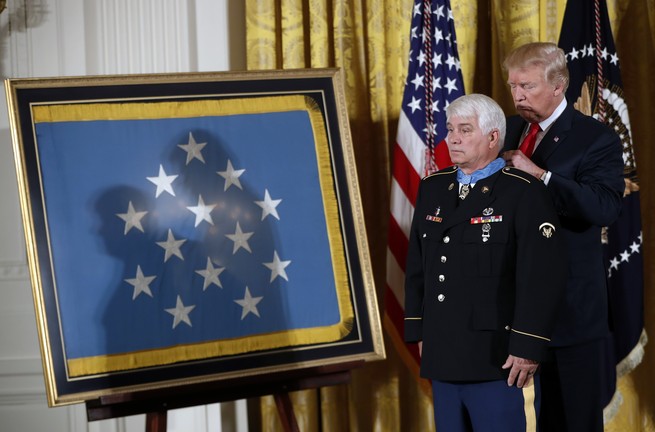 ---
What We're Reading
Was Obamacare Repeal Ever Possible?: Given the plurality of opinions within the Republican Party, argues Robert Verbruggen, perhaps a repeal of the Affordable Care Act was doomed all along. (National Review)
Joe Biden for President?: He's probably America's most popular former vice president, but if he runs for office in 2020, he'll be putting himself—and his family—back under public scrutiny. (Roxanne Roberts, The Washington Post)
When a Fire Starts to Bern: Senator Bernie Sanders might have lost his bid for the presidency, but his campaign to win back Trump country continues. (Benjamin Wallace-Wells, The New Yorker)
Will Democrats Support Pro-Life Candidates?: The chairman of the Democratic Party's campaign arm says that in order to take back Congress in 2018, the party can't have a litmus test on abortion. (Ben Kamisar and Reid Wilson, The Hill)
A Cowboy in Washington: Until this year, Ryan Zinke was a little-known congressman from Montana, but his big ambition has landed him a top spot in the Trump administration—and could carry him farther still. (Elaina Plott, GQ)
---
Visualized
Where Was Trump That Day?: Take a look at the calendar to see how often Trump has visited his own properties—and when he's played golf—in the past six months. (Philip Bump, The Washington Post)
---
Question of the Week
After a tumultuous few weeks drafting—and failing to pass—a new health-care plan, Congress is preparing to take up tax reform, which could involve rate cuts for businesses and individuals. Do you agree with lawmakers' plans to shift to tax reform? If not, what would you rather see them set their sights on—and why?
Share your response here, and we'll feature a few in Friday's Politics & Policy Daily.
-Written by Elaine Godfrey (@elainejgodfrey)