The Atlantic Politics & Policy Daily: Goodnight, Sweet Reince
President Trump has chosen Homeland Security Secretary John Kelly to replace Reince Priebus as White House chief of staff.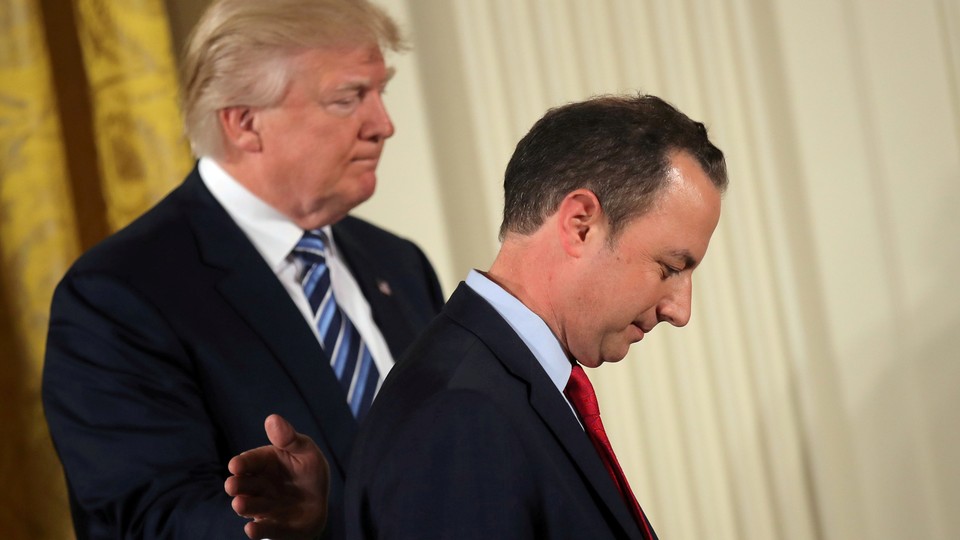 Today in 5 Lines
President Trump has chosen Homeland Security Secretary John Kelly to replace Reince Priebus as White House chief of staff. The Senate failed to pass Majority Leader Mitch McConnell's proposal to partially repeal Obamacare, after Republican Senators John McCain, Lisa Murkowski, and Susan Collins opposed the measure in a dramatic early-morning vote. Trump criticized the outcome on Twitter, saying that the lawmakers who voted against repeal "let the American people down," adding that the only option now is to "let ObamaCare implode." Later, during a speech in Long Island, Trump suggested that police officers should rough up suspects as part of an effort to crack down on crime. The Pentagon announced that North Korea test-launched another intercontinental ballistic missile.
---
Today on The Atlantic
Follow stories throughout the day with our Politics & Policy portal.
---
Snapshot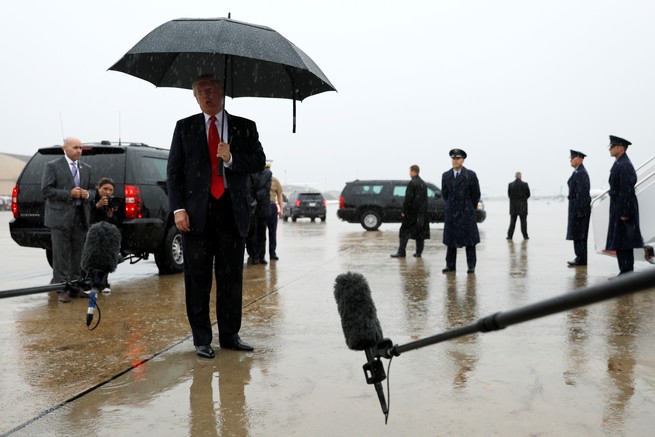 ---
What We're Reading
'The John McCain Show': In the wee hours of the morning, the Arizona senator surprised the chamber by dramatically voting against a "skinny" repeal of Obamacare. Ben Terris describes the "long, weird night" on Capitol Hill. (The Washington Post)
The Real Mavericks?: While Senator John McCain provided the final Republican vote required to kill the GOP's Obamacare-repeal efforts, two other Republicans, Alaska's Lisa Murkowski and Maine's Susan Collins, have been much more consistent in their opposition. (Alexia Fernández Campbell, Vox)
Why the Leaks Will Keep Coming: It's understandable that President Trump is frustrated over leaks in his administration, writes Republican strategist Alex Conant, but they'll keep happening until he's able to unite his team. (Politico)
'The Worst Internet in America': In the United States, most people consider internet access to be a necessity, rather than a luxury. Yet an estimated 23 million Americans are still living without access to broadband. (Clare Malone, FiveThirtyEight)
'Woody Allen Without the Humor': Peggy Noonan argues that Trump's greatest weakness is weakness itself. "He's whiny, weepy and self-pitying," she writes. (The Wall Street Journal)
---
Visualized
Like a Renaissance Painting: BuzzFeed's David Mack highlights the individual reactions of lawmakers  in the Senate chamber when Senator John McCain gave a surprising thumbs-down to "skinny" repeal.
A Work in Progress: After GOP efforts to repeal Obamacare were all but quashed on Friday, President Trump vowed to "let ObamaCare implode." Here's what he can do to make sure that happens. (Haeyoun Park and Margot Sanger-Katz, The New York Times)
---
Question of the Week
On Monday, Democrats unveiled a new agenda, "A Better Deal: Better Jobs, Better Wages, Better Future," that they hope will help them reclaim a majority in Congress. So this week, we asked you what your slogan would be if you were drafting a new plan to appeal to Americans. For a complete list of responses, see our Notes section. For now, here's a sample:
Americans on both sides of the aisle are "tired of politicians helping their millionaire and billionaire buddies get richer," writes Adam H. from California, so perhaps the best slogan would be "Working for the Working Class"—something Adam says reflects what all Americans want: "someone who is on their side fighting for them."
And Harvey Harvey Cohen's messaging would be pretty straightforward: "The UNITED States of America."
It is obvious that we have become a nation so divided that we put individual ideology over what's best for the country as a whole. Politics has become a divisive, self-centered sport with citizens picking sides and rooting for their own teams. "The UNITED States of America" reminds all of us what truly did make America great and what is really the only way we will be great again.
Thanks to everyone who submitted responses, and stay tuned for next week's Question of the Week.
-Written by Elaine Godfrey (@elainejgodfrey)