The Atlantic Politics & Policy Daily: The Votes Are In
Vice President Mike Pence provided the tie-breaking vote in the Senate's motion to begin debate on repealing the Affordable Care Act.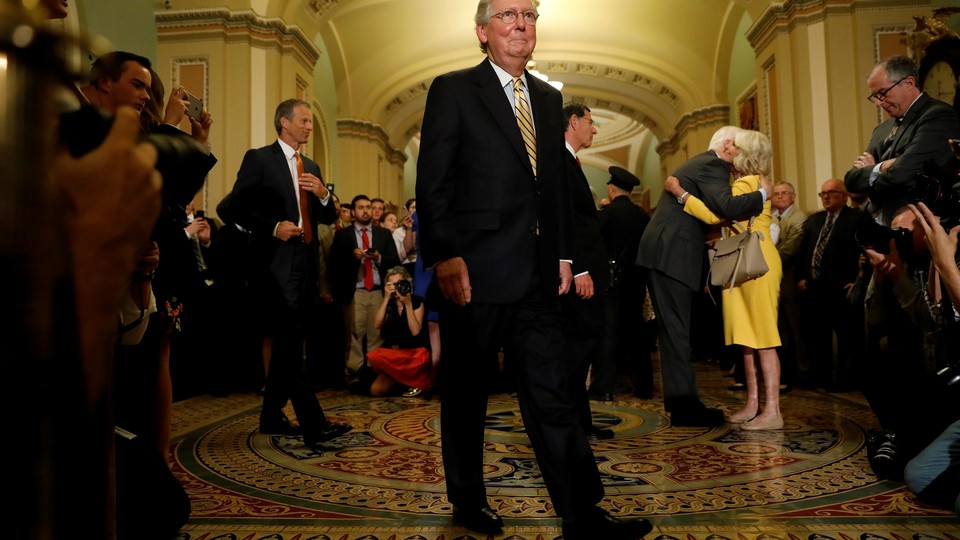 Today in 5 Lines
Vice President Mike Pence provided the tie-breaking vote in the Senate's motion to begin debate on repealing the Affordable Care Act. Arizona Senator John McCain voted to proceed, but in a speech on the Senate floor, he added that he "will not vote for this bill as it is today." During a joint news conference with Lebanese Prime Minister Saad Hariri, President Trump praised the Senate for moving forward, and thanked McCain, who was recently diagnosed with brain cancer, for returning to the Capitol for the vote. Trump also added that he is "disappointed in the attorney general," after lashing out at Jeff Sessions on Twitter Tuesday morning. The Senate Judiciary Committee issued a subpoena for Paul Manafort, Trump's former campaign chairman, to appear before the panel on Wednesday.
---
Today on The Atlantic
Paying Up for Health Care: Annie Lowrey points out the ripple effects that proposed GOP health-care cuts could have on the personal finances of insured and newly-uninsured individuals.

'Why Hasn't ISIS Nuked America Yet?': If they were able to safely make and deploy a dirty bomb, there's plenty of reason to be confident that they would. (Graeme Wood)

Firing Mueller: Peter Beinart argues that it may be in the president's favor to fire the special counsel sooner rather than later, considering that Mueller's investigation is still young and that many Republicans are still on Trump's side.
Follow stories throughout the day with our Politics & Policy portal.
---
Snapshot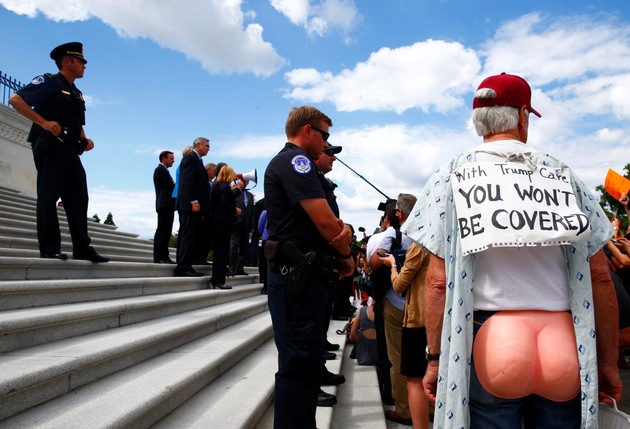 ---
What We're Reading
You're Fired: Politico reports that Anthony Scaramucci, the new White House communications director, is ready to "fire everybody" in the press office in order to put a stop to leaking. (Tara Palmeri)
An Abbreviated History: For 80 years, U.S. presidents have addressed the National Scout Jamboree. But on Monday, President Trump broke with tradition in his remarks by politicizing the event. (Katie Mettler and Derek Hawkins, The Washington Post)
Not Mad, Just Disappointed: In an interview with The Wall Street Journal, President Trump continued to criticize Attorney General Jeff Sessions, adding that then-Senator Sessions's endorsement of him during the campaign was "not like a great loyal thing." (Michael C. Bender)
The Conservative Case for Single Payer: Chase Madar explains why, in five years, many Republicans will be—at least quietly—supporting Medicare for all. (The American Conservative)
'Who Is Betsy DeVos?': Many members of the political establishment were optimistic about her appointment to lead the U.S. Department of Education. But "out of Michigan, without her checkbook, DeVos is like a mermaid with legs: clumsy, conspicuous, and unable to move forward." (Lisa Miller, New York)
A Populist Message: Democrats have a new agenda that promises "A Better Deal" for American workers. But what the party really needs, argues Damon Linker, is Bernie Sanders. (The Week)
---
Visualized
Motion to Proceed: On Tuesday, the Senate voted to begin the debate to repeal the Affordable Care Act. Here's a breakdown of how each senator voted. (The New York Times)
---
Question of the Week
On Monday, Democrats unveiled a new agenda, "A Better Deal: Better Jobs, Better Wages, Better Future," that they hope will help them reclaim a majority in Congress. The plan includes emphasizing better-paying jobs, lowering health-care costs, and cracking down on big business.
If you were drafting a new plan to appeal to Americans, what would your slogan be—and why? Share your response here or email hello@theatlantic.com, and our favorites will be featured in Friday's Politics & Policy Daily.
-Written by Elaine Godfrey (@elainejgodfrey)