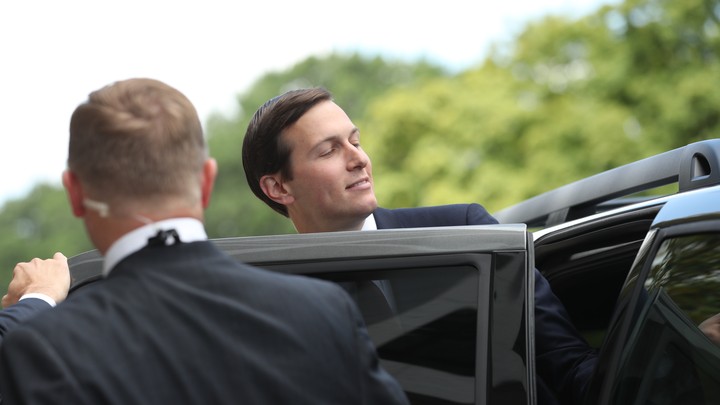 Today in 5 Lines
Jared Kushner, President Trump's son-in-law and senior adviser, told reporters that he "did not collude with Russians, nor do I know of anyone in the campaign who did." The remarks came after Kushner met privately with the Senate Intelligence Committee as part of its probe into Russian interference in the presidential election. During a press conference at the White House, Trump encouraged Senate Republicans to "do the right thing," and vote to repeal and replace Obamacare this week. Senate Minority Leader Chuck Schumer and House Minority Leader Nancy Pelosi unveiled the Democrats' new agenda, "A Better Deal: Better Jobs, Better Wages, Better Future." The driver accused of smuggling dozens of suspected migrants in an overheated tractor-trailer was charged and could face the death penalty.
---
Today on The Atlantic
Better Ingredients. Better Party: Eight months after the presidential election, congressional Democrats are embracing a new, populist economic agenda that sounds far more like Bernie Sanders than Hillary Clinton. (Clare Foran)

Don't Politicize the Military: During a speech on Saturday, President Trump encouraged active-duty personnel to lobby Congress for increased defense spending. In doing so, argues Andrew Exum, he reinforced the idea that the U.S. military "is a special, privileged class of men and women within our society."

Easy Enough: Here are five ways a foreign government could influence an election without breaking the law. (Uri Friedman)
Follow stories throughout the day with our Politics & Policy portal.
---
Snapshot
---
What We're Reading
Joe, Mika, and the Donald: Olivia Nuzzi chronicles the long, tumultuous relationship between the Morning Joe hosts and Donald Trump. (New York)
A Seat at the Table: Representative Mark Meadows, the leader of the conservative House Freedom Caucus, has been fighting the GOP establishment for years. Now, under the Trump administration, he wields real influence. (Al Weaver, Washington Examiner)
Guilty Pleasure: Emily Nussbaum explains how The Apprentice ultimately made Donald Trump's presidency possible. (The New Yorker)
A Critical Candidate: Ohio Senator Sherrod Brown is "one of the Senate's most endangered Democrats," but just the prospect of him winning reelection has some floating the idea of a possible run for the White House. (Ben Terris, The Washington Post)
How to Deal With Afghanistan: Susan B. Glasser examines the implications of Trump refusing his national security team's recommendation to put more troops on the ground in Afghanistan. (Politico)
---
Visualized
Spot the Difference: This breakdown compares six iterations of the Republican health-care bill, including how each would affect premium costs, the deficit, and Medicaid. (Haeyoun Park, The New York Times)
---
Question of the Week
On Monday, Democrats unveiled a new agenda, "A Better Deal: Better Jobs, Better Wages, Better Future," that they hope will help them reclaim a majority in Congress. The plan includes emphasizing better-paying jobs, lowering health-care costs, and cracking down on big business.
If you were drafting a new plan to appeal to Americans, what would your slogan be—and why? Share your response here or email hello@theatlantic.com, and our favorites will be featured in Friday's Politics & Policy Daily.
-Written by Elaine Godfrey (@elainejgodfrey)
We want to hear what you think about this article. Submit a letter to the editor or write to letters@theatlantic.com.
Elaine Godfrey
is a staff writer at
The Atlantic
, where she covers politics.