The Atlantic Politics & Policy Daily: Repeal and Dismay
The Congressional Budget Office projected that repealing Obamacare would increase the number of uninsured by 32 million over the next decade.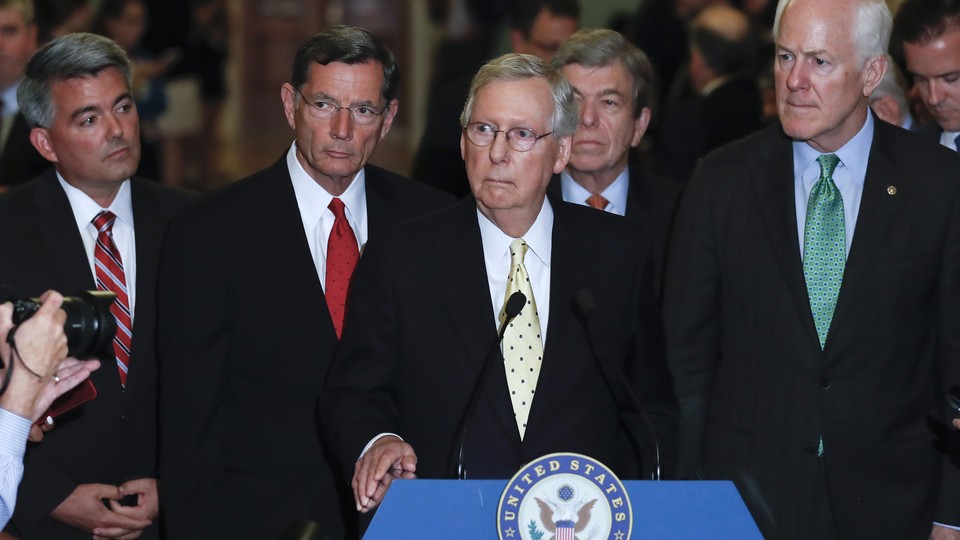 Today in 5 Lines
President Trump invited Senate Republicans to lunch at the White House, where he asked them not to leave town until they had a bill to repeal and replace Obamacare ready, adding that "inaction is not an option." The Congressional Budget Office projected that repealing Obamacare would increase the number of uninsured by 32 million over the next decade. The Justice Department announced plans to broaden its use of civil-asset forfeiture, the practice of seizing money and property from criminal suspects. Trump's Presidential Advisory Commission on Election Integrity held its first meeting. U.S. officials said that Trump will end a covert CIA program that aided moderate Syrian rebels battling the Syrian government.
---
Today on The Atlantic
Follow stories throughout the day with our Politics & Policy portal.
---
Snapshot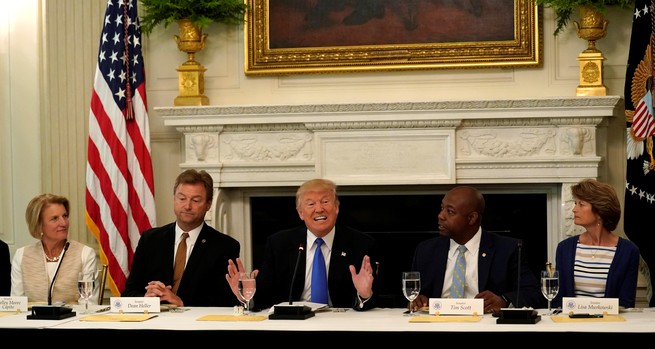 ---
What We're Reading
The Deal Post-Repeal: Ron Elving lays out eight major takeaways from the collapse of the Republican health-care bill and the subsequent proposal of a seemingly doomed repeal-and-delay vote. (NPR)
Show the Receipts: President Trump had a second, hour-long meeting with Russian President Vladimir Putin during the G20 summit in Germany, but there appears to be no transcript or documentation of the discussion. That's a problem. (James Goldgeier, The Washington Post)
Problems in the Party: David Faris argues that polarization within the GOP is putting the current Republican-controlled Congress on track to be the least productive group since the Civil War. (The Week)
Where Russia Matters: The Trump-Russia investigation isn't playing much of a role in most early congressional races across the country. But in Representative Dana Rohrabacher's district, the issue could end up hurting his chances at reelection. (Katie Glueck, McClatchy)
Trump Doesn't Get Health Care: Ezra Klein argues that Mitch McConnell isn't the only person to blame for the failed health-care bill—in an era in which policy leadership often comes from the White House, President Trump was "completely underprepared, woefully uninformed, and personally confused." (Vox)
---
Visualized
Not a Great Advocate: An analysis of President Trump's tweets shows that he rarely tweeted about policy specifics related to health care—and when he did, his comments were misleading or false. (The Washington Post)
Battle Hymn of the Republic: Watch renowned jazz musician Jon Batiste create a new arrangement of the song for The Atlantic's first podcast, Radio Atlantic. (Kasia Cieplak-Mayr von Baldegg, Matt Thompson, and Nicolas Pollock)
---
Question of the Week
On Thursday, Donald Trump will celebrate his six-month anniversary as president of the United States. A new Washington Post-ABC News poll shows that only 36 percent of Americans approve of his performance so far, while 58 percent disapprove.
This week we want to know: In what areas do you think President Trump has succeeded? In what areas has he failed? Share your response here and our favorites will be featured in Friday's Politics & Policy Daily.
-Written by Elaine Godfrey (@elainejgodfrey)