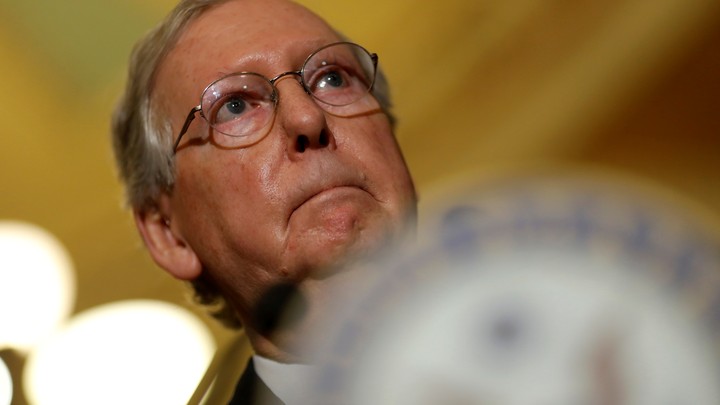 Today in 5 Lines
After the GOP health-care plan was stalled by unexpected GOP opposition, Senate Majority Leader Mitch McConnell said he will instead hold a vote "in the near future" to repeal the Affordable Care Act and replace it at a later date. Republican Senators Shelley Moore Capito, Lisa Murkowski, and Susan Collins came out against the plan, making it unlikely to pass. President Trump told reporters that Republicans should "let Obamacare fail" in order to force Democrats to negotiate on health care. Meanwhile, in the House, Republicans released a 2018 budget plan that includes cuts to Medicare and Social Security. And CNN reports that Ike Kaveladze was the eighth person present for the June 2016 meeting with Donald Trump Jr. at Trump Tower.
---
Today on The Atlantic
'Republican-on-Republican Violence': The health-care debate has increased tensions in Congress, writes Molly Ball, but rather than turning on President Trump, congressional Republicans are turning on each other.

It's Not Universal: Support for a single-payer health-care system is growing on the left, but Democrats are far from reaching a consensus on the issue, foreshadowing a fight between the party's liberal and centrist wings. (Clare Foran)

Sticks and Stones: Critical speech is not the same as violence, argue Jonathan Haidt and Greg Lukianoff, and conflating the two is both regressive and harmful.
Follow stories throughout the day with our Politics & Policy portal.
---
Snapshot
---
What We're Reading
The 'Nays' Have It: With last-minute opposition from Senators Mike Lee and Jerry Moran, the Republican plan to repeal and replace the Affordable Care Act has come to a halt. Here's how the legislation fell apart. (CNN)
Turn of Events: Kansas Senator Jerry Moran generally supports his party's leadership, but on the GOP health-care bill, he surprised his fellow Republicans by calling it "bad policy." (Jim McLean, NPR)
A Lesson From the Past: David French argues that Republicans need only look at the repercussions of former President Jimmy Carter's "failed, disastrous four years" in office to understand what could happen if President Trump continues to be an ineffective leader. (National Review)
Joining Forces: The Washington Post reports that the two former managers of Hillary Clinton and Mitt Romney's presidential campaigns are teaming up on an initiative to prevent foreign interference in future U.S. elections. (Ellen Nakashima)
Reversing Abortion: Pro-life advocates have issued a new line of attack in the war over reproductive rights, writes Ruth Graham: Encourage women to seek "abortion-pill reversal." (The New York Times Magazine)
---
Visualized
The Elite Eight: Six additional people were reportedly present for a June 2016 meeting between Donald Trump Jr. and a Russian lawyer. This flowchart shows how all of the meeting's attendees are connected. (Rosalind S. Helderman and Tom Hamburger, The Washington Post)
---
Question of the Week
On Thursday, Donald Trump will celebrate his six-month anniversary as president of the United States. A new Washington Post-ABC News poll shows that only 36 percent of Americans approve of his performance so far, while 58 percent disapprove.
This week we want to know: In what areas do you think President Trump has succeeded? In what areas has he failed? Share your response here and our favorites will be featured in Friday's Politics & Policy Daily.
-Written by Elaine Godfrey (@elainejgodfrey)
We want to hear what you think about this article. Submit a letter to the editor or write to letters@theatlantic.com.
Elaine Godfrey
is a staff writer at
The Atlantic
, where she covers politics.