The Atlantic Politics & Policy Daily: The Truck Stops Here
Trump climbed into a fire truck during a product-showcase event to mark the start of the White House's "Made in America" week.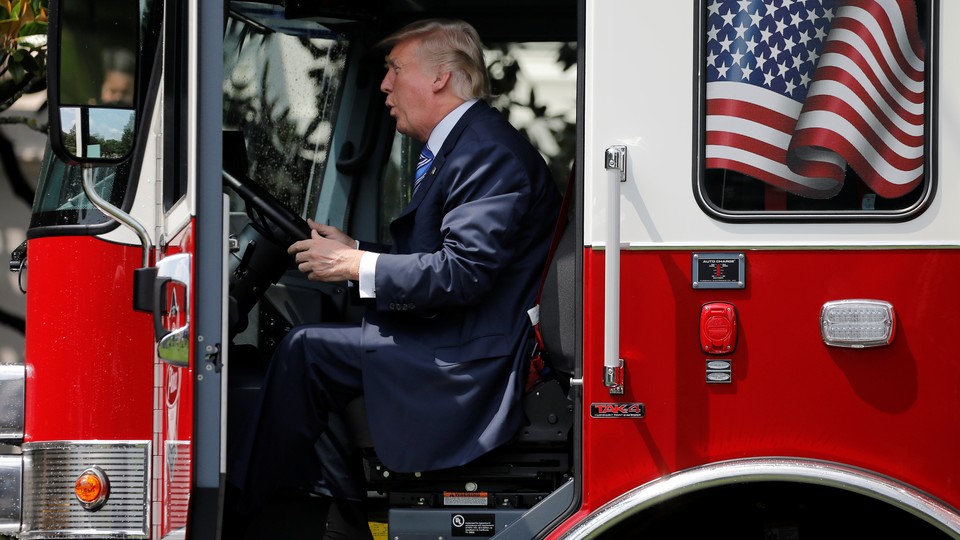 Today in 5 Lines
President Trump said Republicans are "pushing very hard" to repeal and replace Obamacare, adding that he hopes Senator John McCain, who recently underwent surgery to remove a blood clot, "gets better very soon." White House Press Secretary Sean Spicer said Trump will host a group of Republican senators at the White House Monday night to persuade them to support the new health-care bill. Trump climbed into a fire truck during a product-showcase event to mark the start of the White House's "Made in America" week. The Department of Homeland Security announced it will increase the number of H-2B visas by 15,000. Police in Las Vegas said they found a threatening note at Nevada Senator Dean Heller's office over the weekend, but determined that there was no break-in, as had initially been reported.
---
Today on The Atlantic
Distorting Democracy: Norm Ornstein argues that, by every standard in representative government, the Republican health-care bill should have been abandoned. So why hasn't it?

Do the Right Thing: Whether or not Donald Trump Jr., Jared Kushner, and Paul Manafort should have attended the June 2016 meeting with a Russian lawyer, they have set a benchmark for the administration's moral code. (John Dickerson)

Why Is Canada More Functional Than the U.S.?: According to Toronto-based writer Jonathan Kay, Canada, like other wealthy nations, is "more transactional: You pay your taxes, you get your government."
Follow stories throughout the day with our Politics & Policy portal.
---
Snapshot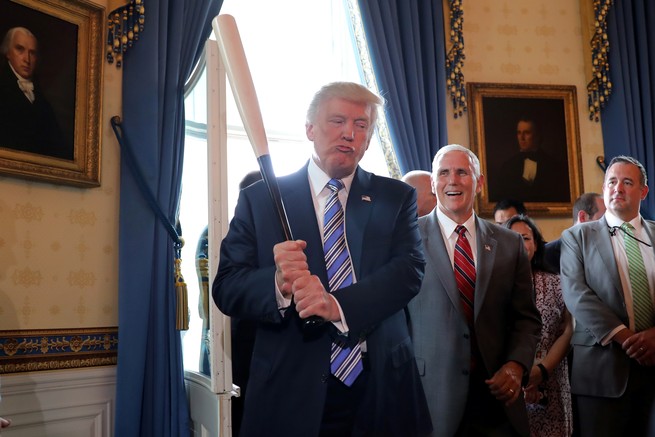 ---
What We're Reading
Transforming America: Donald Trump's brash tone, anti-media rhetoric, and distrust of the political establishment appears to be catching on in communities in rural Colorado. (Peter Hessler, The New Yorker)
What Do Democrats Stand For?: According to House Democratic Caucus Chairman Joe Crowley, the party's new message is still in the works: "We're hoping to have this up and running and out by this fall." (Steve Peoples and Bill Barrow, AP)
The Swamp Act: A bill before Congress would require federal agencies to relocate their headquarters outside of Washington, D.C. The concept of decentralization isn't new—but is it plausible? (Ben Wofford, Washingtonian)
'Close to a Laughingstock': Walter Shaub Jr., who is resigning as the director of the Office of Government Ethics on Tuesday, believes President Trump and his administration have damaged the United States' credibility in the international community. (Eric Lipton and Nicholas Fandos, The New York Times)
Time to Embrace 'The American Bad Ass': Donald Trump has ushered in a new era of Republican politics, argues Chris Buskirk, where "Joe Scarborough is out and Kid Rock is in." (American Greatness)
---
Visualized
Getting to Yes: This flowchart illustrates the next seven steps Senate Republicans still have to take in order to pass their health-care bill. (Dylan Scott, Vox)
---
Question of the Week
On Thursday, Donald Trump will celebrate his six-month anniversary as president of the United States. A new Washington Post-ABC News poll shows that only 36 percent of Americans approve of his performance so far, while 58 percent disapprove.
This week we want to know: In what areas do you think President Trump has succeeded and/or failed in his first six months? Share your response here and our favorites will be featured in Friday's Politics & Policy Daily.
-Written by Elaine Godfrey (@elainejgodfrey)