The Atlantic Politics & Policy Daily: From Russia, 'I Love It'
Donald Trump Jr. released copies of his emails with Rob Goldstone in which they arranged a meeting with a "Russian government lawyer," who had potentially damaging information about Hillary Clinton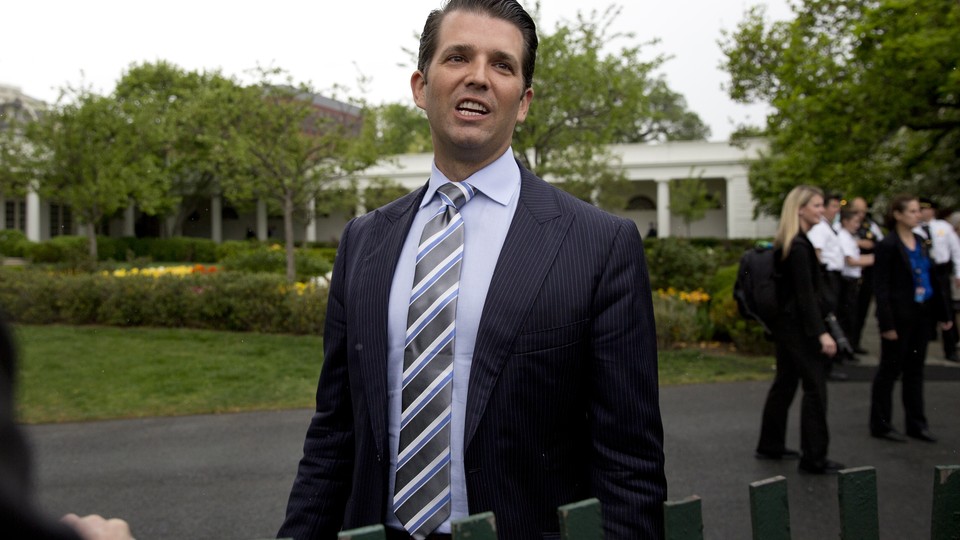 Today in 5 Lines
Donald Trump Jr. released copies of his emails with Rob Goldstone, a music publicist and acquaintance, in which they arranged a meeting with a "Russian government lawyer," who had potentially damaging information about Hillary Clinton. Democrats and Republicans in Congress expressed alarm over the email exchanges. In a statement, President Trump said his son is a "high-quality person and I applaud his transparency." Senate Majority Leader Mitch McConnell postponed the start of the chamber's summer recess until the third week of August. A Marine Corps spokesman confirmed that 15 Marines and a Navy corpsman were killed in a plane crash in Mississippi.
---
Today on The Atlantic
What About His Emails?: In his email exchange with Donald Trump Jr., Rob Goldstone, a music publicist and acquaintance of Trump Jr., said his contacts wanted to offer information on Hillary Clinton as "part of Russia and its government's support for Mr. Trump." We transcribed the correspondence here. (Priscilla Alvarez and Elaine Godfrey)

Still Loved: Rosie Gray reports that the recent controversy surrounding Donald Trump Jr. isn't swaying his fans on social media. Trump Jr. "seems to share a similar worldview and sensibility as a lot of us, so there's a sense that he's kind of one of us," said one organizer within the pro-Trump movement.

The Bern in Trump Country: Senator Bernie Sanders traveled across West Virginia and Kentucky over the weekend to rally working-class Americans against the GOP health-care bill. His message: "The president is not their champion, and never will be." (Clare Foran)
Follow stories throughout the day with our Politics & Policy portal.
---
Snapshot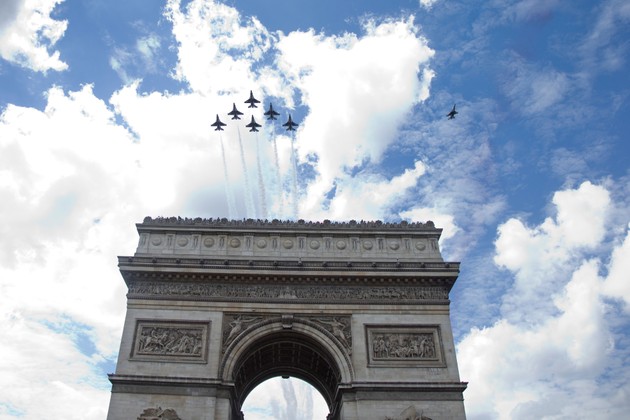 ---
What We're Reading
The Lead Up: Here's a timeline of the events leading up to the meeting between Donald Trump Jr. and Russian lawyer Natalia Veselnitskaya. (Emma Kinery, USA Today)
Trump's Eldest Son: While Donald Trump Jr. makes few visits to Washington D.C., he has emerged as one of the president's fiercest advocates in media interviews and on Twitter. (John Wagner and Rosalind S. Helderman, The Washington Post)
An Uphill Battle: A proposed amendment to the Senate health-care bill from Senators Ted Cruz and Mike Lee has heightened tensions among lawmakers. Privately, senators are "very pessimistic" that the new bill will pass. (Burgess Everett and Jennifer Haberkorn, Politico)
'This Town Melts Down': Veteran political reporter Mark Leibovich explains what's changed—and what's stayed the same—in Washington D.C. under the Trump administration. (The New York Times Magazine)
Between a Rock and a Hard Place: If the Senate health-care bill passes, Republicans may be at risk of losing their seats in the upcoming election. But if they fail to follow through on their promises to replace Obamacare, their voters will feel betrayed. (Guy Benson, Townhall)
---
Visualized
Keep Out: These side-by-side charts illustrate how secretive Republicans have been so far in working on their health-care legislation compared to when Democrats drafted the Affordable Care Act in 2009. (Audrey Carlsen and Haeyoun Park, The New York Times)
---
Question of the Week
The New York Times' Jennifer Steinhauer interviewed a handful of lawmakers to find out what they do when they're not busy legislating: During her free time, Iowa Senator Joni Ernst enjoys ruck marching, Maine's Angus King is an amateur photographer, and North Dakota Senator Heidi Heitkamp is a certified pilates instructor.
If you were a senator, what hobbies would you make time for?
Send your answers to hello@theatlantic.com and our favorites will be featured in Friday's Politics & Policy Daily.
-Written by Elaine Godfrey (@elainejgodfrey)