The Atlantic Politics & Policy Daily: Vote-a-Drama
Senators will continue debate on a new health-care plan in what's called a "vote-a-rama," after which they could pass a "skinny" repeal of Obamacare.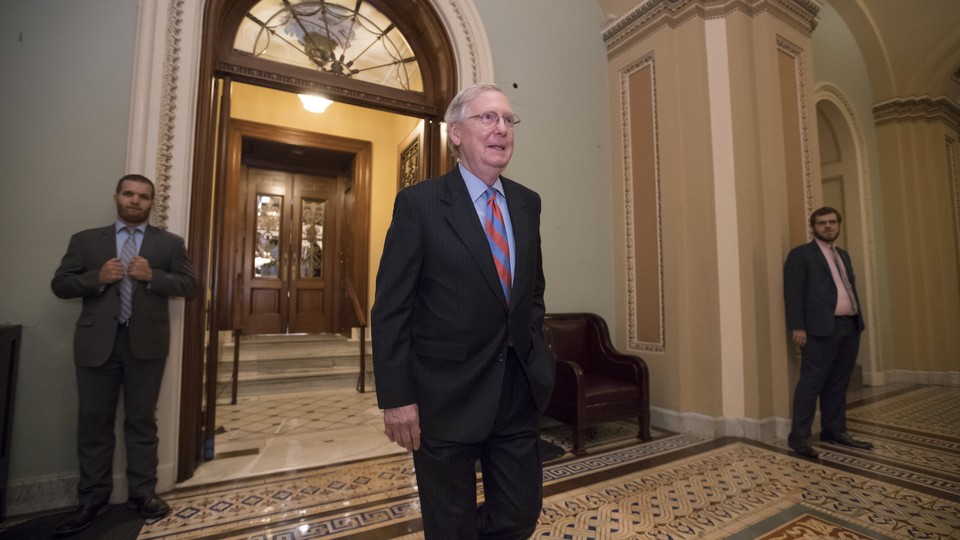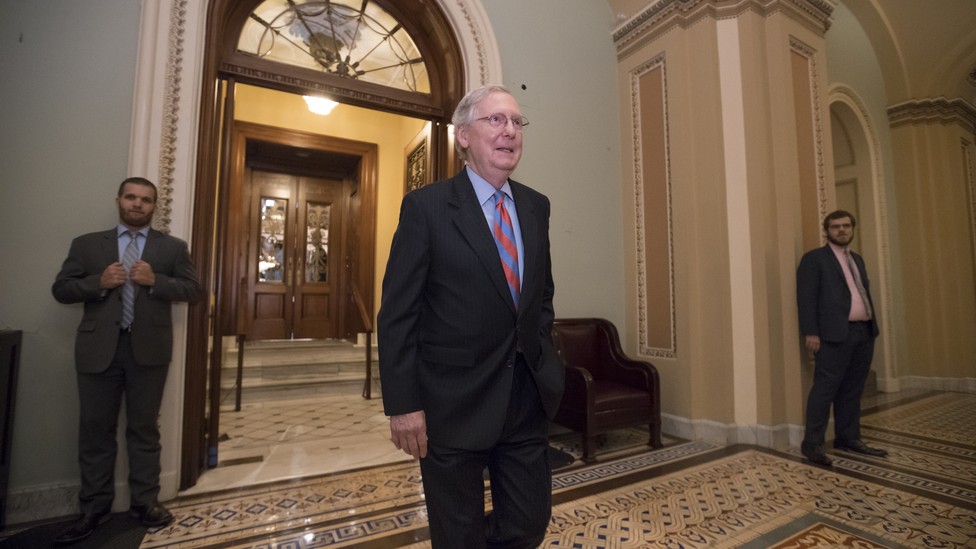 Today in 5 Lines
Senators will continue debate on a new health-care plan in what's called a "vote-a-rama," after which they could pass a "skinny" repeal of Obamacare. Alaska Dispatch News reports that Republican Senators Lisa Murkowski and Dan Sullivan received calls from Interior Secretary Ryan Zinke warning them that Tuesday's procedural vote on health-care legislation threatened Alaska's relationship with the administration. South Carolina Senator Lindsey Graham told reporters that he plans to introduce legislation that would prevent President Trump from firing Special Counsel Robert Mueller, adding that if Trump goes after Mueller, it could be "the beginning of the end of the Trump presidency." The head of the Boy Scouts of America apologized to the scouting community for Trump's political remarks at the National Jamboree on Monday. In an interview with Fox News, Attorney General Jeff Sessions said that Trump's public criticism of him is "hurtful," but that Trump is a "strong leader."
---
Today on The Atlantic
Cain and Abel: As the new White House communications director, Anthony Scaramucci vowed to end leaks and repair a dysfunctional press office. Now, he's accusing the chief of staff of leaking to the press. (David A. Graham)

What's the Magnitsky Act?: The law banning Americans from adopting Russian children isn't really about adoption at all, writes Julia Ioffe. It's about money.

'The Greatest Political Fraud': The Senate failed to repeal major parts of Obamacare on Wednesday, and conservative activists are incensed: "What are we here for?" one activist asked. "If we don't stand for this, what do we stand for?" (Elaine Godfrey)
Follow stories throughout the day with our Politics & Policy portal.
---
Snapshot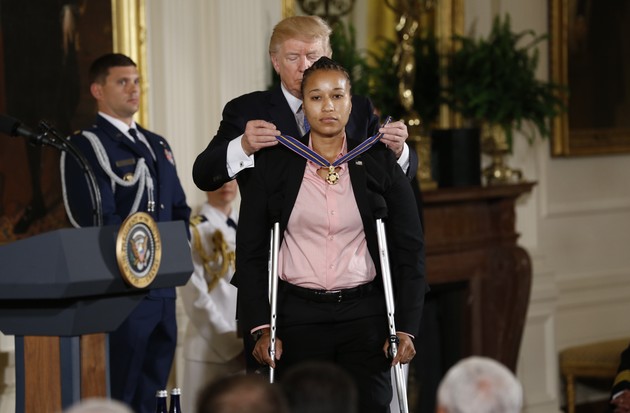 ---
What We're Reading
Scaramucci on the Record: In a phone call with The New Yorker's Ryan Lizza, the new White House communications director said he wanted to "kill all the leakers" in the White House and called White House Chief of Staff Reince Priebus a "paranoid schizophrenic."
The Deal With 'Skinny' Repeal: The Republicans' next-best option for repealing Obamacare is to get rid of the legislation's employer and individual mandates. But experts warn it could result in higher premiums and more uninsured Americans. (Paul Demko, Politico)
Back At It: In Michelle Obama's first public speaking event since leaving the White House, she sat down with Lauren Casteel of The Women's Foundation to discuss how race shaped her experience as first lady. (Nadia Khomami, The Guardian)
Will He Ever Learn?: President Trump made the right decision in banning transgender Americans from serving in the military, argues David French. But the way he handled the statement was careless. (National Review)
InstaTrump: While Donald Trump's favorite social-media platform is Twitter, it seems that members of his inner circle prefer Instagram, a platform that provides them with a "fan base that doesn't seem to mind the disconnect between that Trumpian lifestyle and that of the president's working-class base." (Katie Glueck, McClatchy)
Choosing Ignorance: The Trump administration is threatening funding cuts for the Department of Energy. But the White House seems clueless about what the department actually does—and how incredibly important its responsibilities are. (Michael Lewis, Vanity Fair)
---
Visualized
Watch the Vote: Keep track of how senators have been voting on the Republicans' health-care proposals. (Kim Soffen and Kevin Schaul, The Washington Post)
---
Question of the Week
On Monday, Democrats unveiled a new agenda, "A Better Deal: Better Jobs, Better Wages, Better Future," that they hope will help them reclaim a majority in Congress. The plan includes emphasizing better-paying jobs, lowering health-care costs, and cracking down on big business.
If you were drafting a new plan to appeal to Americans, what would your slogan be—and why? Share your response here or email hello@theatlantic.com, and our favorites will be featured in Friday's Politics & Policy Daily.
-Written by Elaine Godfrey (@elainejgodfrey), Lena Felton (@lenakfelton), and Taylor Hosking (@13hoskingt)