The Atlantic Politics & Policy Daily: Skinny, Clean, and Everything In Between
During the second day of deliberations, Senate Republicans voted against a "clean repeal" of the Affordable Care Act.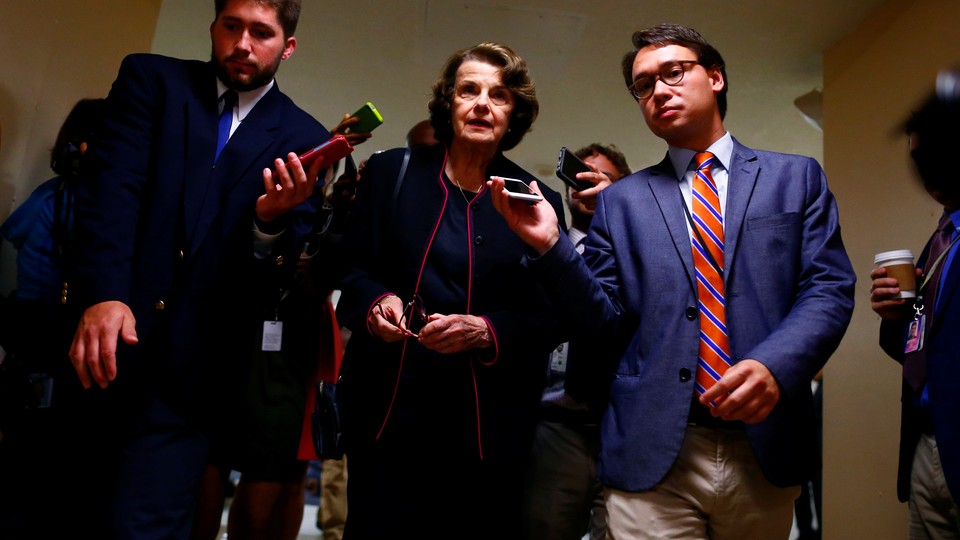 Today in 5 Lines
President Trump announced on Twitter that the U.S. will no longer "accept or allow" transgender people to serve in the military. Senate Armed Services Committee Chairman John McCain denounced the announcement, calling it "unclear." During the second day of deliberations, Senate Republicans voted against repealing major parts of the Affordable Care Act. Senators are expected to move on to the vote-a-rama period, a time when both parties can offer amendments to be voted on, as early as Thursday. Representative Steve Scalise, who was shot last month in an attack on a congressional baseball practice, was discharged from MedStar Washington Hospital Center.
---
Today on The Atlantic
A Democrat in a Sea of Republicans: What's it like to be a Democrat on the Presidential Advisory Commission on Election Integrity? Vann R. Newkirk II spoke with Maine Secretary of State Matthew Dunlap, one of three Democrats in the group, to discuss why he joined the commission and what he expects will come of it.

Jeff Flake's Bet on Decency: The Arizona senator is worried about the decline of civility in politics—and has refused to fall in line behind President Trump. Is there still a place for him in Trump's America? (McKay Coppins)

From Russia With Love: The 2016 presidential election wasn't the first time a foreign power tried to influence an American election: More than 40 years ago, a Russian leader privately vowed to "do everything we can" to help President Gerald Ford's reelection bid. (Jan M. Lodal)
Follow stories throughout the day with our Politics & Policy portal.
---
Snapshot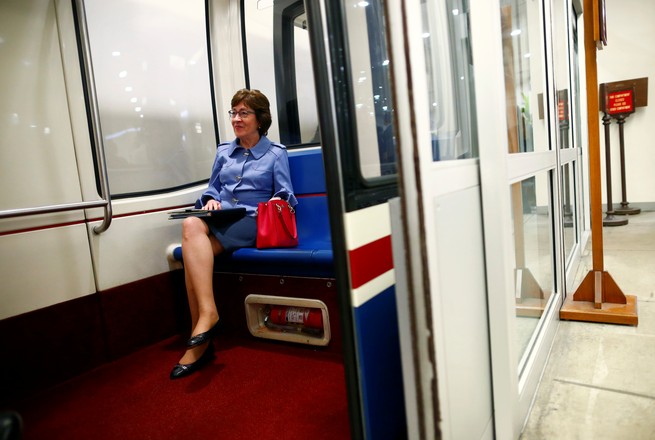 ---
What We're Reading
Behind the Scenes: President Trump reportedly banned transgender troops to end an internal-GOP disagreement about Pentagon-funded gender reassignment surgeries that put funding for his border wall at risk. (Rachael Bade and Josh Dawsey, Politico)
Getting Ethical: The New York Times reports that David Apol, the new head of the Office of Government Ethics, has clashed with colleagues in the agency in the past, mostly on issues related to conflict of interest. Walter Shaub, the outgoing head, has described Apol's approach to government ethics as "loosey-goosey." (Eric Lipton)
A Senator's Lament: In a speech on the Senate floor Tuesday, Senator John McCain chastised his colleagues for being secretive and circumventing normal procedure on legislation, even as he cast a vote to continue that broken process. (Paul Kane, The Washington Post)
'It's Kid Rock's Party Now': Republicans are supporting the musician's potential Senate bid, even though he's not really a conservative. After all, writes Jane Coaston, "pissing off liberals is what the Republican party does best right now." (BuzzFeed)
How We Got Here: The chaotic crafting of the GOP health-care bill is evidence that Congress has strayed from regular order. For that, Americans should blame Joe Biden. (Kevin D. Williamson, National Review)
---
Visualized
Debunking the Do-Nothing Presidency: In his first six months on the job, President Trump has been criticized for not getting much done, but as far as agency rules go, he's on track to do a lot. (Greg Ip, The Wall Street Journal)
---
Question of the Week
On Monday, Democrats unveiled a new agenda, "A Better Deal: Better Jobs, Better Wages, Better Future," that they hope will help them reclaim a majority in Congress. The plan includes emphasizing better-paying jobs, lowering health-care costs, and cracking down on big business.
If you were drafting a new plan to appeal to Americans, what would your slogan be—and why? Share your response here or email hello@theatlantic.com, and our favorites will be featured in Friday's Politics & Policy Daily.
-Written by Elaine Godfrey (@elainejgodfrey), Lena Felton (@lenakfelton), and Taylor Hosking (@13hoskingt)