Sessions Discussed Campaign Matters With Russian Ambassador
A new report from The Washington Post claims the attorney general had two "substantive" discussions with Sergey Kislyak about Trump's stance on issues important to Russia.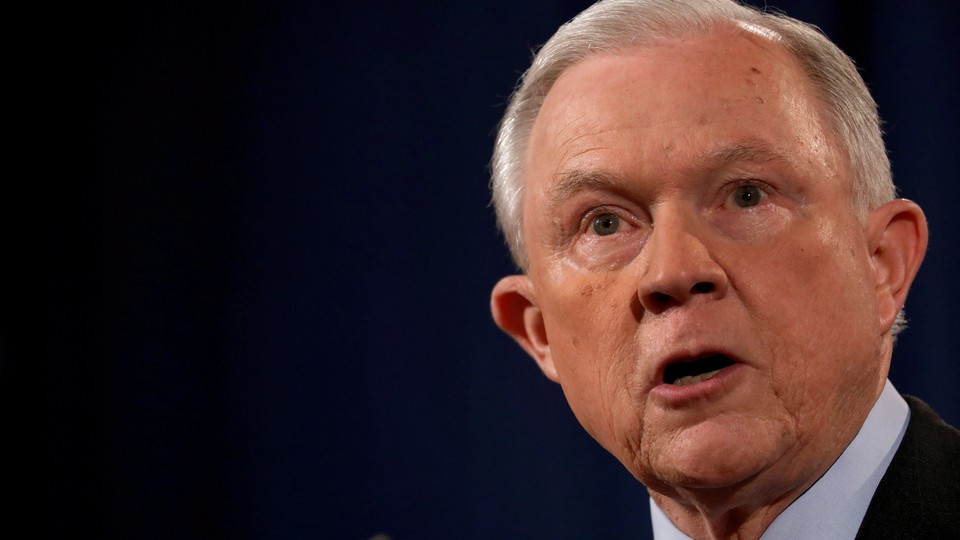 U.S. Attorney General Jeff Sessions discussed matters related to the Trump campaign with Sergey Kislyak, the Russian Ambassador to the United States, while the 2016 U.S. presidential race was ongoing, current and former U.S. officials told The Washington Post on Friday.
The revelations, based on intelligence intercepts of Kislyak's communications, contradict Sessions's sworn testimony before the Senate; first that he had no contacts with Russian officials during the campaign, and later his amended testimony that the contacts he had were not campaign-related.
John Q. Barrett, a law professor at St. Johns University and a former associate counsel in the office of the special prosecutor during the Iran-Contra affair, said the nature of the evidence made a perjury prosecution against Sessions unlikely because Kislyak would probably not agree to be a U.S. government witness, and because of the difficulty of using intelligence intercepts as evidence in court.
"To prove a perjury case requires not only evidence of knowing falsity but evidence of intent," said Barrett. "It's hard to imagine a perjury prosecution based on this kind of intelligence report."
Nevertheless, the report portends other possible legal trouble for Sessions, particularly with regard to his role in the firing of former FBI Director James Comey last May.
At the time, Comey was supervising an investigation into whether or not Trump campaign officials colluded with a Russian government effort to help Trump win the election. Trump later publicly acknowledged he had been thinking of the Russia investigation when he fired Comey. That prompted Comey to reveal that he had felt pressured by Trump to end the FBI's investigation into ousted National Security Adviser Michael Flynn's contacts with Russia, raising the question of whether the president had sought to obstruct justice.
"I think this now makes it pretty clear, if it wasn't already the case, that Attorney General Sessions must be a subject of the Mueller investigation into possible obstruction of justice," said Barrett. "He's not a target, but he's also not just a witness; it's someone the government is now looking at for possible criminal activity."
David Gomez, a senior fellow at George Washington University's Center for Cyber and Homeland Security and a former FBI agent, echoed that assessment.
"Everything related to the Comey firing, particularly as it relates to Sessions, is now in question," Gomez said. "If these are official intercepts I'm sure Mueller has already seen them."
Officials told the Post that Kislyak informed his superiors of two conversations with Sessions in which campaign matters were discussed, the first of which took place in July 2016 on the sidelines of the Republican National Convention and the second of which took place in April at the Mayflower Hotel in Washington ahead of President Trump's first major foreign policy speech.
The Post previously revealed in March that Sessions had spoken with Kislyak on two separate occasions during the campaign, citing the same July 2016 meeting and another private meeting on September 8. But Sessions has repeatedly claimed that the two never discussed campaign issues, and that he met with the Russian ambassador only "in an official capacity as a member of the Senate Armed Services Committee." Before that, he claimed at his confirmation hearing in January that he "did not have communications with the Russians."
In the wake of the The Post's revelations in March, Sessions opted to recuse himself from the FBI's Russia investigation—a decision that angered President Trump, a recent New York Times interview revealed. In his testimony before an open Senate hearing in June, Sessions again denied that he had discussed any campaign information with Russian officials. "Let me state this clearly: I have never met with or had any conversations with any Russians or any foreign officials concerning any type of interference with any campaign or election," he said. "Further, I have no knowledge of any such conversations by anyone connected to the Trump campaign."
For the most part, Sessions declined to fully answer the questions posed to him at the hearing, often saying that he could "not recall" or did not have "any recollection" of an event. "I do not recall any conversations with any Russian official at the Mayflower Hotel," he told the Senate Intelligence Committee. He later admitted that such a conversation was "conceivable," though he didn't remember it happening.
But, on Friday, a former U.S. official told The Post that Sessions and Kislyak had "substantive" discussions about Trump's stance on issues concerning Russia and the future of U.S.-Russia relations under a Trump presidency.
While these latest revelations should be taken with a dose of skepticism, given that details of the conversations came from Kislyak himself, U.S. officials told the Post Kislyak has been historically reliable in his accounts.
Trump's conversation this week with the Times has already called into question whether Sessions will continue to serve in the administration for much longer. According to the Times, Sessions was previously willing to resign on his own, but Trump declined the offer.
"If there's nothing to the Russia investigation, why doesn't the Trump team open up to it and let Mueller do his job?" said Clint Watts, a former FBI agent and a senior fellow at the Foreign Policy Research Institute. "It's inexplicable at this point."