The Fratricidal Fight Inside the White House
Less than a week into his job, White House communications director Anthony Scaramucci is accusing President Trump's chief of staff of leaking damaging information to the press.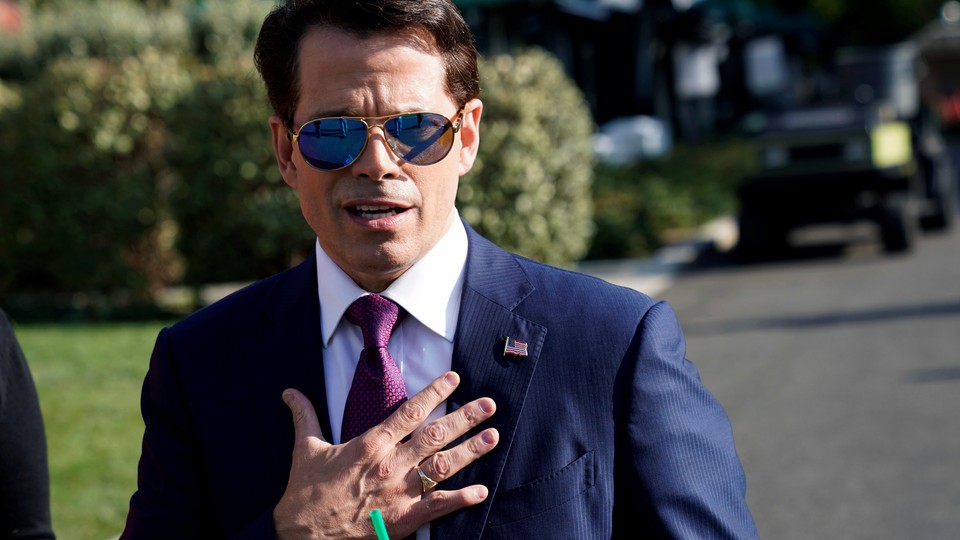 When Anthony Scaramucci was named White House communications director last week, he had a dual mandate to fix the president's dysfunctional press shop and end leaks. So far, those two goals are steeply at odds, as Scaramucci's fierce, sudden attack on White House Chief of Staff Reince Priebus Wednesday and Thursday show.
An enigmatic series of tweets Wednesday night erupted into a stunning CNN interview Thursday morning in which Scaramucci compared his relationship with Priebus to Cain and Abel (he didn't indicate which is which) and said he didn't know whether his relationship with Priebus was "repairable." He also implied that national-security leakers ought to be executed.
The administration's newest public fight began Wednesday night when Politico obtained Scaramucci's financial disclosure. (Fun fact: Scaramucci earned $88,000 from Fox News last year.) Even though, as Politico notes and as Scaramucci acknowledged, that form is available to the public, Scaramucci apparently decided it had been leaked and tweeted (he has since deleted it):
In light of the leak of my financial disclosure info which is a felony. I will be contacting @FBI and the @TheJusticeDept #swamp @Reince45
Scaramucci's tagging of Priebus (@Reince45) seemed to many readers like an accusation against the chief of staff, and two well-sourced reporters soon said that was the correct inference:
In case there's any ambiguity in his tweet I can confirm that Scaramucci wants the FBI to investigate Reince for leaking.

— Ryan Lizza (@RyanLizza) July 27, 2017
Some in White House are trying to build a case that Priebus is a leaker — "a diagram" charting leaks, per senior official — to show Trump.

— Philip Rucker (@PhilipRucker) July 27, 2017
Around 1 a.m., Scaramucci insisted that hadn't been his message:
That made Scaramucci's unexpected call to CNN's New Day Thursday morning all the stranger: Even as the spokesman insisted that he hadn't been accusing Priebus of the leaks, he still blasted his colleague and accused him of leaking.
"If you want to talk about the chief of staff, we have had odds. We have had differences. When I said we were brothers from the podium, that's because we're—some brothers are like Cain and Abel," Scaramucci said, referring to the sons of Adam and Eve, one of whom killed the other in a fit of jealous rage. "Other brothers can fight with each other and get along. I don't know if this is repairable or not, that will be up to the president. He's the chief of staff. He's responsible for understanding and uncovering and helping me do that in the White House which is why I put the tweet out last night."
That description was sharply at odds with Scaramucci's own spin last week when he took the job. It had been reported that Priebus staunchly opposed the appointment, when he used a similar metaphor to a different end.
"Reince and I have been personal friends for six years," he said. "We are a little bit like brothers where we rough each other up once in a while, which is totally normal for brothers. There's a lot of people in here who have brothers, and so you get that. But he's a dear friend." He added: "I don't have any friction with Reince."
On Thursday, Scaramucci implied that journalists' conclusion that he was going after Priebus was proof that Priebus was the leaker, since the reporters would know who their own sources were.
"When I put out a tweet, and I put Reince's name in a tweet, they are all making the assumption it's him because journalists know who the leakers are," he said. "If Reince wants to explain he's not a leaker, let him do that." At the end of the interview, he added, "People know my history between me and Reince. I can speak for my own actions. He's going to need to speak for his own actions."
Scaramucci's attack on Priebus was the most notable but hardly the only interesting part of the half-hour-long phone call, a free-flowing, sometimes contentious and sometimes jocular exchange between—as Scaramucci kept mentioning—two Queens-bred Italian Americans. Scaramucci also invoked Joe Paterno (of all people) on the subject of honor, bragged about his business prowess, and salted the conversation with homespun idioms ("the fish stinks from the head down," he said, though confusingly he was not referring to Trump, who he said does not stink). For the second time in a week he spoke openly on CNN about a private conversation he'd had with the president. Scaramucci also said Trump might veto a Russian sanctions bill that's drawn pledges of support from veto-proof majorities in Congress.
Although he was irate about the disclosure, Scaramucci said leaks about internecine West Wing fighting paled in seriousness with those about national security. Last week, for example, The Washington Post reported that Trump had killed a covert CIA program to funnel weapons to Syrian rebels opposed to Bashar al-Assad. (The president himself appeared to confirm the covert program in a tweet.)
"Those are the types of leaks that are so treasonous that 150 years ago people would have actually been hung for those types of leaks," Scaramucci said. While Trump and his allies have accused a "deep state" of career government employees of trying to thwart his agenda, Scaramucci took that a step further, saying that even some members of the president's own team are traitors to Trump. "There are people inside the administration that think it is their job to save America from this president," he said.
So far, Scaramucci has shown himself to be just the sort of combative, in-your-face spokesman that Sean Spicer, the outgoing press secretary, never was. (Certainly Spicer was never going to call into CNN accusing the White House chief of staff of stabbing Trump in the back.) Scaramucci's method, on display during Thursday's interview, is to mimic Trump. Not only did he warn paranoiacally about traitors inside the White House, but he once again professed to "love the president" and bragged about his business prowess—"after running two reasonably successful companies and one which the entire world knows, $180 million, here is what I know"—while solemnly declaring he was not a politician. He threatened and cajoled Cuomo (and Lizza) with a straight face, then played the remarks off as jokes, just as Trump likes to do. A recent Daily Show supercut shows how Scaramucci even seems to be mimicking Trump's distinctive hand gestures.
The comparisons run deeper. Scaramucci, like the president, seems to enjoy the process of jousting with reporters per se. And like Trump, he has a tendency to change his story drastically in the moment, apparently because he thinks it benefits him in that moment. Take, for example, Scaramucci's whiplash-inducing flip from accusing Priebus to insisting he wasn't accusing Priebus to very publicly accusing him on live national television. Or take his flip from saying he had no friction with Priebus last week to saying the relationship might be irreparable.
Whether or not Priebus is a source of leaks from the White House—and the many damaging leaks about him are clear enough proof that he would not be the only one—one wonders whether there is any turning back after Scaramucci's attack on Thursday. (Despite savage backbiting in the early days of the Trump presidency, both Priebus and strategist Steve Bannon have remained in their jobs, and in fact both reportedly opposed Scaramucci's hiring.) Priebus's job has been said to be in danger for months, and Scaramucci—a fast-talking New York financier—seems to have a more natural connection to the president than the mild Wisconsinite, a career political operative. Scaramucci also told reporters last week that he reports directly to the president, bypassing the chief of staff.
Trump has spent the last week viciously attacking his attorney general, Jeff Sessions. (Perhaps Scaramucci is just trying to be like the boss by starting a feud with a close colleague.) While Sessions has thus far refused to resign, the president faces the prospect of finding himself without both an attorney general and a chief of staff, even as nearly two-thirds of top administration jobs remain without even a nominee. Scaramucci is reportedly a candidate for the chief-of-staff job if Priebus is pushed out.
That is assuming, though, that Scaramucci stays in the president's good graces. The new communications director seems to be playing his role just as Trump wanted, but while Scaramucci says he loves the president, Trump himself is more likely to have crushes: He becomes enamored of certain aides, especially those who model themselves on his truculent personality, only to turn on them later.
This was true of Corey Lewandowski, Trump's first campaign manager, who was pushed out after assaulting a reporter. Michael Cohen, Trump's personal lawyer, developed a reputation for hot-tempered outbursts and intense personal loyalty to Trump, but his adoration did not win him a White House job, and Cohen now finds himself sidelined. Instead, Trump hired attorney Marc Kasowitz to handle the Russia investigation. Kasowitz was another Trump doppelganger: a brash, tough-talking, often-menacing streetfighter. He started out strong, with an aggressive (if incoherent) press conference attacking fired FBI Director James Comey. But after sending vulgar, threatening emails to a stranger, Kasowitz was off the team, too. Bannon was brushed back when his reputation got too big, and saw his role reduced.
Trump finally has what he wants in a spokesman—someone who talks exactly like he does. Perhaps Scaramucci's act will succeed, winning the president's approval and changing the tide of press coverage in a more positive direction. Or perhaps Trump will decide that the aggressive approach isn't what he wanted—or even worse, that it doesn't work. If that happens, it won't matter how much Scaramucci loves the president. As Sessions could tell him, loyalty is a one-way street for Trump.