Russian Anti-Sanctions Campaign Turned to California Congressman
U.S. diplomats were concerned about Russian outreach to House Republican Dana Rohrabacher while on a trip to Moscow last year.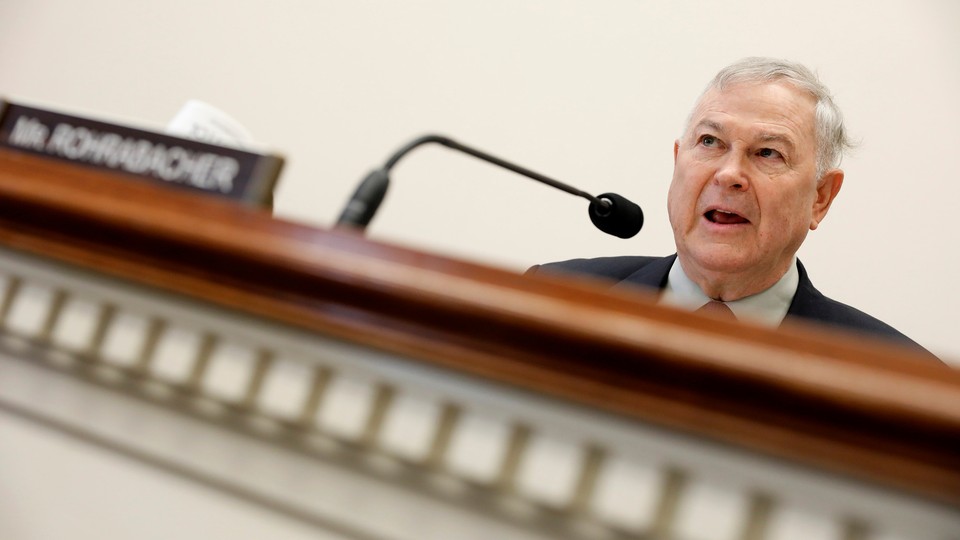 Updated on July 19, 2017
The trip was two months before the now-infamous Trump Tower meeting between Trump campaign officials and a Russian lawyer and lobbyist. Representative Dana Rohrabacher, perhaps the most Russia-friendly member of the GOP caucus, led a congressional delegation to Moscow in which he was handed materials critical of the Magnitsky Act, the 2012 bill imposing sanctions on Russian officials. Rohrabacher has said that the documents were given to him by Russian prosecutors.
Rohrabacher's 2016 Moscow meeting has been revisited in recent days because of the document's connection to the anti-Magnitsky campaign that formed part of the Trump Tower meeting. Last week, Donald Trump Jr. acknowledged that he met with Natalia Veselnitskaya, a Russian attorney he believed was prepared to hand him compromising information on Hillary Clinton as part of a broader Russian government effort to help his father's candidacy. During the meeting, Trump Jr. said that Veselnitskaya was focused on repeal of the Magnitsky Act.
But even at the time, Rohrabacher's 2016 Moscow trip raised eyebrows among U.S. officials, particularly at the State Department. According to two sources with close knowledge of the events, officials at the Embassy in Moscow expressed doubts about the people they were meeting with and had warned the delegation that FSB presence was constant while the members were in Moscow. During the trip, the group was briefed by the U.S. Ambassador, John Tefft.
One of the officials on the ground, Alamanda Gribbin, an embassy control officer, said she had seen the document given to Rohrabacher before, according to one of the sources. The document is marked "confidential" at the top and is full of accusations against Sergei Magnitsky, the Russian lawyer who died in prison in 2009 and for whom the act is named, and Bill Browder, the Hermitage Capital CEO for whom Magnitsky worked and who has been one of the key people behind the legislation.
State was "really concerned" about whom Rohrabacher was meeting with, another source with knowledge of the trip said. "They were under the impression they were FSB agents."
Rohrabacher aide Paul Behrends, this source said, "was telling people they were from the prosecutors' office in Moscow." The FT reported that the person who gave Rohrabacher the document was Viktor Grin, a top aide to Yuri Chaika, the Russian prosecutor general with whom Veselnitskaya, the lawyer in the Trump Tower meeting, told the Wall Street Journal she was in contact.
One of the sources familiar with the trip said that neither Rohrabacher nor Behrends appeared to take the warning seriously and said it was Behrends who was setting up the meetings.
"Paul was present as the on-the-scene coordinator for Rep. Rohrabacher, nothing more," said Ken Grubbs, Rohrabacher's press secretary. Grubbs said that Behrends "almost certainly was at the congressman's side" for the meeting.
Grubbs did not dispute that a warning had been given, but said the conversation with the prosecutors had been "nothing substantive."
"The congressman chairs the relevant subcommittee for Russia and a codel is a fact-finding mission," Grubbs said. "He was asked by a Russian parliamentarian if he would accept documents from the prosecutors and said yes. He later in the day accepted the documents and the conversation with prosecutors was brief and formal, nothing substantive. He is always aware that when he speaks with representatives of foreign governments that intelligence ops may be at play and is accordingly wary. As a Member of the U.S. House of Representatives he does not, however, take direction from the State Department."
A State Department spokesperson did not immediately return a request for comment.
Past Rohrabacher visits to Moscow have also been objects of controversy. A 2013 trip that enlisted Steven Seagal as a fixer also included a meeting with top FSB officials and a dinner with deputy prime minister Dmitry Rogozin. The trip ended with an aborted plan to fly to Chechnya and meet the authoritarian Chechen leader, Ramzan Kadyrov. On the same trip that he received the anti-Magnitsky Act documents, Rohrabacher met with Russian Railways chief Vladimir Yakunin, who had been added to the Treasury Department's sanctions list in 2014.
Trump Jr., Jared Kushner and Paul Manafort's meeting last year with Veselnitskaya, was, at least in part, part of a broader Russian effort to lobby against the Magnitsky Act. The Act is a law passed in 2012 that places sanctions on Russian officials connected to the death of Magnitsky; Magnitsky had been investigating tax fraud.
Veselnitskaya, the lawyer in the meeting, has been deeply involved in the anti-Magnitsky Act effort in the U.S. as part of a group called the Human Rights Accountability Global Initiative Foundation that has lobbied in Congress against the legislation. So has another attendee at the meeting, Rinat Akhmetshin, a Russian-American lobbyist whose involvement in the anti-Magnitsky Act campaign included  a screening of a documentary critical of the Magnitsky Act at the Newseum a few days after the Trump Tower meeting.
In April 2017, Akhmetshin, a former Soviet military counterintelligence officer, met with Rohrabacher in Berlin and discussed the Prevezon money-laundering case with him, according to CNN.The case involved allegations of money laundering involving real estate company Prevezon and was brought in the Southern District of New York. It was settled in May. Veselnitskaya was a lawyer for Prevezon owner Denis Katsyv.
House Foreign Affairs Committee chairman Ed Royce's office signs off on trips such as Rohrabacher's, but doesn't always have the full picture of what he is doing.
"There are plenty of things that don't get included on those public disclosures," said a GOP congressional aide. "That's where some of the concerning meetings are taking place."
An itinerary for the Rohrabacher trip that included the Berlin meeting, which has not yet been made public, details several agenda items for the Berlin leg, but makes no mention of a meeting with Akhmetshin. And the itinerary for the April 2016 trip to Moscow does not list a meeting with the prosecutors.
"There have been instances where the chairman has gone to Mr. Rohrabacher and said this itinerary needs to change, or this trip as a whole is not a smart idea at this time," the GOP aide said. In response to a recent itinerary submitted by Rohrabacher for a trip to Spain, Royce told Rohrabacher that he could not take meetings in Barcelona on Catalonian separatism without also meeting with government officials in Madrid. Royce also nixed a trip Rohrabacher planned to take to Russia earlier this year.
According to a senior House GOP aide, Rohrabacher earlier this year asked to travel to Moscow in the weeks following the Trump inauguration, and Royce told him no in a conversation on the House floor.
Browder filed a complaint last year with the Justice Department arguing that several of the participants in the anti-Magnitsky Act efforts, including Akhmetshin, are legally required to register under the Foreign Agent Registration Act. In March, Senate Judiciary Committee chairman Chuck Grassley named Akhmetshin in a letter about unregistered foreign agents working for Russia, citing Browder's complaint. A Senate Judiciary Committee hearing about FARA enforcement was scheduled for Wednesday, until it was postponed by Grassley on Tuesday.
Rohrabacher has long been an outlier in the Republican caucus for his pro-Russian stance, but in the Trump era his views are no longer so unusual. He said in November that he had been told he was under consideration for Secretary of State. Rohrabacher has reportedly been warned by the FBI in the past that Russian intelligence was attempting to recruit him.
Several sources pointed to Rohrabacher aide Behrends, a controversial figure on the Hill, as part of the reason for the congressman's idiosyncratic views on Russia. Other congressional staffers who have worked with or around Behrends see him as egging on Rohrabacher's worst instincts. Behrends did not immediately respond to requests for comment.
"Paul here is the key figure, not Dana," said one Hill staffer. "Paul is the instigator here."
"He's nudging it along, encouraging it," said another Hill source. "And he pushes Dana to follow what he would normally want to do but gives him that encouragement and that support."
Behrends worked for Rohrabacher in the 1990s before becoming a lobbyist, most famously for Blackwater; Behrends is close with Blackwater founder Erik Prince. He at one point worked for the Alexander Strategy Group, the firm connected to disgraced lobbyist Jack Abramoff.  Lobbying records show that he represented a wide variety of clients from 1999 to 2014, including at certain points The Prince Group, Blackwater, a defense contractors' trade association, and other entities.
"If you were going to cast a lobbyist for a movie, that's how you'd picture him," one of the Hill staffers said.
He re-entered Rohrabacher's office in 2014 and is a shared staffer between his office and the House Foreign Affairs Committee. Several sources said that Behrends is only in the office one or two days a week; Rohrabacher spokesman Grubbs denied this, saying "Paul comes to the office every day."
Behrends reportedly took Akhmetshin around to other congressional offices, a move that raised eyebrows among other congressional staffers, who viewed it as more akin to what a lobbyist does, rather than a staffer. It's not the only time Behrends has done this: One source with knowledge of the incident said that Behrends last year had called someone in Arizona Senator John McCain's office and offered to bring over some defense contractors.
"It's not unusual to have meetings with defense contractors," Grubbs said. "Paul often escorts people on the Hill. That is not special treatment. He does that all the time for lots of people."
Akhmetshin, who is currently in Europe, said in an email that there was one instance involving Behrends walking with former Democratic Congressman Ron Dellums, who was also part of the lobbying effort, to the office of the ranking Democrat on Rohrabacher's subcommittee. Behrends "did not take me around different offices on the hill—this suggestion is false," Akhmetshin said. "On one occasion he walked Dellums to his subcommittee-ranking D's counterpart office because he was going there himself, little courtesy to an 80-year-old ex-chairman of House Armed Services Committee and fellow ex-marine."
Emails show that at least one Rohrabacher aide has expressed concerns about Behrends's relationships with the pro-Russian lobbyists who have become a subject of controversy.
Veselnitskaya's and Akhmetshin's presence at last year's House Foreign Affairs Committee hearing has been well-documented; less well-known is that Akhmetshin was also present at the bill markup in which Rohrabacher offered an amendment to strike Magnitsky's name from the act.
Behrends reportedly asked Andrei Nekrasov, the director of the anti-Magnitsky film, to testify at the hearing that took place the day after the screening at the Newseum. Nekrasov ended up submitting a statement for the record.
Veselnitskaya told Russian outlet Sputnik last year that she had submitted a "report" to Congress; "The representatives of one of U.S. House subcommittees attended the screening last night, and told me that if I have something to say, I could file a report as a Russian lawyer," Veselnitskaya is quoted as saying.
"Paul does not ask people to submit things for the record. She requested to the subcommittee to submit a statement for the record but we denied her request," Grubbs said.
The Daily Mail reported that an intern in Rohrabacher's office sent out emailed invitations to a screening of the anti-Magnitsky film in June 2016 at the Newseum, where both Akhmetshin and Veselnitskaya were in attendance and which took place days after the Trump Tower meeting. Several sources said they thought the intern had done this at Behrends's request.
"That intern didn't do it on her own," said one of the Hill sources.  "Obviously someone, and I think it could only have been Paul, asked her to invite people to the screening."
"This was all Paul's baby," said another congressional aide who knows Behrends.
"We have no record of an intern sending out any invitation to the Nekrasov film," Grubbs said. "There was no request from Paul for any invitations to the film to be sent out."
Rohrabacher at one point had requested to screen the film in Congress and was turned down by Royce.
"That conversation took place between Chairman Royce and Dana Rohrabacher," the GOP aide said. "Chairman Royce made clear that the use of committee space would not be appropriate for the screening."
This story has been updated with comment from Rinat Akhmetshin.