What's Inside Mitch McConnell's Latest Health-Care Proposal
The revised Senate bill would keep more of Obamacare's taxes while allowing insurers to wiggle out of its regulations. Will Republicans go for it?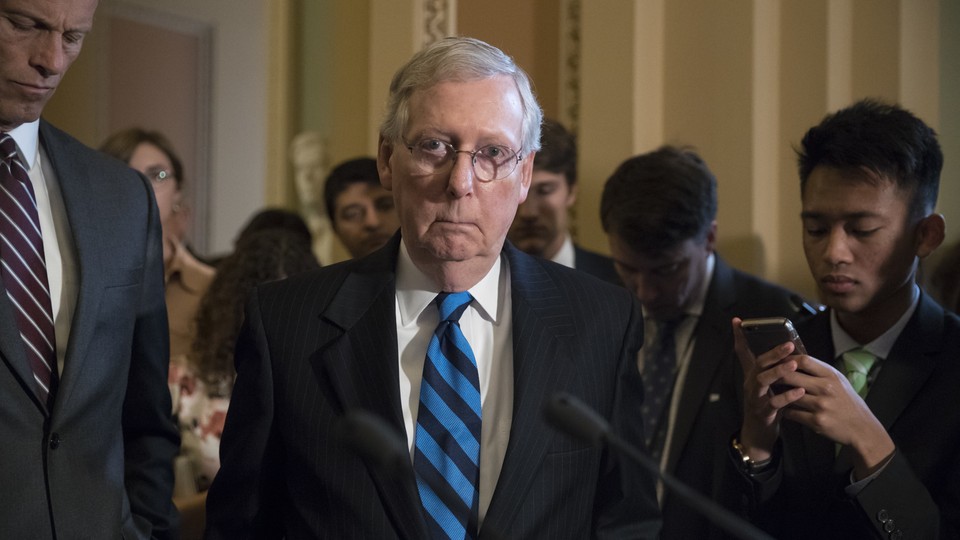 Updated on July 13 at 2:50 p.m. ET
The revised Senate health-care bill that Republican leaders released on Thursday morning seemingly has something for everyone—but perhaps not enough for anyone.
Seeking to quell a revolt from more than one-fifth of his conference, Majority Leader Mitch McConnell agreed to forego two significant tax cuts for the wealthy and instead pour hundreds of billions of dollars back into the proposal he released two weeks ago. There's now $45 billion to combat opioid addiction and even more funding to help mitigate higher insurance costs for low-income people and to stabilize the individual markets. An additional $70 billion would go to states to  to help drive down premiums, on top of $112 billion that was in the original proposal. McConnell's target was senators toward the center of the Republican ranks, who represented the largest bloc of opposition to his first legislative draft.
To woo conservative critics, the majority leader added a provision based on a proposed amendment from Senators Ted Cruz of Texas and Mike Lee of Utah—backed by pressure from a number of activist groups—that would allow insurance companies to sell stripped-down, inexpensive plans that don't conform to Obamacare's standards as long as they offer at least one policy that does. Well, sort of. McConnell's draft includes the Cruz-Lee idea in brackets, an indication of its polarizing and therefore precarious status within the GOP health-care debate.
McConnell needs to pick up support from both ends of the ideological spectrum. He can afford only two Republican defections, and at least 10 of his members had come out against the first version of the Better Care Reconciliation Act before McConnell abandoned plans to bring it up for a vote last month. Two of those critics, Senator Susan Collins of Maine in the center and Senator Rand Paul of Kentucky on the right, appear to have hardened in their opposition this week. Collins said it would take "a complete overhaul" to win her support, and Paul has gone on a media tour to rail against the revised proposal, saying that based on what he had heard, it was even worse than the original because it repealed less of Obamacare and included a bigger "bailout" for insurers.
Within hours after the revised draft's release, both Paul and Collins reiterated their opposition to it and said they would vote against even bringing it up for debate. As on the final vote, McConnell needs at least 50 Republicans to sign off on the procedural motion, and with Paul and Collins apparently out, he needs every other member of his conference to agree.
In a speech on the Senate floor after unveiling the bill to Republicans, McConnell pleaded with his colleagues to allow it at least to come up for debate. "I hope every senator will vote to open debate. Because that's how you change the status quo," he said. "This is our opportunity to really make a difference on health care. This is our chance to bring about changes we've been talking about since Obamacare was forced on the American people. It's our time to finally build the bridge away from Obamacare's failures and deliver relief to those who need it."
While McConnell picked quick support from several party loyalists, most of the holdouts on the original draft remained undecided. Senators Rob Portman of Ohio and Shelley Moore Capito of West Virginia said they would review the bill, as did Senator Dean Heller of Nevada, a sharp critic initially who is under intense pressure in the run-up to a reelection campaign next year. In an ominous sign for McConnell, however, Capito said in a statement she still had "serious concerns" about the proposal.
McConnell all but ignored complaints from moderates to soften the bill's deepest and most contentious cuts—a $772 billion reduction in Medicaid spending over a decade, with hundreds of billions in additional cuts in the 10 years after that. The cuts, which include a four-year phase-out of Obamacare's Medicaid expansion and a change in the program's growth rate, would not begin until 2020. According to the Washington Post, McConnell told moderates to support the bill with those cuts included because they would never go into effect.
Though rather cynical, it's an assumption held by some in Washington based on the likelihood that Democrats will win control of the House in 2018 or the presidency in 2020 and work with Republicans to put off the Medicaid cuts.
While the new bill maintains most of the Medicaid cuts, it changes the formula under which hospitals would be reimbursed for treating patients that can't pay their bill. And it would allow states some wiggle room if a public health emergency was declared or to seek a waiver to access more funds to cover the elderly and disabled, according to a summary posted by the Senate Budget Committee.
Yet like the entire bill itself, McConnell's Medicaid bet is a risky one. Senators like Collins, Lisa Murkowski of Alaska, Heller, Portman, and Capito have strongly opposed the cuts to Medicaid and were already frustrated with the secretive, top-down process McConnell has led on the health-care bill. And conservative activists and senators have pointed to the Medicaid changes as one of the few things they like about a proposal that does not truly fulfill their promise to repeal Obamacare. They had already stomached the Senate's longer lead-time in ending the ACA's Medicaid expansion, but will they recoil at McConnell's reported admission that the reforms might not endure at all?
In another blow to Collins and Murkowski, McConnell also retains provisions blocking federal funds from going to Planned Parenthood and banning the use of subsidies to purchase plans that cover abortion. Both senators had criticized those aspects of the original bill, and if both Collins and Paul vote against the legislation as they've indicated, Murkowski's opposition on those grounds could sink it entirely.
Cruz has demanded the inclusion of his Consumer Freedom Choice Amendment in the underlying Senate bill as the price for his support. But the version that McConnell included was different, Lee tweeted shortly before Republicans were scheduled to see the revised bill for the first time.
Just FYI - The Cruz-Lee Amendment has not been added to BCRA. Something based on it has, but I have not seen it or agreed to it. 1/2

— Mike Lee (@SenMikeLee) July 13, 2017
I am withholding judgment and look forward to reading it. 2/2

— Mike Lee (@SenMikeLee) July 13, 2017
While Lee was undecided, Cruz told reporters that he would support the bill as long as his amendment stayed in and no other changes were made. His position appeared to mimic the new stance of conservative activist groups, who have conceded that Republicans can't fully repeal the Affordable Care Act but in recent days made the adoption of Cruz's amendment striking at its core regulations their final demand. Even Grover Norquist, the anti-tax activist who has prioritized the repeal of Obamacare's tax increases, issued a statement signaling he was okay with McConnell's decision to keep some of them now as long as the leadership committed to getting rid of them in subsequent tax-reform legislation. Norquist told me in an interview last month that keeping the taxes on the wealthy even temporarily was "a bad idea."
Illustrating McConnell's challenge in navigating the bill to passage, the changes that Cruz and Lee are demanding could solidify opposition among moderates or lose even more votes among Republicans leery of doing anything that threatens protections for people with preexisting conditions. The health-care industry is aligned against the proposal, which would essentially create separate insurance markets for sick and healthy people. Even the insurance industry's top lobbying group, America's Health Insurance Plans, came out in public opposition to the amendment after staying quiet through much of the Senate debate. Whether the Cruz amendment stays in the bill is in doubt. A senior GOP policy staffer said Thursday the provision was put in brackets in the bill text because "the policy is continuing to be worked on as members react to it." Republicans have asked the Congressional Budget Office to score versions of the bill with and without the Cruz policy, but it's unclear whether the report released next week will fully assess the amendment.
The next big test for McConnell will come early next week, when the CBO releases its analysis. The original bill fared little better with the CBO than the legislation House Republicans passed in May; the budget office found that the Senate bill would result in 22 million fewer people having health insurance after a decade. McConnell is hoping that the infusion of money into the subsidy and stabilization programs will improve that number and boost support for the bill. But if three or Republicans vote against a procedural motion to bring the proposal to the floor next week, it won't even see a formal debate.
In an indication of how dicey the revised bill's prospects were, two Republican senators, Lindsey Graham of South Carolina and Bill Cassidy of Louisiana, chose the day of its release to unveil their own, competing idea for a partial replacement of Obamacare. Appearing on CNN before a crucial GOP meeting, they proposed a plan that would do away with Obamacare's individual and employer mandates but keep most of its tax increases. But instead of funding a federal subsidy program, that revenue would be sent to the states so that they could craft their own health-care plans as they saw fit.
"If you like Obamacare and you want to repair it, you can," Graham said on CNN. "If you want to replace it, you can."
The idea is in line with an earlier proposal from Cassidy and Collins that would have allowed states to choose whether they kept Obamacare or not. That plan went nowhere, but with Republicans nearing a stalemate on health care, the senators are betting that their colleagues will give it another look.
---
Related Video