Where Republicans Are Losing Ground
Ahead of the midterms, Democrats may have the chance to attract a broader-than-usual coalition of voters—especially among American women uneasy about President Trump.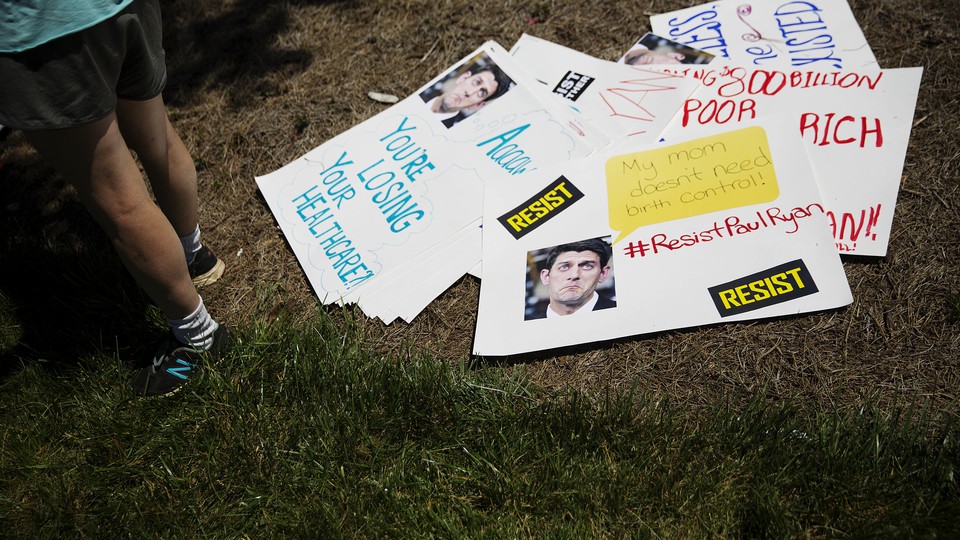 The gender gap is making a comeback.
Doubts about Hillary Clinton among women—especially working-class whites—suppressed her advantage with female voters during the 2016 campaign over Donald Trump, despite the widespread concerns they expressed about his character and qualifications in polls.
But without Clinton as a contrast, Trump's support among women has skidded since he took office. And, at least for now, the president is dragging down congressional Republicans with him, according to new results from a national ABC/Washington Post survey released Wednesday.
Overall, the poll found Democrats holding a strong 52 percent to 38 percent advantage over Republicans when registered voters were asked if they preferred that "the next Congress [is] controlled by the Democrats, to act as a check on Trump, or controlled by the Republicans, to support Trump's agenda."
And it found Democrats facing what has become their usual midterm dilemma: The groups that express the most opposition to Trump, and resistance to congressional Republicans, are young people and minorities who show less initial inclination than older whites to vote in a non-presidential election. The most ominous finding in the survey for Democrats is that registered voters who strongly support Trump now express more determination to vote next year than those who strongly oppose him.
But the survey also points to the opportunity for Democrats to assemble a broader coalition than they have mustered in recent congressional elections—particularly among women voters uneasy about Trump.
Compared with the results of the national exit polls measuring voter preferences in last year's election, the ABC/Washington Post survey found more erosion for Republicans among women than among men. That may reflect both doubts about Trump's performance and resistance to the GOP plans to repeal and replace the Affordable Care Act, which appeared to hit another dead end in the Senate this week.
The Election Day surveys found that men preferred Republican candidates for Congress by a 12-point margin, 55 percent to 43 percent. Women preferred Democratic congressional candidates by 10 points, 54 percent to 44 percent. In each case, that preference tracked closely with their vote in the presidential contest, where men gave Trump a 13-point edge and women preferred Clinton by 11 points.
In the new survey, the GOP congressional advantage has narrowed among men to a 4-point margin—an 8-point decline in the party's lead since last fall's vote. But Democrats recorded a gain more than twice that large among women in the survey. Compared with Democratic congressional candidates' 10-point edge with female voters last November, the survey showed women now prefer a Democratic Congress by fully 28 percentage points, 59 percent to 31 percent.
The movement among voters stands out even more vividly when looking at key groups within the white electorate. (Among non-white voters overall, the poll shows very little shift since last fall: In the exit polls, they preferred Democrats for Congress by a 50-point margin, and they lean toward Democrats in the new survey by 51 percentage points.)
The ABC/Washington Post survey shows Democrats making some gains among both blue- and white-collar white men. In 2016, white men without a college education—Trump's best group—preferred Republicans for Congress by a crushing margin of 70 percent to 27 percent. In the new survey, support for Democrats among those men has edged up to 34 percent, while backing for Republicans has dropped to 60 percent.
Among white men with a college education, Democrats have gained virtually no ground: They attracted 38 percent last fall and draw 40 percent in the new survey. But more of those voters are now undecided: Republican support with them has fallen from 60 percent in the exit poll to 47 percent in the new survey.
In both cases, white women have shifted more toward Democrats than white men with a comparable level of education.
In the 2016 exit poll, Democratic House candidates ran even with Republicans among white women holding at least a four-year college degree. That was somewhat better than the party's performance among those women in the past three congressional elections, but a disappointing result for Democrats nonetheless, given the widespread personal antipathy those women consistently expressed for Trump in polls. Though Clinton won a majority of those voters, her 51 percent support among them also underperformed expectations.
In the new survey, those women have turned decisively against Trump—and for now, against Republicans in Congress. The survey put Trump's approval rating among college-educated white women at just 31 percent, down substantially from the 44 percent of the vote he won among them in November. On the congressional ballot, fully 59 percent of them say they prefer a Democratic Congress, while just 35 percent want Republicans to maintain control. Since 1992, Democratic congressional candidates have never carried more than 52 percent of the vote among these white-collar white women.
If Democrats can sustain it, the shift among white women without a college education may be even more significant. These working-class white women—sometimes called "waitress moms"—were key to Trump's victory, particularly in the Rustbelt states that tipped the election. Thoroughly rejecting the first female nominee, they gave Trump a crushing 61 percent of their votes. Likewise, they gave congressional Republicans 63 percent of their votes, and Democrats just 35 percent, last year's exit polls found.
Those results continued a long-term rightward trend among these voters. Democrats captured less than 40 percent of the vote among blue-collar white women in each of the 2010, 2012, and 2014 congressional elections, according to exit polls. Since 1996, Democrats have reached even 45 percent among them just once, during the 2006 landslide that swept them to control of the House and the Senate.
In the ABC/Washington Post survey, though, Trump's approval rating among non-college-educated white women has fallen to 42 percent—a vertiginous 19-point decline relative to his 2016 vote. (That's a bigger decline than among any of the other three "quadrants" of college- and non-college-educated white men and women.) The survey also found these women now prefer Democrats for Congress by a slim 45 percent to 43 percent margin. That's a 20-point decline for Republicans relative to their actual vote just since last fall.
These ordinarily Republican-leaning women have been deeply split about the GOP health plans. Generally they are less resistant to the proposals than more affluent and better-educated white women—but much less enthusiastic about them than their underlying partisan lean would predict.
For instance, in recent polling—conducted by the GOP firm Public Opinion Strategies for the American Medical Association, and across six key states in the debate—opposition to the Senate bill was greatest among what the pollsters described as upper-class white women. But lower-income, working-class, and middle-class white women were also more than twice as likely to describe the Republican legislation as a bad idea than a good idea. Likewise, in the ABC/Washington Post poll, college-educated white women were especially likely to say they preferred the Affordable Care Act over the GOP alternatives, but a plurality of non-college-educated white women agreed with them.
"Non-college-educated white women have a very strong feeling about the importance of protecting health care, so the cuts themselves are painful to them," said veteran Democratic pollster Geoff Garin. "The health-care bill goes against all the populism that [Trump] articulated in the campaign."
If Democrats can maintain the substantial gains they register among those blue-collar white women in this and other recent surveys—and even the modest improvement they tally among working-class white men—the 2018 congressional battlefield will be much wider than the well-educated suburban districts where Trump has displayed the most conspicuous weakness.