Can Liberal Activists Keep Attention on the Republican Health-Care Bill?
Protests and sit-ins at lawmakers' offices may not be enough to compete with a crowded news cycle.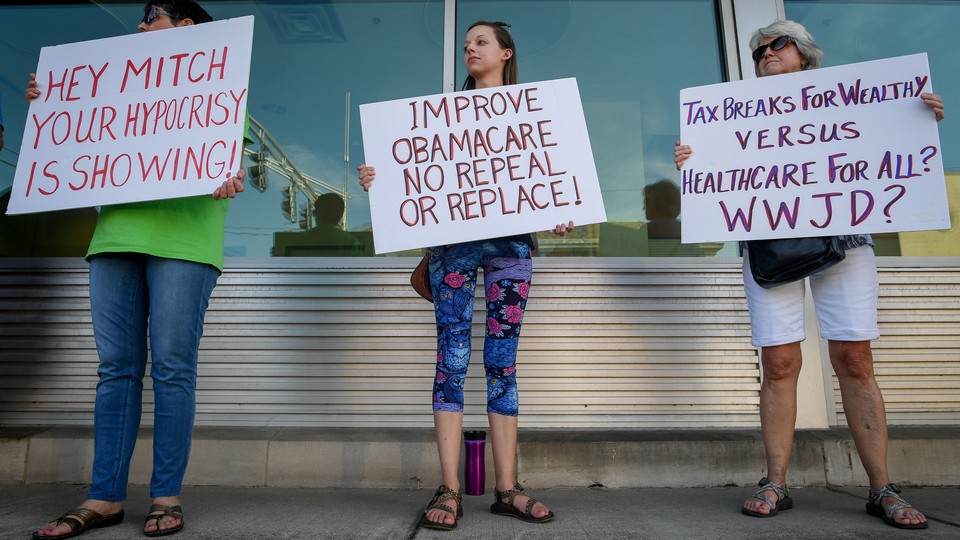 Senate Republicans could be on the verge of passing legislation to dismantle former President Barack Obama's signature health-care law, the Affordable Care Act. The question for liberal activists who want to stop that from happening is whether the rest of the country will be paying attention.
Activists must contend with crowded news cycles and limited opportunities to lobby lawmakers face-to-face. In the past week alone, President Trump has overtaken headlines by feuding with Joe Scarborough and Mika Brzezinski, the co-hosts of MSNBC's Morning Joe, and criticizing the broader media, while news that North Korea tested an intercontinental ballistic missile raised alarm throughout the United States.
Tactically, the bill's opponents can't rely on town halls alone as a venue for drawing attention to their cause. Town-hall protests helped stall an early iteration of the House health-care bill, but many Republican senators have opted not to hold them during the July 4 recess. The Washington Post noted on Tuesday that more senators "joined a delegation to Afghanistan this week than scheduled town halls."
One tactic activists are now trying is protesting at the offices of Republican senators in their home states. Progressive groups, including Our Revolution, the organization launched by Bernie Sanders, have organized sit-ins in 21 states on Thursday at lawmakers' offices.
Activists at the sit-ins will call for a "no" vote on the Senate bill, which nearly got a vote last week. Protesters plan to show up at Senate Majority Leader Mitch McConnell's office in Lexington, Kentucky, as well as the offices of Dean Heller of Nevada, Jeff Flake of Arizona, and Lisa Murkowski of Alaska, among others. Heller and Murkowski have both voiced concerns over the bill, and Heller and Flake are considered politically vulnerable in the 2018 midterm elections.
There will also be rallies. Over the weekend, Sanders will convene protests in Kentucky and West Virginia, where the Vermont senator plans to call on his Republican colleague Shelley Moore Capito to oppose her party's bill.
The efforts of activists have already paid off, to some extent, by generating some press. "At parades and protests, GOP lawmakers get earful about healthcare," read a Washington Post headline Tuesday. "Senate Republicans Lie Low on the Fourth, or Face Single-Minded Pressure," read another from The New York Times.
Maine Senator Susan Collins, who announced her opposition to the bill's initial iteration last week, heard from constituents while marching in an Independence Day parade. In an interview with the Post, Collins described what they told her: "I heard, over and over again, encouragement for my stand against the current version of the Senate and House health-care bills. People were thanking me, over and over again. 'Thank you, Susan!' Stay strong, Susan!'"
But the health-care fight has been just one part of recent hectic news cycles. Just over a week ago, McConnell announced that a vote on his chamber's bill would be delayed until after the July 4 recess. Since then, coverage of the GOP health-care push has been largely overshadowed by the Trump-press feud and North Korea. As Republicans gear up to try once more to pass the legislation, other news could similarly take attention away from activists' campaign.
Democrats and progressive activists know first-hand that setbacks on the bill won't necessarily lead to a collapse. In March, House Republicans failed to secure enough votes for their own version of the legislation following heated protests in their home states. But after some retooling, and at a time when many activists thought there was no longer any imminent potential for passage, they passed it in May.
"I'm sure Donald Trump is going to wake up every day trying to figure out tweets that will distract from this health-care bill, and we can't let that happen," Democratic Senator Chris Murphy of Connecticut said in a brief interview at the Capitol last week, after McConnell announced the vote would be delayed.
McConnell has a narrow margin of error in the Senate, and can only afford two defections from Republican lawmakers. He's attempting to pass the bill through a process known as reconciliation, which requires just 50 votes. While activists work to protest the bill, Republican leadership is reportedly lobbying members in an effort to secure the necessary votes.
Prior to this week's break, the bill faced pushback from both conservative senators, who argued the legislation did not go far enough in repealing Obamacare, and moderate Republicans, who have balked at potential cuts to Medicaid. The Congressional Budget Office scored an initial version of the bill and determined that it would leave 22 million Americans without insurance in 10 years.
As liberal activists try to make their voices heard, conservatives are exerting pressure, too—arguing that there will be political consequences if the GOP fails to fulfill its longstanding promise to repeal the ACA.
"Activists, real grassroots people, are absolutely disappointed—and to some point I'd say devastated—over what we feel like is a broken promise," Donald Bryson of the conservative group Americans for Prosperity warned in an interview with McClatchy.
The future of the American health-care system may hinge on the calculation Capitol Hill Republicans make in deciding which backlash they fear more.