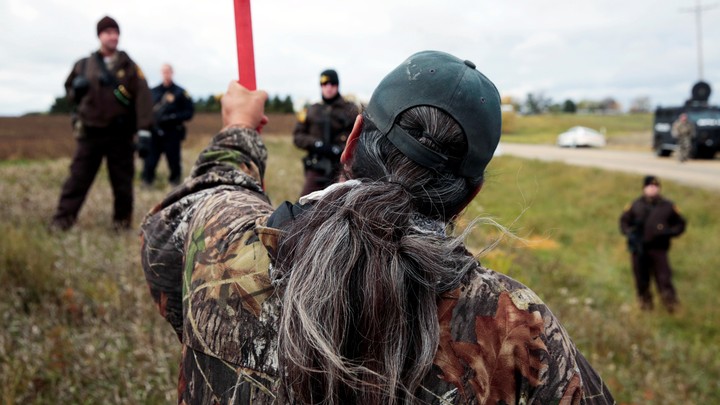 The murder scenes have left the tribe shaken. The violence wasn't entirely unfamiliar. A high incidence of violent crime has long plagued the Pine Ridge Indian Reservation, an expanse of badlands and yellow buffalo-grass prairie in southwestern South Dakota that's home to about 20,000 members of the Oglala Lakota tribe. But this was something else.
In 2016, the homicide rate on Pine Ridge nearly doubled, putting it on par, per capita, with the deadliest cities in America. The killings seemed different in kind, too—the senselessness and brutality, and the unusual number of shootings.
Tribal officials blame a surging methamphetamine trade on and around the reservation for this wave of violence, and in response, the Oglala Lakota tribal council, in April, declared a state of emergency and moved to replace the tribe's police chief. Now, leaders are mulling another strategy, which has proven as contentious as it sounds innocuous: entering into a mutual-aid agreement that would allow tribal police to seek the assistance of two off-reservation law-enforcement agencies. The tribe has resisted this type of agreement for decades. The extent to which that resistance persists, given the rise in violence, is expected to become clearer Thursday, when the tribe has scheduled its first public forum on the proposal.
Outside Indian Country, this type of cross-jurisdictional agreement would be uncontroversial—even commonplace. But on Pine Ridge, it has sparked a debate that brings into sharp relief a tension central to the rarely discussed but longstanding problem of maintaining public safety on the nation's 326 Indian reservations.
Although subject to federal law—the FBI investigates major crimes on reservations—Indian tribes are sovereign, and their lands generally fall outside state jurisdiction. On most reservations, state and local police have no authority. Inviting them onto tribal lands is more like asking Canadian Mounties to assist police in upstate New York than it is asking for help from the cops in the next county over. And while there are examples of successful cross-jurisdictional agreements on these lands, many tribes remain wary of permitting state or local police to operate there—a reluctance with deep historical roots that's grounded in fear of state encroachment on tribal sovereignty and a longstanding distrust of outside law enforcement.
Yet, many tribes—habitually underfunded by the federal government, often living on far-flung, rural lands, and facing some of the highest rates of violent crime in the nation—are in dire need of whatever law-enforcement assistance they can get. With the Trump administration proposing to slash tens of millions of dollars from the tribal public-safety budget, the problem is poised to grow more vexing still.
* * *
The killings over the past year share a spasmodic quality with the drug that officials say has fueled many of them. In the village of Pine Ridge—the tribe's government center—arguments in and around the town's trailer homes and little vinyl-sided ramblers grew heated too easily and ended in gunfire. Last summer, 13-year-old Te'ca Clifford was shot dead, at random as far as anybody could tell. One Sunday in mid-October, a gunman carried out a brazen daytime hit in a community-center parking lot as his target left a basketball tournament.
Forty minutes to the north, through the sagebrush and ponderosa pines, near Sharps Corner—a highway-side huddle of houses, a church, and a convenience store—there were two shootings in the last year: the still-unsolved murder of 25-year-old Todd Little Bull, who was shot in his car late one night last August, and more recently, in late May, yet another midday killing, the shooting death of Chris Janis, a tattoo artist and father of two.  
"People are unsafe—they feel unsafe," said Stanley Little Whiteman, who as chair of the tribal council's Law and Order Committee has spearheaded the effort to adopt a mutual-aid agreement. "They tell me: I don't like locking my doors [but] I don't like people suddenly walking in all methed out."
Drug traffickers, seeing an untapped market, have actively targeted Pine Ridge for meth distribution in recent years, law-enforcement officials say. Meth joined a list of factors that have driven high tribal crime rates in the past, including gang problems, widespread unemployment, and the dearth of law enforcement. The community-center shooting in particular left many in the region stunned. "That is the type of behavior that you see in big-city crime," said Karl Jegeris, the police chief in Rapid City, 30 miles northwest of Pine Ridge. "That's not something that we're used to in South Dakota."  
Yet it's worth noting that the meth problem is not only tribal. In Rapid City, drug arrests have spiked in recent years, and Jegeris told me 2017 is on course to match its deadliest year in recent history. "Rapid City and Pine Ridge feed each other's meth problems," said Mark Vargo, the chief prosecutor for Pennington County, which borders the reservation to the north and encompasses Rapid City. The shared nature of the crisis prompted Jegeris and Pennington County's sheriff to send a letter to tribal President Scott Weston shortly after his election late last year proposing greater cross-jurisdictional collaboration.
A little over 30 tribal police officers patrol Pine Ridge, a swath of the Great Plains more than twice the size of Rhode Island. That's less than half the size the force once was, and according to tribal officials, the federal Bureau of Indian Affairs has told them there ought to be four to six times that many officers patrolling the reservation. "The council and the police department are so stretched for resources that they're kind of desperate," said Brandon Ecoffey, a member of the Oglala Lakota tribe and the editor of Lakota Country Times. "They have no choice but to look for alternative ways to manage crime, and that includes to get assistance from outside law enforcement."
Theirs is a familiar story. "The federal government has an obligation to guarantee law and order in Indian Country, and it's failed in that guarantee ever since treaty times," said Matthew Fletcher, a law professor at Michigan State University and editor of the Indian law-and-policy blog Turtle Talk. "So states, localities, and tribes are saying, 'We're going to fix this ourselves.'"
The proposed mutual-aid agreement on Pine Ridge would authorize and establish a legal framework for police from Rapid City and sheriff's deputies from Pennington County to enter the reservation, at the request of tribal police, and act in their law-enforcement capacity. (It would likewise allow tribal officers to operate in Rapid City and Pennington County at the request of local authorities.)
The exact parameters of this arrangement have not yet been finalized. At a minimum, it would permit assistance in emergencies. For instance, Rapid City police could provide equipment and expertise to handle situations that tribal police aren't equipped or trained for—the example I was given most often was a SWAT team to assist with an armed, barricaded suspect. But Jegeris and Little Whiteman suggested that it might also permit cooperation on investigations that involve their respective jurisdictions. For, say, a Rapid City Police Department case, "if there are interviews that need to be done and if the people are here on Pine Ridge, they would be welcome to interview those people," Little Whiteman said, adding that tribal officers would accompany them. "All it is is questioning. I don't see no harm in that."
* * *
Not everyone on Pine Ridge agrees with that assessment. Both the president and vice president of the tribe have remarked that their constituents worry the agreement could begin a gradual erosion of the tribe's sovereignty. Their fear is that the pact will mark a shift in the ethic surrounding how strictly the tribe guards its authority over Pine Ridge. "I'm not against law and order, but I am against giving up our sovereignty," said Kathey Wilson, 61, an Oglala Lakota tribal member. "Once you give up one thing, then it's another and another and then the lines get blurred—what's under the state and what's under the tribe." In Wilson's view, a better way for Pine Ridge's neighbors to help combat the meth-fueled rise in violent crime would be for them to lobby Congress to increase public-safety funding for the tribe. "They have more authority with their people in Congress than Native people do," she said. "They should say, 'Hey, this is our concern, too.'"
Supporters of the proposal counter that entering into the agreement is itself an exercise of the tribe's sovereignty. "When Pennington and Rapid approached us, that enhanced the sovereignty of the tribe," Little Whiteman said. "They recognized the jurisdiction of the tribe, and they also recognized the sovereignty of the tribe." (Also under discussion—and raising similar concerns—is a bilateral extradition agreement. Some of the suspects in last year's killings had evaded outstanding county or city warrants by staying on Pine Ridge.)
Members have also voiced a more immediate concern: their profound mistrust of non-tribal law enforcement that, while common on reservations, is keenly felt on Pine Ridge. The drive along BIA Highway 27 from the village of Pine Ridge toward Sharps Corner passes over the dry creek bed at Wounded Knee, where the Seventh Cavalry massacred scores of Lakota women and children in 1890. A little over eight decades later, the area saw a 71-day armed standoff between American Indian Movement activists and federal agents, which would leave two activists dead and a U.S. Marshal paralyzed. I lived on Pine Ridge for a time several years ago, and found that, for many tribal members, skepticism of law enforcement spawned during AIM's heyday has never abated.
Ongoing reports of racial profiling and disparate treatment by police in the bordering counties, tribal members told me, have only hardened the suspicion of non-tribal police on Pine Ridge. The clashes between Native activists and state and local law enforcement during the Dakota Access pipeline protests last year also didn't help. "That was a reaffirmation of how outside law enforcement treats our people," Ecoffey told me. "That distrust and that apprehension and that wariness of non-Native officers was reinforced by what took place up there."
Law-enforcement officials in South Dakota see the Pine Ridge proposal as a bellwether and, if successful on a reservation long hostile to the idea, a model for similar arrangements with other tribes in the state. But they are acutely aware of the delicate nature of these arrangements. Last year, the Crow Creek Sioux Tribe rescinded a mutual-aid agreement with the South Dakota Highway Patrol over its role in the pipeline protests, and the tribal government on the Cheyenne River Reservation jettisoned a plan similar to the one for Pine Ridge. "The majority of the people who commented were against it," Harold Frazier, the Cheyenne River tribal chairman, told me. "They said they don't want to be under state jurisdiction, so the council dropped it."
After a series of meetings with tribal officials, the proposal's supporters are cautiously optimistic that they will reach an agreement that they say will help authorities curb the meth-related violence on and around Pine Ridge. But the end result—and the sustainability of any agreement—remains uncertain. The ultimate question, at a moment when federal support for tribes could be poised to recede, is one with wide-ranging implications in Indian Country. As Vargo, the chief prosecutor, put it: "Even given the tension and mistrust between the state and the tribes—can we prove we can overcome that?"
This article is part of our project "The Presence of Justice," which is supported by a grant from the John D. and Catherine T. MacArthur Foundation's Safety and Justice Challenge.
We want to hear what you think about this article. Submit a letter to the editor or write to letters@theatlantic.com.
Ian MacDougall is a writer based in New York. His work on crime and legal affairs has appeared in
Slate
, The
Guardian
,
Newsweek
, and
N+1
.