Everything Now Hinges on Three Republicans in the Senate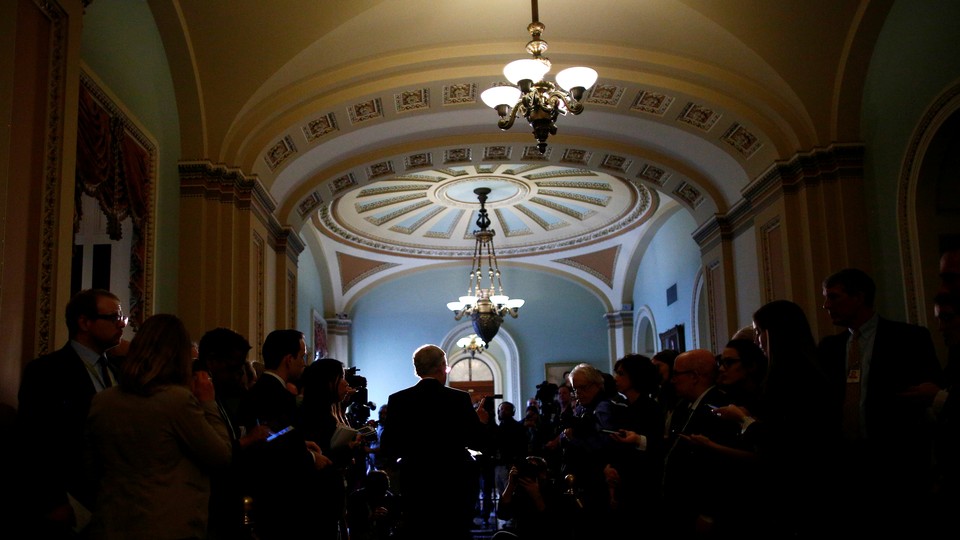 Editor's Note:
This article previously appeared in a different format as part of The Atlantic's Notes section, retired in 2021.
By midnight on July 20, 2017, it seemed increasingly likely that Donald Trump will fire the special counsel, Robert Mueller.
Mueller embodies what is admirable in U.S. public service: a wounded and decorated Marine Corps veteran of Vietnam, longtime prosecutor and U.S. Attorney under both Republican and Democratic presidents, 12-year director of the FBI under both George W. Bush and Barack Obama, unconnected to scandal or partisan suspicions at any point.
Donald Trump embodies the reverse.
Yet for now Trump has the legal power, directly or indirectly, to dismiss Mueller, if the investigation gets too close to Trump's obviously sensitive financial concerns. And Trump himself, unaware of history and oblivious to rules, norms, and constraints, has given every indication that this will be his next step.
What happens then? Brian Beutler, of the New Republic, has just put up a bleak scenario, arguing that there really are no guardrails—or, as we observed in Mitch McConnell's unprecedented stonewalling of a Supreme Court nomination, that the constitutional system's real protections have been norms rather than formal rules. Someone unconcerned by those norms—McConnell last year, Trump now—can in fact blast right through them. "At the moment there are no reliable sources of accountability," Beutler writes. "None."
* * *
There are 52 Americans who have it within their power to prove that dark assessment wrong. Really, it would take a subset of just three of those 52. With the 52-48 current party lineup in the U.S. Senate, a switch of three votes of conscience is all it would take to have this branch of government fulfill its checks-and-balances function.
With three votes, a Senate majority could issue subpoenas and compel sworn testimony from Administration officials. It could empower its own thorough investigation, even re-hiring Robert Mueller to lead it. It could compel Donald Trump to release the tax returns about which he is so evidently nervous. It could act as if America in fact possessed a system of rule-of-law, rather than whim-of-one-man.
Ben Sasse could be one of those three, if he were willing to back up his lectures and essays about ethical public life. Lindsey Graham could, since he and John McCain have kept making the case about Trump's recklessness. Chuck Grassley, who would be 89 years old the next time he'd have to face the voters. Dean Heller, who is in trouble anyway in a state Hillary Clinton carried, and whom Trump demeans and insults. Rob Portman, who has served in "normal" Republican administrations and could ally himself with his state's governor, John Kasich, as forces for a principled future GOP. Jeff Flake, who in speeches has positioned himself with appeals to a more moderate politics, and who could take up the Maverick mantle of his colleague John McCain. Of course, McCain himself. Lisa Murkowski, who originally won without Republican Party support. Susan Collins, who drew a line at the rushed health-care bill. Richard Burr, who has made more-or-less common cause with his Democratic colleague Mark Warner on the Senate intelligence committee. Ron Johnson, who has just won re-election  and appears to be mad at Trump. Rand Paul, also just elected, if he believed his radical limited-government pitch. Ted Cruz, if he had the courage of his anti-Trump stand at last year's GOP convention. Even—let's imagine here—the likes of Tom Cotton, if he were willing to roll the dice and elevate himself as a national figure, for the post-Trump leadership contest against the likes of Sasse, Cruz, and the rest. There are half a dozen other conceivable candidates. I'd like even to imagine John Barrasso, a broadly educated and broad-minded man who has for now thrown his lot in with Mitch McConnell.
It would take only three. Some—Grassley? Heller? McCain if he is able to vote?—might think: What do they have to lose? They might as well wind up with dignity. Others—Paul, Burr, Johnson, Murkowski—are so far away from re-election that a lot will happen in the meantime. And all of them are senators, part of a body self-consciously proud of its independence, its individual judgment, its role in defending the long-term principles of governance.
A country of 300-plus million people, with the world's largest economy and most powerful military, should not rely for its orderly stability on the decisions-of-conscience of just three people. But the United States may soon be in that situation. These names will go down in history, depending on the choices they make.