The GOP's 'Last Chance' to Replace Obamacare?
A crucial Senate vote to begin the health-care debate is set for Tuesday, but it could fail.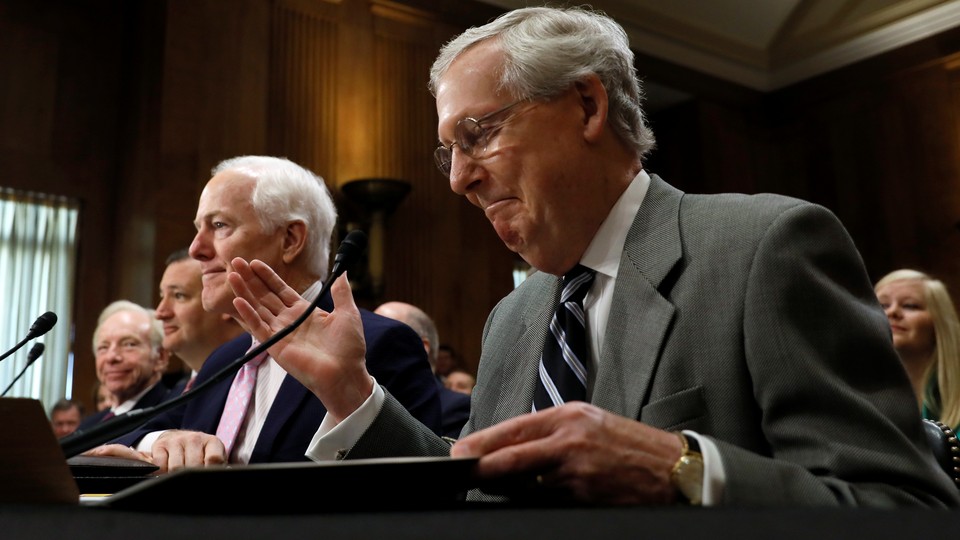 Updated on July 25 at 9:38 a.m. ET
Senate Republicans on Tuesday will begin debating legislation to dismantle the Affordable Care Act, making good on the party's most enduring campaign promise of the last seven years.
Or maybe they won't.
The Senate's next move on health care has been cloaked in mystery over the last several days, as President Trump and Majority Leader Mitch McConnell try to clear a crucial procedural vote while preparing for the increasing possibility that it will fail.
McConnell is determined to call up legislation the House passed in May to replace Obamacare as a means of starting formal debate in the upper chamber. But the Senate wouldn't ultimately be voting on the House bill. Instead, McConnell would immediately move to substitute the House bill with a different proposal—either the bill he drafted to partially repeal and replace Obamacare, or a copy of legislation Republicans advanced in 2015 that repeals but does not replace the health law.
Which one will come up? McConnell won't say, and that uncertainty is frustrating Republican senators. It's also infuriating Democrats, who accuse the majority leader of using subterfuge to pass legislation that would overhaul the nation's health-care system and affect tens of millions of Americans. The GOP plan, which would still need to go back to the House, would cut Medicaid by more than $700 billion over 10 years while repealing Obamacare's insurance mandates on individuals and employers, as well as some of its taxes.
Yet McConnell's maneuvering might end up being too cute by half. That first vote, known as the motion to proceed to debate, requires the support of at least 50 senators, and right now McConnell doesn't have them. "I presume the vote tomorrow will fail," a senior Senate GOP aide told me on Monday afternoon.
A once-confident Trump has turned pessimistic about the outcome as well. After trying to cajole Republicans at a White House meeting last week, he has lashed out at the party's wavering senators in recent days. "If Republicans don't repeal and replace the disastrous ObamaCare, the repercussions will be far greater than any of them understand!" he tweeted on Saturday. In a Monday morning tweet, he warned that the GOP had "a last chance to do the right thing."
Later in the afternoon, the president used the trappings of the White House to send a similar message. Appearing with families that he said were "victims" of the current law, Trump described Obamacare as something akin to the apocalypse. "It was a big, fat, ugly lie," he said. "Obamacare," Trump said at another point. "That's the one that's death."
Once again, he reminded Republicans of the pledge they had made to voters for seven years. "Remember 'repeal and replace?'" the president asked. "Repeal and replace. They kept saying it."
"We as a party must fulfill that solemn promise to the country," Trump continued. "So far Senate Republicans have not done their job in ending the Obamacare nightmare."
"Tomorrow," he said in his most direct appeal to Republican holdouts, "the Senate will vote on whether to allow this urgently needed bill to come to the Senate floor for debate. The question for every senator, Democrat or Republican, is whether they will side with Obamacare's architects, which have been so destructive to our country, or with its forgotten victims. Any senator who votes against starting debate is telling America that you are fine with the Obamacare nightmare, which it is."
Trump's pitch was largely the same as the one he made five days ago, and there's little indication it has altered the underlying dynamic that has stymied Republicans for months. The party's narrow Senate majority is divided between lawmakers who believe McConnell's bill repeals too little of Obamacare and those who believe it scraps too much. The GOP can lose no more than two of its 52 senators on any health-care bill McConnell puts up, and early last week four came out in public opposition to the latest version of his Better Care Reconciliation Act. So the majority leader pivoted and announced that the Senate would instead vote on a straight repeal of most of the law, pleasing conservatives. But within a few hours, the opposition of three Republican women—Senators Susan Collins of Maine, Lisa Murkowski of Alaska, and Shelley Moore Capito of West Virginia—torpedoed that plan, too.
Now McConnell is simply urging his members to vote for the motion to proceed on the grounds that they will have a virtually unlimited opportunity to amend whatever bill he brings up. What he's really doing is trying to buy more time for a compromise to emerge, or for mounting pressure on wavering senators to flip "no" votes to "yes."
Yet the hurdles for the Senate plan have only multiplied over the last week. First, Senator John McCain's brain-cancer diagnosis left Republicans at least temporarily with one fewer vote to spare. Republicans were expecting he would miss Tuesday's vote, but on Monday night his office announced he would be flying back to Washington to participate in the debate. His dramatic return could buoy the GOP, but even McCain has voiced concerns about the Senate bill and has not committed to vote for its final passage.
Then on Thursday, the Congressional Budget Office found that revisions to McConnell's earlier plan had yielded virtually no improvement in its projected impact on insurance coverage or premiums. The CBO said that 22 million more people would still be uninsured as a result of the bill and that average premiums would first rise and then fall over time. Because Republicans retained more of Obamacare's taxes on high earners in the latest version, it made a deeper reduction in the deficit. But the CBO also found that deductibles would shoot up in many plans, increasing overall costs for consumers.
On Friday, the bill took an even more serious hit when the Senate parliamentarian issued a preliminary ruling that several important provisions did not comply with budget rules allowing Republicans to pass the measure on a party-line, simple-majority vote. Those included anti-abortion policies prized by conservatives, state-based carve-outs used to garner votes in the House, and key changes to insurance regulations.
Yet another obstacle is still looming for McConnell, even if he can scrounge up 50 votes to begin debate: Neither the CBO nor the parliamentarian has weighed in on an amendment demanded by Senator Ted Cruz of Texas that would allow insurers to sell cheaper plans that do not adhere to Obamacare standards alongside ones that do. Insurers have warned that the proposal is "unworkable in any form," and an aide said Monday that based on the parliamentarian's first set of rulings, it was expected that the Cruz amendment would be thrown out. Cruz and Senator Mike Lee of Utah, however, have demanded some version of the plan be included in the bill.
Those challenges come on top of a bill that was already short of votes to begin with. A group of Republican senators from states that expanded Medicaid—Capito, Rob Portman of Ohio, and Dean Heller of Nevada—were already withholding their votes and pushing for more money to be restored. Heller is facing pressure to oppose the bill from his state's GOP governor, Brian Sandoval, and Portman is facing the same from Governor John Kasich of Ohio, who on Monday said it was "a mistake for senators to proceed with a vote" and urged lawmakers to oppose the motion to proceed.
Leading GOP senators have suggested that if the motion fails on Tuesday, the party could try again later, either once McCain returns or if they eventually strike a deal encompassing 50 of their members. But after so many fits and starts, and so much time and political capital expended, it may be that the procedural vote is, as Trump said, the Republican Party's last chance to make good on a fading health-care promise.