Mitch McConnell Vows Obamacare Repeal Vote in the 'Near Future'
The Senate majority leader doesn't appear to have the support necessary to pass a repeal-only bill, but seems determined to press ahead without it.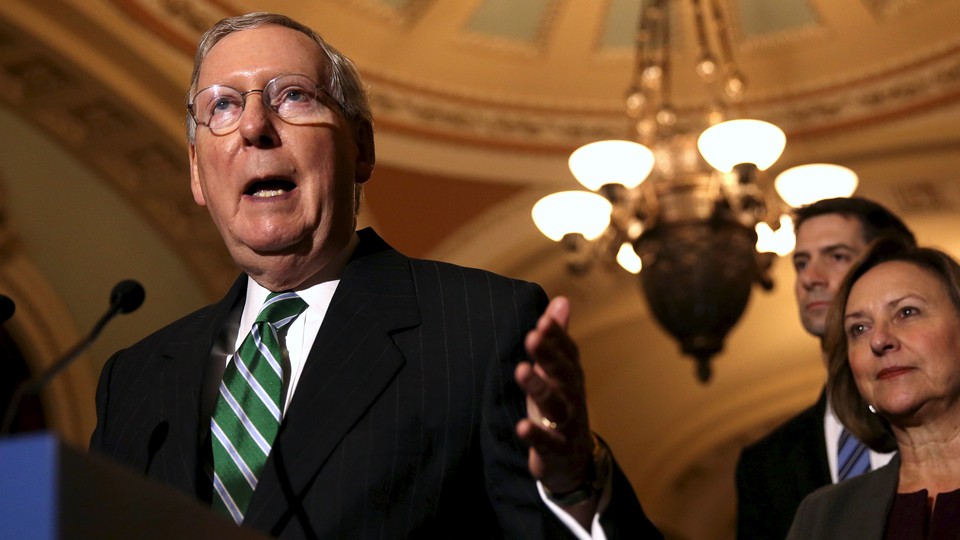 Updated at 4:02 p.m. ET
Mitch McConnell vowed to press ahead on a vote to repeal the Affordable Care Act on Tuesday afternoon, despite the fact that he does not appear to have the necessary support among Senate Republicans for a repeal-only bill to pass.
"Sometime in the near future, we'll have a vote on repealing Obamacare, essentially the same vote that we had in 2015," McConnell told reporters during a press conference. "That's a vote I think we're very likely to have in the very near future."
It's unclear whether the majority leader can find the votes to advance a repeal-only plan. On Tuesday morning, Republican Senators Shelley Moore Capito of West Virginia and Susan Collins of Maine indicated they would not support the latest Republican health-care push. Several hours later, MSNBC reported that Alaska Senator Lisa Murkowski had joined them, apparently leaving McConnell without the votes to proceed. He could only afford to lose two Republicans.
In a statement, Capito said that she "cannot vote to repeal Obamacare without a replacement plan." Collins told reporters at the Capitol on Tuesday that repeal of the law without a replacement would "cause turmoil in the insurance markets, and a great deal of uncertainty to individuals who are receiving [Affordable Care Act] insurance." Murkowski said in a statement that she cannot "vote to repeal the ACA without reform," and called for "a bipartisan process" to improve the law.
The news is only the latest blow in a series of setbacks for the Republican effort to dismantle the Affordable Care Act, and creates fresh uncertainty over whether the GOP will manage to fulfill a years-long pledge to repeal former President Barack Obama's signature health-care law.
McConnell has been operating under razor-thin margins and needed 50 votes—assuming Vice President Mike Pence breaks a tie—to pass the straightforward repeal bill under the reconciliation process. On Monday night, McConnell had proposed a "repeal of Obamacare with a two-year delay," after it became clear that he wouldn't be able to advance his party's repeal-and-replace legislation, called the Better Care Reconciliation Act, either. He conceded in a statement that "it is now apparent that the effort to repeal and immediately replace" the ACA "will not be successful."
Also on Monday night, Trump endorsed the idea of clean repeal on Twitter, writing: "Republicans should just REPEAL failing ObamaCare now &  work on a new Healthcare Plan that will start from a clean slate. Dems will join in!" A day later, however, the president took a different line, telling reporters that his plan now is to "let Obamacare fail, it will be a lot easier. And I think we're probably in that position where we'll let Obamacare fail."
Rather than offering any ideas for legislative action, the president argued that Democrats were to blame. "We're not going to own it. I'm not going to own it. I can tell you the Republicans are not going to own it," he said, according to a White House pool report. "We'll let Obamacare fail and then the Democrats are going to come to us."
If Senate Republicans try and fail to pass a repeal-only bill, that may set the stage for GOP leaders to either move on to other legislative priorities, or start from scratch in an effort to alter the Affordable Care Act. On Tuesday afternoon, Senator Lamar Alexander, the Republican chair of the Senate Health, Education, Labor and Pensions Committee, said in a statement that whatever happens, he hopes to hold health-care related hearings. Hearings would mark a departure from the secretive, closed-door process by which health-care legislation has moved through the Senate so far.
"However the votes come out on the health care bill, the Senate health committee has a responsibility during the next few weeks to hold hearings to continue exploring how to stabilize the individual market," Alexander said, adding that he would "consult with Senate leadership" before setting the hearings up.
As difficult as it's been for Republican leadership to cobble together the votes for a repeal-and-replace plan, it was always likely to be even harder to put together a coalition of Senate Republicans in support of a repeal-only alternative.
Voting for such a proposal could be even more politically perilous for GOP senators, despite the fact that congressional Republicans have pressed for Obamacare repeal for nearly a decade. Attempting to repeal the ACA when Obama was in office, and when he was guaranteed to veto any legislative rollbacks passed, is an entirely different matter than repeal with a Republican president who would actually sign it into law. And there is reason to believe that even repeal with a years-long delay could be extremely disruptive to consumers and health-insurance markets.
"There would be huge real-world impact of merely enacting a repeal law, regardless of when the actual repeal takes effect," Vox's Sarah Kliff wrote in January. "A successful repeal vote would tell insurers selling on Obamacare's marketplaces to get out of the marketplace as soon as possible."