More Turmoil at the National Security Council
The NSC's top official for the Middle East was abruptly dismissed on Thursday.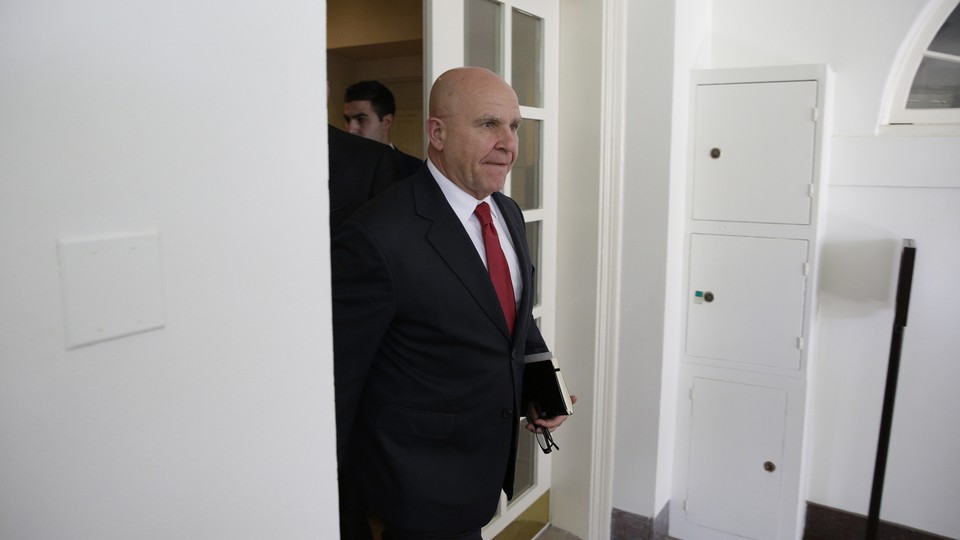 Updated on July 27 at 1:44 p.m. ET
A top Middle East official on the National Security Council was removed from his post on Thursday.
Derek Harvey, a former top adviser to David Petraeus who was brought into the administration by former National-Security Adviser Michael Flynn to serve as the NSC's senior director for the Middle East, was informed he was being moved off the NSC by current National-Security Adviser H.R. McMaster on Thursday morning.
"General McMaster greatly appreciates Derek Harvey's service to his country as a career Army officer, where he served his country bravely in the field and played a crucial role in the successful surge in Iraq, and also for his service on Capitol Hill and in the Trump administration," said NSC spokesman Michael Anton. "The administration is working with Colonel Harvey to identify positions in which his background and expertise can be best utilized."
The Weekly Standard first reported Harvey's exit.
Harvey and McMaster "had different visions for what the position requires," an administration official who spoke on condition of anonymity told me.
Harvey was among the most hawkish members of the council on Iran, and is seen as an ally of White House chief strategist Steve Bannon, who has clashed with McMaster. One source close to the White House with knowledge of the situation said that one reason for Harvey's dismissal had been his perceived closeness to Bannon—although the same source insisted the two were not actually close.
Earlier this year, Harvey also reportedly compiled a list of Obama administration "holdovers" on the NSC whom McMaster declined to fire.
Since taking the job, McMaster has moved other Flynn appointees off the council, like former deputy NSA K.T. McFarland. He also attempted to fire the senior director for intelligence, Ezra Cohen-Watnick, earlier this year, but was rebuffed by President Trump, Bannon, and Jared Kushner.
In a emailed statement on Thursday afternoon, Harvey confirmed he was leaving and praised McFarland, Bannon, and Kushner as visionaries:
I will be leaving the National Security Council today to take advantage of a new opportunity to continue serving our President and the United States of America in an important capacity.

Since January, I have had the special honor to serve as the Special Assistant to the President and Senior Director for Middle East Affairs in the National Security Council. This has been work of vital importance to our country, and my departure comes with mixed emotions.  In addition to the criticality of the mission, the people I have worked with in the NSC and the White House make this a tough decision.

I have known LTG H.R. McMaster for many years, and H.R. and I have worked closely together to tackle some of our nation's most difficult challenges. I value our friendship and deeply respect his visionary leadership.  I look forward to working with H.R. in my future capacity.  I have also appreciated the chance to work with the superb, selfless professionals on our team at the NSC, an amazing group of American patriots who have been instrumental in supporting the President, integrating U.S. policies toward the Middle East, and developing a series of strategies to protect and advance American interests in the region.

I  treasure having had the opportunity to support committed and visionary leaders such as Mrs. K.T. McFarland, Mr. Jared Kushner, and Mr. Steve Bannon, and consummate professionals like Mr. Jason Greenblatt and Ms. Dina Powell. I am especially grateful for the Middle East Directorate and those on the NSC with whom we have worked so closely and with such great effect. I remain humbled by their dedication, commitment, and patriotism and wish them all the very best as they face the challenges ahead.

Most importantly, I am excited about the opportunities to advance American interests in the Middle East under President Trump's leadership, and I look forward to shouldering greater responsibilities in support of the President.