Mitch McConnell's Latest Obamacare Gambit: 'Skinny Repeal'
Republicans are now considering a bill that would only scrap the law's insurance mandates and some taxes as they struggle to round up votes in the Senate.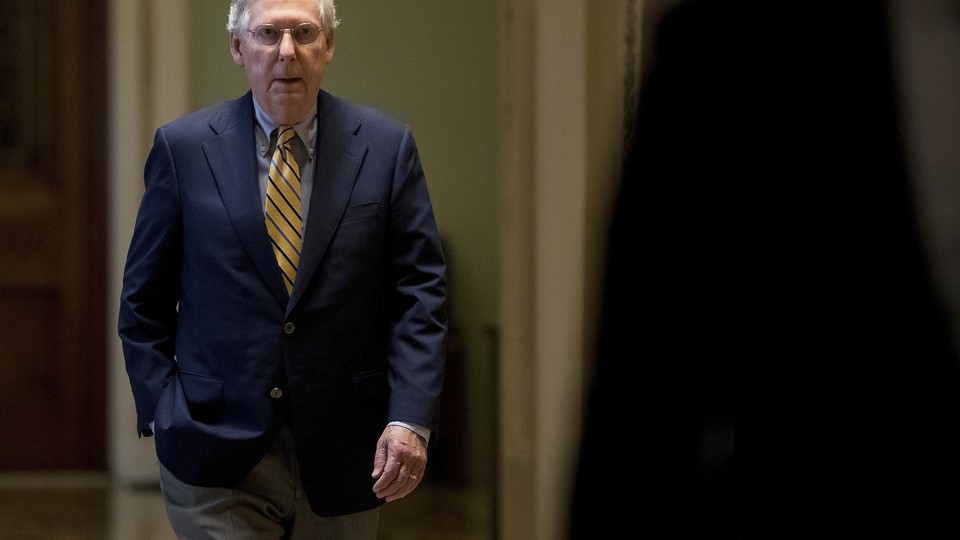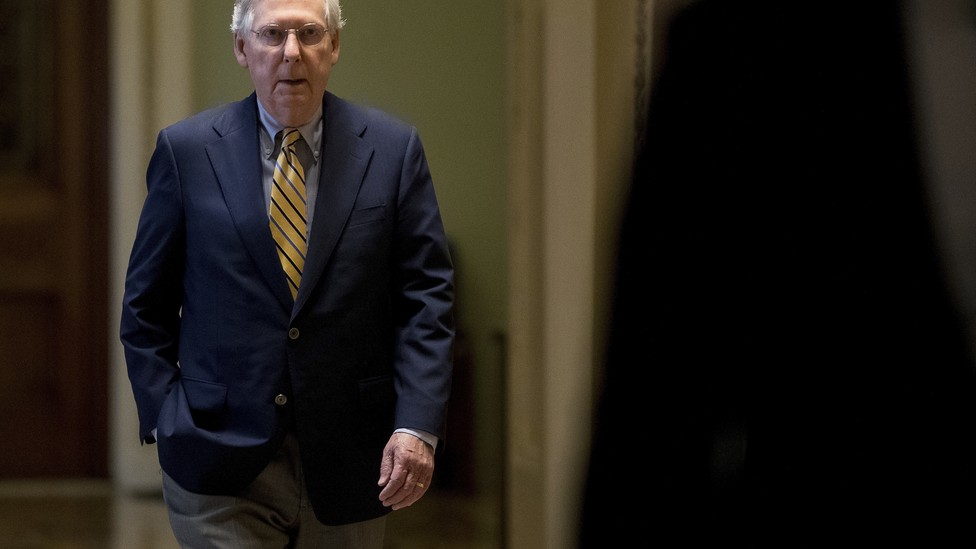 Senate Republicans may be dramatically scaling back their ambitions for repealing the Affordable Care Act as they struggle to find the votes necessary to pass any legislation dismantling the 2010 law.
Ahead of a crucial procedural vote on Tuesday, Majority Leader Mitch McConnell told Senator Rand Paul that if the Senate could not pass either McConnell's proposed replacement for Obamacare or a broad repeal of the law, he would try to pass a bill that merely scrapped Obamacare's insurance mandates and some of its taxes. The goal would be to find the lowest-common denominator of what at least 50 Republican senators could report, and it would set up a conference committee with the House on a final health-care bill.
A sharp critic of McConnell's replacement bill, the Better Care Reconciliation Act, Paul has called for the Senate instead to simply repeal the ACA and force Democrats into negotiations on a new health-care law. In a series of tweets Tuesday morning, Paul said McConnell's assurances on what the Senate would vote on were enough to win his support for the motion to proceed to debate, the key first vote that will be held in the afternoon.
If we cannot pass full, clean 2015 repeal, I've also been told we will vote on whatever version of CLEAN repeal we can pass.

— Senator Rand Paul (@RandPaul) July 25, 2017
If this is indeed the plan, I will vote to proceed and I will vote for any all measures that are clean repeal.

— Senator Rand Paul (@RandPaul) July 25, 2017
Paul's support for the procedural vote moves McConnell closer to the 50 votes he needs for it to advance, along with a tie-breaking vote from Vice President Mike Pence. Paul had said he'd only vote for the motion if he was guaranteed a vote on "a clean repeal" of Obamacare, such as an amendment modeled on legislation the GOP-led Congress sent to then-President Barack Obama's desk in 2015. The majority leader also received good news on Monday night when Senator John McCain of Arizona announced he'd be returning to Washington on Tuesday, a week after being diagnosed with brain cancer.
Still, the outcome of the procedural vote is uncertain. A handful of Republican senators were publicly undecided and worried about committing to debate without knowing exactly what bill they'd be considering. McConnell offered no clarity in a floor speech shortly after noon on Tuesday, urging senators to support the motion to proceed without telling them what might come after it. "I hope everyone will seize the moment. I certainly will," he said. "Only then can we open up a robust debate process. Only then will senators have the opportunity to offer up additional ideas on health care. Inaction will do nothing to solve Obamacare's problems or bring relief to those who need it."
If the motion to begin debate succeeds, McConnell is expected to bring up a version of his Better Care Reconciliation Act as well as the 2015 repeal-only bill. But neither has the votes to pass. The replacement bill makes deep cuts to Medicaid that have drawn opposition from half a dozen GOP senators, and even more Republicans are now against repealing Obamacare without having a replacement ready. So according to Paul, McConnell would then move to what's being called a "skinny repeal."
Whether that more modest proposal would have the votes is also unclear. Senator Lindsey Graham of South Carolina, who is pushing his own compromise amendment, told Politico that he'd oppose a "skinny repeal," calling it "a political punt." The proposal would likely need its own score from the Congressional Budget Office, potentially delaying consideration. And even if it did pass the Senate, the bill would set up weeks or even months more of thorny negotiations with the House at a time when many Republicans want to move on to other parts of their agenda.
A spokesman for McConnell did not immediately return a request for comment on Tuesday morning.