Lawmakers Grill Defense Officials on Equipment-Transfer Program
Members of a House committee expressed their concerns over a recent report revealing holes in how the agency turns over unused military gear to law enforcement.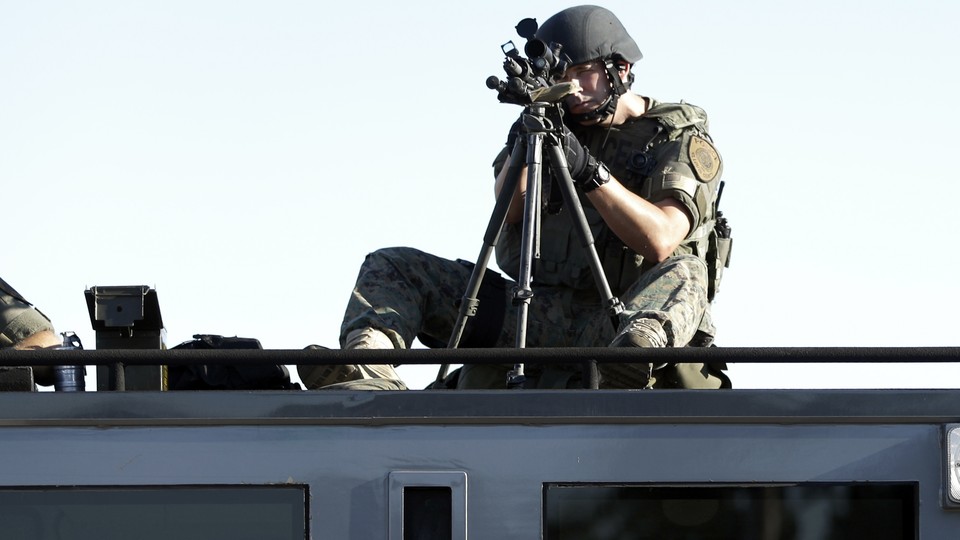 The Defense Logistics Agency, an agency within the Department of Defense that was recently found to have weaknesses in its equipment-transfer program, is suspending all transfers of excess military gear to federal law enforcement agencies until they comply with new registration measures, said Mike Cannon, the director of DLA Disposition Services, during a House Armed Services Committee hearing Thursday.
Cannon and Mike Scott, the deputy director of logistics operations at the DLA, testified before the panel to discuss the findings of a GAO report, published earlier this month, which revealed that the Law Enforcement Support Office, which is managed by the DLA, distributed "over 100 controlled items with an estimated value of $1.2 million" to a fictitious federal law enforcement agency created by the GAO during its review. Zina Merritt, a director in the Government Accountability Office's Defense Capabilities and Management team, and Wayne McElrath, GAO's director of investigation also testified.
"We view this just as seriously. Now that we know these deficiencies, we are all over it to make sure this doesn't happen again," Scott told lawmakers.
The GAO used forged identification, fictitious law enforcement credentials, and a phony website to apply for LESO membership as a federal agency involved in high-level counterterrorism and security work, according to the report. After gaining access to the online portal, their requests for military equipment were approved in less than one week.
"Without reviewing and revising the internal controls in policy or procedures for verifying and approving federal agency applications and enrollment in the LESO program, DLA and LESO management will lack reasonable assurance of the legitimacy of applicants before transferring valuable, and in some cases potentially lethal, controlled property," the report stated. DLA has since tightened their procedures, including visiting  federal agencies, and verifying state and local agencies through an FBI database, Scott said Thursday.
Still, lawmakers echoed GAO's concerns. "There's more red tape to open up a donut shop than there is to get this equipment," said Representative Carol Shea-Porter of New Hampshire.
Republican committee members were noticeably more defensive of the program and its merits in their questioning. Representative Austin Scott of Georgia concluded his remarks with a personal anecdote: "I happen to know a sheriff's deputy fairly well that stepped out of Bearcat and as he stepped out of it, a buckshot hit the window and had he been in a normal squad car he wouldn't be with us today." Armored vehicles are among the items that agencies can apply for through the program.
According to GAO's report, investigators pretending to be officers made three trips to three different warehouses with forged identification to pick up items, such as night-vision goggles, infrared pointer weapons, simulated rifles, and simulated pipe bombs. At two out of the three warehouse sites, on-site personnel did not ask for identification from the person who came to pick up the weapons. The report goes on to add that for one type of weapon—infrared illuminators—DLA provided three more items than were requested.
During the hearing, Scott said, "The moment Mike Cannon and his agency finds out who those individuals are, the agency will be prepared to take disciplinary action and that can be anything from suspension without pay to removal from the position."
GAO recommended more stringent practices around properly identifying the agencies that apply to the program, securely transferring the weapons, and conducting a risk-assessment for preventing fraud.
Uproar in 2014 over local law enforcement using military weapons against protesters in Ferguson, Missouri prompted then-President Barack Obama to issue an executive order to create a formal weapons-request process with more stringent guidelines. LESO, which has distributed more than $6 billion in property since its founding, was tasked with the review process.
When asked by Representative Anthony Brown of Maryland if the LESO program takes into account "the actual or potential threat a community faces prior to delivering military style equipment," Scott pointed to the guidelines established by the Working Group that came out of Obama's 2015 executive order. The group considered input from both law enforcement and civil liberty leaders when making guidelines.
Over 8,600 law enforcement agencies are currently part of the LESO program. According to the report, agencies typically request extra weapons for "counterdrug, counterterrorism, and border-security activities," as well as "search and rescue, natural disaster response, and surveillance."