John McCain's 'No' Vote Sinks Republicans' 'Skinny Repeal' Plan
The Arizona veteran cast an unexpected vote against Mitch McConnell's last-ditch proposal to partially repeal the Affordable Care Act, leaving the GOP once again without a way forward.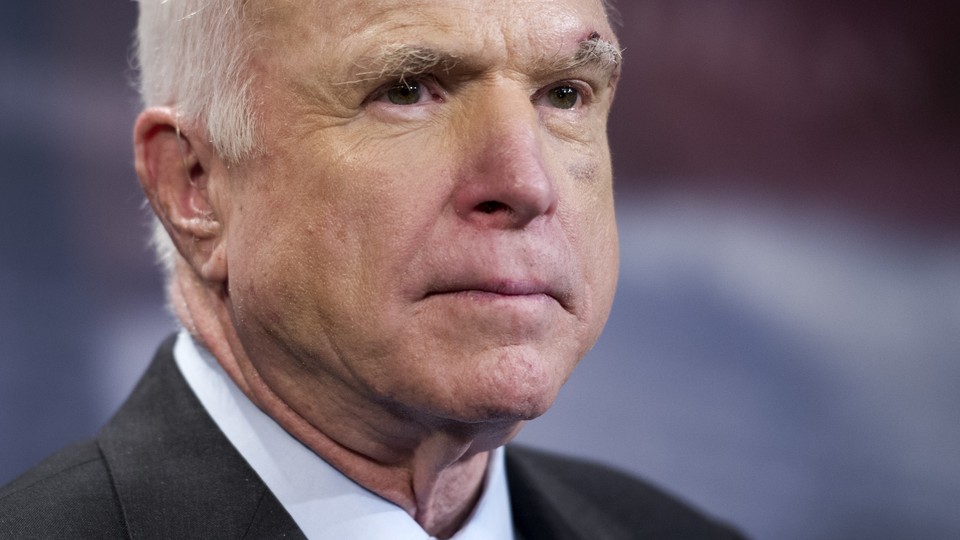 Senator John McCain brought down the latest Republican health-care plan early Friday morning.
In a moment of high drama on the Senate floor, the Arizona senator, stricken with brain cancer and railing against his party's secretive legislative maneuvering, provided the decisive vote against Majority Leader Mitch McConnell's proposal to partially repeal the Affordable Care Act. The amendment fell, 51-49, thwarting once again the GOP's longstanding efforts to deliver on a central campaign promise. Senators Susan Collins of Maine and Lisa Murkowski of Alaska also voted against the bill, continuing their opposition to the GOP's partisan repeal effort. But it was McCain who surprised the Senate, breaking with his party after earlier helping it on a key procedural vote.
Had it succeeded, the amendment would have cleared the way for passage of legislation that would set up negotiations with the House on a final bill to send to President Trump's desk. With its failure, Republicans are once again stuck searching for a plan that can unite the party's narrow majority in the Senate and staring at the possibility of having to work with Democrats to modify rather than roll back the health law.
Immediately after his amendment went down, a distraught McConnell scrapped further votes on the bill and said it was "time to move on" from the GOP's repeal effort. "This is clearly a disappointing moment," the majority leader said. "Yes, this is a disappointment. A disappointment indeed." McConnell offered no way forward for the party, instead turning to Democrats and suggesting it was time they offered their ideas for fixing the current law. President Trump, meanwhile, suggested on Twitter he would "let Obamacare implode" before seeking a bipartisan deal. "3 Republicans and 48 Democrats let the American people down," he wrote. "As I said from the beginning, let ObamaCare implode, then deal. Watch!"
Democrats tried to refrain from gloating over what appeared—for the moment—to be a major victory in the fight to save the Affordable Care Act. "We are not celebrating. We are relieved," Senate Minority Leader Charles Schumer said.
The McConnell bill, titled the Health Care Freedom Act, would have scrapped Obamacare's mandates requiring most people to buy insurance and most businesses to offer it to their employees. It would have also defunded Planned Parenthood for a year, delayed for three years an excise tax on medical devices, and increase allowable contributions to health-savings accounts. The proposal would have made it easier for states to obtain waivers from Obamacare requirements, although it would have maintained protections for people with preexisting conditions.
Dubbed the "skinny repeal," the McConnell plan was a far cry from fulfilling the Republican Party's longstanding promise to fully repeal and replace former President Barack Obama's signature legislative achievement. In May, the House narrowly passed a replacement plan that became so unpopular Republican senators rejected it out of hand.
But the task of writing their own proposal proved no easier for the party's slim majority in the upper chamber. McConnell's first proposal, drafted in secret and broadly similar to the House bill, faced defections from both moderates and conservatives. It fell seven votes shy of a majority earlier in the week. Republicans similarly voted down an amendment favored by conservatives that would have repealed more of Obamacare without a replacement.
What McConnell came up with instead was, by the party's own admission, the "lowest common denominator" of what 50 Republican senators could agree to. And in an inversion of ordinary legislative motivations, it only stood a chance of passage once a group of senators secured assurances from House Speaker Paul Ryan that the skinny repeal would not immediately become law.
Late Thursday afternoon, McCain and Senators Lindsey Graham of South Carolina and Ron Johnson of Wisconsin held a surreal press conference to denounce a policy that, just hours later, two of them would vote to advance. They said they would only vote for the skinny repeal as a means to an end—a vehicle to set up a House-Senate conference committee that would allow Republicans another chance to work out a broader replacement bill. "The skinny bill as policy is a disaster. The skinny bill as a replacement for Obamacare is a fraud," Graham declared.
"I need assurances from the speaker of the House, and his team, that if I vote for the skinny bill, it will not become the final product," he continued. "If I don't get those assurances, I am a no, because I am not going to vote for a pig in a poke, and I'm not going to tell people back in South Carolina that this product actually replaces Obamacare, because it does not. It is a fraud."
Before the senators spoke, the House had already alerted its members to be prepared to vote on the Senate's bill in the coming days and set in motion a process for expediting its consideration on the floor. But Ryan reluctantly relented, issuing a public statement and then assuring the senators in a phone call that the House would not immediately take up the bill but would move to establish a conference committee.
"Senators have made clear that this is an effort to keep the process alive, not to make law," he said. "If moving forward requires a conference committee, that is something the House is willing to do."
Democrats pleaded with their Republican colleagues to reject Ryan's offer. "Don't delude yourself that this bill won't become law. There is a very good chance that it will," Senator Chris Murphy of Connecticut warned on the Senate floor. He excoriated Republicans for unveiling their bill just hours before the vote, and he likened the underlying policy to "arson." "This process is an embarrassment," Murphy said. "This is nuclear-grade bonkers what is happening here tonight."
"This bill," the Democrat continued, "is lighting the American health-care system on fire, with intentionality."
Ryan's assurance was enough to win over Graham and Johnson. Days removed from a speech decrying his own party's handling of health care, McCain was not so quick to commit and said he would first need to consult with Arizona's governor, Doug Ducey.
In floor speeches, Democrats directly appealed for his vote, knowing that with Collins and Murkowski against the bill, McCain's opposition would be enough to sink the bill. Senator Mazie Hirono of Hawaii, who, like McCain, is undergoing treatment for cancer, implored him to "vote your conscience, vote with us" to defeat McConnell's bill.
McCain answered the Democrats' pleas. A vote planned for shortly after midnight on Friday was delayed by more than an hour after top Republicans—first McConnell and Vice President Mike Pence—huddled with the Arizonan in an effort to change his mind. But McCain, trying to live up to his maverick image one more time, would not budge.
He voted against the amendment, preserving at least temporarily the top domestic legacy of the man who defeated him for the presidency. Applause broke out briefly in the Senate chamber, and the plan went down in defeat.
---
Related Video