Jeff Sessions Claimed He Never Met Foreign Officials on a Key Security Form
A page from the attorney general's documents, used to apply for a security clearance, were released in response to a Freedom of Information Act lawsuit.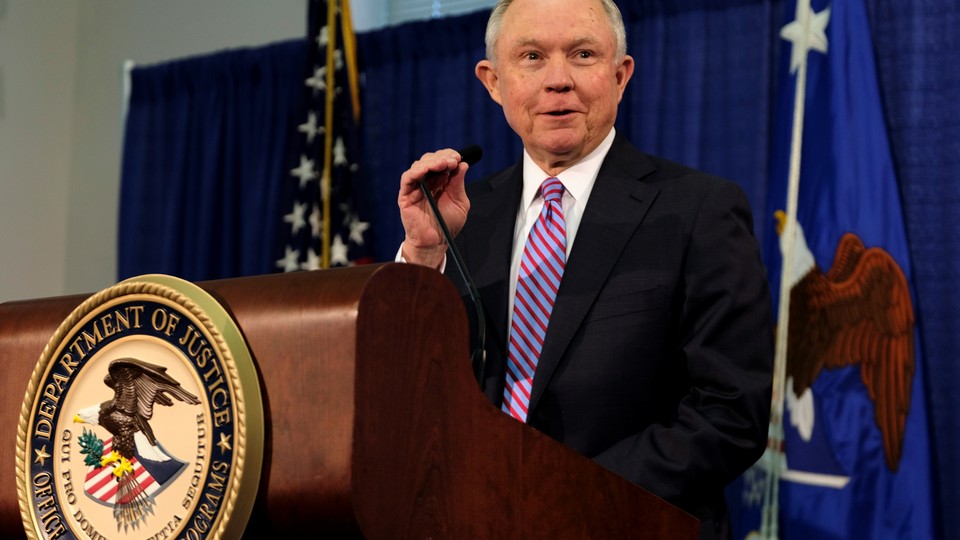 In response to a Freedom of Information Act lawsuit, the Justice Department released Attorney General Jeff Sessions's SF-86 security-clearance form Thursday that shows he denied having any contact with foreign governments or their representatives "in the past seven (7) years." Sessions's spokesman told CNN in May that certain meetings weren't supposed to be listed.
"In filling out the SF-86 form, the attorney general's staff consulted with those familiar with the process, as well as the FBI investigator handling the background check, and was instructed not to list meetings with foreign dignitaries and their staff connected with his Senate activities," Department of Justice spokesman Ian Prior told the network.
As with other Trump administration officials, Sessions's foreign contacts have drawn scrutiny in recent months. News broke in March that he had met with Russian Ambassador Sergey Kislyak despite telling the Senate during his January confirmation hearing that he had "no contact with the Russians."
Although Sessions's omission was already known, Thursday's release is the first public display of the form itself, as the Justice Department only disclosed the form after a court ordered it to do so. The heavily redacted security-clearance document, obtained by American Oversight, a group with Democratic Party links, shows Sessions stating that neither he nor his family had "had any contact with a foreign government, its establishment," or "its representatives" over a period of years.
Sessions, who claimed that he only met with Kislyak as a member of the Senate Armed Services Committee and not as a Trump surrogate, recused himself from the federal investigation into possible collusion between the Trump campaign and the Russian government shortly after his contacts with Kislyak were revealed in the press.
Nevertheless, Sessions went on to participate in the firing of former FBI Director James Comey, who testified under oath that he was pressured by President Trump to end the investigation into former National Security Adviser Michael Flynn's contacts with Russia. Flynn was fired after reports revealed that he had misled members of the administration about the extent of his contacts with Russian officials and the nature of those discussions.
Sessions and Flynn are not the only Trump administration officials to have initially denied contact with Russian representatives only to correct the record later. Jared Kushner, the president's adviser and son-in-law, has come under scrutiny over previously undisclosed communications  with Russian officials. And on Tuesday, Donald Trump Jr. publicly acknowledged that he knowingly met with a Russian attorney in 2016, who he believed had dirt on Trump's Democratic rival Hillary Clinton. Both deliberately lying on a security-clearance form and false testimony to Congress can be prosecuted as federal crimes.