House Democrat Escalates Call for Impeachment
Representative Brad Sherman is intent on keeping public attention on a scenario that remains highly unlikely and threatens to distract from the priorities of party leadership.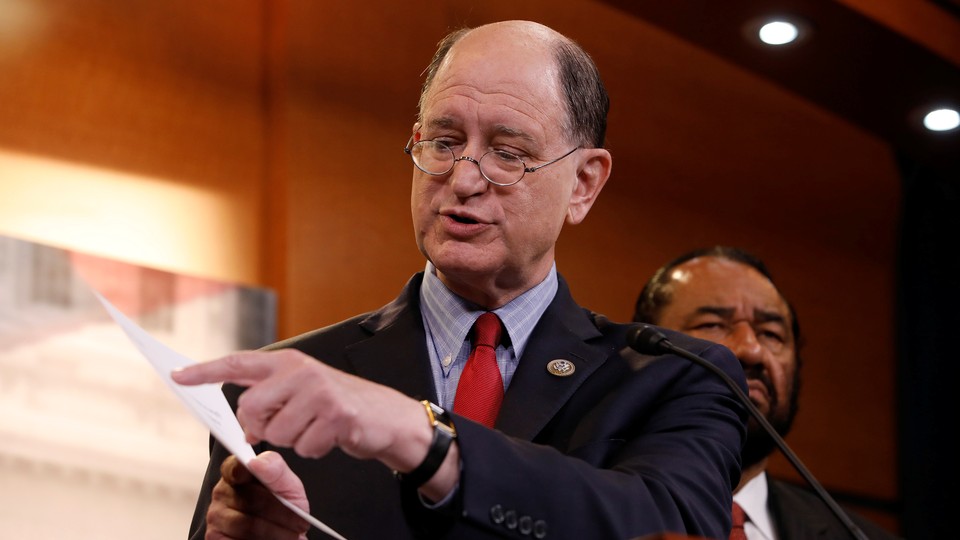 Despite efforts by Democratic leaders in Congress to quell talk of impeachment within party ranks, Democratic Representative Brad Sherman has formally introduced an article of impeachment against President Trump. The California Democrat's political gambit is virtually guaranteed to go nowhere, but it signals that talk of impeachment isn't going away, even if most Democrats in Congress view the issue as a distraction that threatens to take attention away from their own efforts to advance, and sell the American public on, an appealing policy agenda.
The political act of removing a president from office by impeachment requires  majority support in the House of Representatives.  Two-thirds approval in the Senate would then be needed to actually remove a president from office. That's not expected to happen as long as Republicans control both houses of Congress.
Long-odds haven't stopped a relatively small group of Democrats from regularly raising the subject, however. In May, Democratic Representative Al Green of Texas called for Trump's impeachment in a House floor speech, alleging a charge of "obstruction of justice" not long after the president fired James Comey as the FBI director. Green has signed on as a co-sponsor of the newly-introduced article of impeachment, according to a statement from Sherman's office.
That's despite the fact that Democratic leaders have publicly cautioned against rushing to judgement without sufficient evidence for any kind of allegations against the president.
"I don't subscribe to that … If you're talking about impeachment, you're talking about what are the facts … that you would make a case on … If you don't have that case, you're just participating in more hearsay," House Minority Leader Nancy Pelosi said in May. "We need a thorough investigation and we need to get all the facts, then we'll come to conclusions," Senate Minority Leader Chuck Schumer similarly argued in May.
The introduction of an article of impeachment makes it more likely, though, that the "i" word will continue to crop up, including on the road to the 2018 midterm elections, where Democrats are hoping they may be able to take back the House.
The cloud of scandal and controversy surrounding the president and his allies has intensified following the disclosure that Trump's  son, Donald Trump Jr., received emails offering "official documents and information that would incriminate Hillary and her dealings with Russia," as "part of Russia and its government's support for Mr. Trump," an offer to which Trump Jr. enthusiastically replied, "if it's what you say I love it." Trump Jr. released the emails himself after receiving inquires about them from the New York Times.
Calls for impeachment also take place against the backdrop of ongoing federal and congressional investigations into potential links between Trump associates and Russia as part of a wider probe into Russian interference in the 2016 presidential election. An assessment from U.S. intelligence agencies published in January concluded that the Russian government had engaged in a hacking and disinformation campaign designed to boost Trump's candidacy.
In a press release announcing the introduction of the article of impeachment, Representative Sherman cites the Trump Jr. emails. "Recent disclosures by Donald Trump Jr. indicate that Trump's campaign was eager to receive assistance from Russia," the statement reads. "It now seems likely that the President had something to hide when he tried to curtail the investigation of National Security Advisor Michael Flynn and the wider Russia probe. I believe his conversations with, and subsequent firing of, FBI director James Comey constitute Obstruction of Justice."
Ashley Etienne, a spokeswoman for Pelosi, did not explicitly address the call for impeachment when asked for comment. A spokesperson for Schumer did not immediately return a request for comment.
"Leader Pelosi has repeatedly called for an outside, independent commission to get to the bottom of Trump's connection to Russia's interference in our election and to examine ways to protect the integrity of our democracy from foreign meddling in the future," Etienne said."Recent revelations, coupled with [the] President's unprecedented campaign of dishonesty and secrecy, give greater urgency to the need for House Republicans [to] bring a vote to the floor immediately to establish an outside commission."