How to Know If the Republican Health-Care Bill Is Dead
When at least three GOP senators demand bipartisan talks instead of a one-party approach, Mitch McConnell's proposal will collapse for good. Until then, it still has a chance.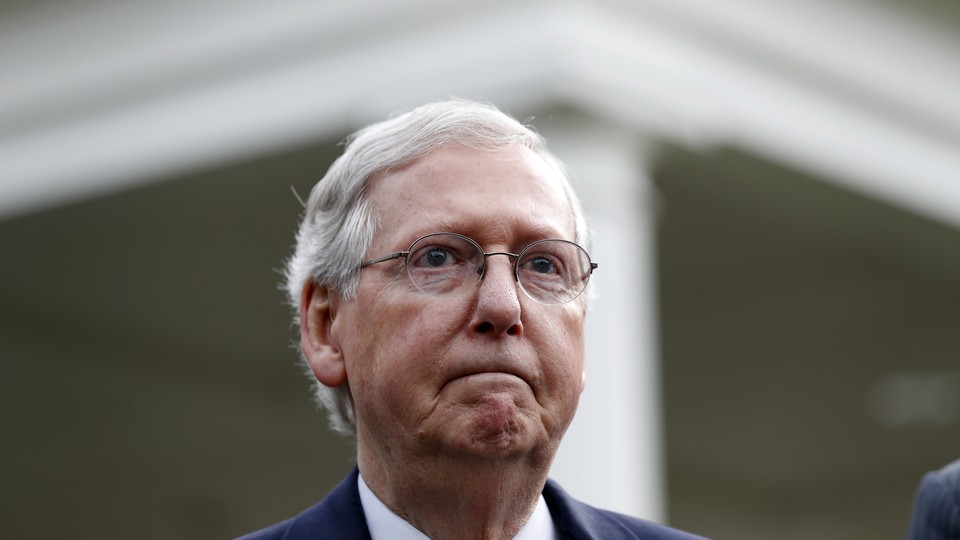 Updated on July 11 at 2:54 p.m. ET
Senate Republican leaders have a new plan to pass the health-care bill their members scuttled late last month: They'll unveil a revised bill this Thursday, receive an updated analysis from the Congressional Budget Office on Monday, and then rush the proposal across the floor before its critics have a chance to defeat it.
"We're going to do health care next week," Majority Leader Mitch McConnell declared on Tuesday after briefing senators on proposed changes to his original proposal.
This new timeline is the same as the old one. It's a rinse-and-repeat version of McConnell's original hurry-up scheme, which collapsed rather easily amid an onslaught of jabs and hooks from more than one-fifth of the Republican senators whose support was necessary to pass the bill. That failure set back the entire Senate agenda, and in a rare interruption of a sancrosanct congressional tradition, McConnell announced that he was delaying the chamber's August recess by two weeks to finish up health care—win or lose—and address other issues like a national defense bill, the debt ceiling, and stalled presidential nominations.
On health care, having a plan is not the same as having the votes, and McConnell remains far short of his magic number, which is 50 plus a tie-breaking nod from Vice President Mike Pence. A conservative bloc on the right is demanding that the Senate bill allow insurers the flexibility to sell plans that don't comply with the Affordable Care Act, while more moderate Republicans are insisting on more funding for insurance subsidies, the opioid epidemic, rural hospitals, and the restoration of some of the proposal's deep cuts to Medicaid. Senators were also dismayed by the CBO's projection that 22 million more people could be uninsured as a result of the plan. McConnell can afford to lose just two votes, and so far he's down at least 10.
All of this puts the core GOP promise to repeal and replace former President Barack Obama's signature law at its most precarious point since March, when House Republican leaders briefly abandoned the effort amid dissension in their ranks. Opposition to McConnell's not-quite-repeal bill from the two poles of the Senate Republican conference—Susan Collins of Maine in the center, Rand Paul of Kentucky on the right—appears to be hardening. President Trump is venting his frustration on Twitter, and McConnell is raising the possibility of having to work with Democrats to fix Obamacare if Republicans fail to rip it apart on their own. Senator John McCain of Arizona, who has seen his share of legislative drama, predicted the bill was "probably going to be dead."
Yet just as declarations of the House bill's demise proved premature in March, so too might the morbid prognoses about the Senate version seem silly in retrospect. "You will hear that it is dead. Then you will hear it is back on track. Then you will hear it is on life support," House Speaker Paul Ryan said in a speech last month. He was talking about the GOP's push for tax reform, but he could have been referring to any major legislative lift. It was true of the ACA seven years ago, and it might be true of health care now.
For all of the GOP critics of McConnell's initial proposal, none have ruled out supporting a revised version—not even Collins or Paul. Complaining about a plan is another way of asserting leverage to win concessions, and senators like Rob Portman of Ohio and Shelley Moore Capito of West Virginia, for example, have already secured the promise of additional money to combat opioid addiction in their states. More side deals are likely on their way.
The keys to watch over the next few days are how the hold-out senators react both to the revised proposal and a new CBO score that will follow. Will Senator Ted Cruz win support for his "freedom option" amendment to allow insurers to offer bare-bones plans as long as they also sell more robust policies that comply with Obamacare regulations, most crucially the requirement that people with preexisting conditions can't be forced to pay more? Or will it drive more senators away?
The sign that the bill is dead or alive will come when critics like Collins, Murkowski, Capito, or Dean Heller of Nevada either continue pushing for more changes to its current structure or pull off McConnell's Republican-only approach altogether. As the proposal has languished, several GOP senators have pushed for bipartisan talks and criticized party leaders for excluding Democrats from the beginning. Collins has gone the furthest on that front and said "a complete overhaul" of McConnell's proposal is needed to win her support.
But even she has resisted the blanket statement that could kill the Senate GOP bill once and for all—not merely the suggestion of bipartisanship, but a demand for it. If Collins and at least two other Republicans declared they would not support a one-party approach to health-care and made at least some Democratic backing the requirement for their vote, it would be the death knell for McConnell's bill and the path Republicans have pursued for seven years. Unless and until that happens, the GOP-only health-care bill will have at least a breath left.