How Long Can This Go On?
One of Trump's top aides viciously attacks the others, even as the president lambastes his own attorney general. Is there any limit on this administration's dysfunction?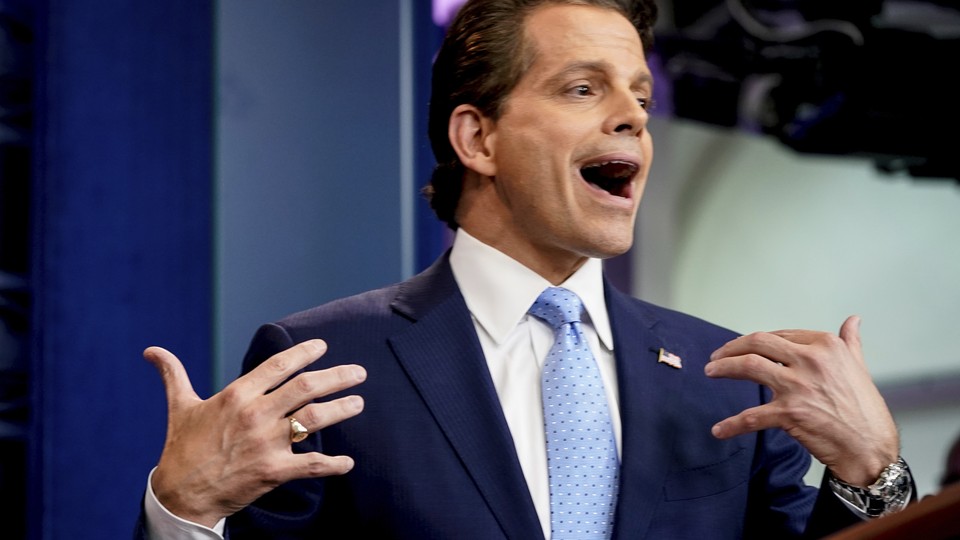 If Anthony Scaramucci is conducting an experiment in radical transparency at the White House, then things are going well. Otherwise, his tenure as communications director might not be off to a great start.
Thursday began with Scaramucci giving a preposterous interview to CNN—cutting off a segment with New Yorker journalist Ryan Lizza—in which he accused White House Chief of Staff Reince Priebus of leaking to the press, suggested he is trying to "save America from this president," and likened his own relationship with Priebus to that of the biblical figure Cain and to Abel, the brother he slew.
The day closed with Lizza writing his own, devastating account of a deranged conversation he'd had with Scaramucci Wednesday night, after Lizza reported on a dinner Scaramucci had with Fox News personalities past and present. Politico had also published Scaramucci's financial disclosure, obtained by a routine public-records request, but which Scaramucci was for some reason convinced had been leaked. (One fascinating lesson of Scaramucci's appointment is how fast the debilitating paranoia of this White House can infect a new hire.)
Scaramucci demanded Lizza reveal his source, which he wouldn't. "OK, I'm going to fire every one of them, and then you haven't protected anybody, so the entire place will be fired over the next two weeks," the spokesman said.
"I have three to four people I'll fire tomorrow. I'll get to the person who leaked that to you. Reince Priebus—if you want to leak something—he'll be asked to resign very shortly," Scaramucci said, adding, "Reince is a fucking paranoid schizophrenic, a paranoiac."
He also had choice words for Steve Bannon, the chief White House strategist, who like Priebus had opposed his hiring. "I'm not Steve Bannon, I'm not trying to suck my own cock," he said. "I'm not trying to build my own brand off the fucking strength of the president. I'm here to serve the country." (Anyone even sparingly familiar with Scaramucci knows that the idea that he is not out to promote himself is risible.)
These quotes make for incredible copy—Lizza's story should be read repeatedly for full effect—but they are also fantastically revealing about the inner workings of the Trump administration. It is not unusual for the West Wing to be full of feuding factions. It is also not unusual for officials to vent in blunt and vulgar terms to reporters. And fury about leaks is endemic to all presidential administrations at some point or another. It is, however, unusual for any official—much less the chief messaging guru for the White House, in his first week on the job—to speak on the record in this way. (Typically, a source has to request that an interview be off the record before speaking, but Lizza offered no indication that Scaramucci had done so, either before unloading or later in the conversation.)
No one can be surprised by the antipathy between top Trump advisers—for months, the press has been full of reports about skirmishes between various, rotating cliques—but such fights have not been not discussed this openly. This was true even in the early days of the Clinton White House, the previous gold standard for early-term dysfunction. Though staffers were frequently stabbing each other in the back, including undercutting the then-chief of staff (sound familiar?), they were not calling up The New Yorker to speak about it on the record. (They were also living in a pre-internet era, though that would change by the second term, when Drudge Report first revealed the Monica Lewinsky scandal.)
But Scaramucci put it best on CNN Thursday morning: "The fish stinks from the head down." President Trump has set the tone for making these fights public with his own bizarre, cruel treatment of Attorney General Jeff Sessions. In two newspaper interviews and in a series of tweets, Trump has lambasted Sessions—one of his earliest and most loyal supporters—as weak and ineffective, and has complained about his decision to recuse himself from investigations of Trump's relations with Russia, calling it "unfair" to the president. Not since the Andrew Johnson administration has a president so viciously attacked one of his own Cabinet members.
Personality conflicts, of course, are not uncommon. Rival staffers try to elbow each other out of the way of advancement, and presidents lose confidence in aides. But in a functional administration, and even in every dysfunctional administration before this one, that would be handled simply enough: Either the president would fire someone, or someone would resign.
But Trump has refused to fire Sessions, preferring to harangue him publicly, and Sessions has refused to quit. Priebus, who has been the subject of rumors of impending demise more or less since he took the chief of staff job, has so far also refused to step down, even after Scaramucci's blitz on him. Embarrassingly for Priebus, Scaramucci (claims he) reports directly to Trump, sidestepping the traditional gatekeeper.
Trump's reluctance to fire anyone is one of the great mysteries of his presidency so far, but so too is the willingness of humiliated staffers to stick around. In the case of Priebus and Sessions, they might not see much upside beyond the velvet coffin of a TV-contributor gig. Sessions is 70, gave up a safe seat in the Senate to become attorney general, and is remaking the justice system along the lines he desires. Priebus is a mild-mannered longtime operative whose life's ambition seemed to be making the Republican Party work better. He appeared successful, until Trump came along. On the one hand, the GOP now controls the Supreme Court, both houses of Congress, and the presidency. On the other hand, it can't seem to get anything done and is saddled with, well, vulgar feuds involving Anthony Scaramucci, to say nothing of the looming special-counsel investigation of Trump.
So how long can this go on? The Trump presidency has seemed to be falling apart for at least two months now, and yet so much has happened since then: the appointment of the special counsel, the revelation of Donald Trump Jr.'s 2016 meeting with a Russian lawyer, the Scaramucci saga, and dozens more half-forgotten threads. One possibility is that Priebus or Sessions exit, leaving the president with no chief of staff, a vacant attorney general's office, or both. Another is that either of them sticks around, guaranteeing continued dysfunction. Neither seems likely to improve the situation, at least in the short-to-medium term.
During the presidential campaign, the idea of Trump's ceiling became a running joke. Smart prognosticators would insist that there was a "ceiling" on Trump's support, only to see him burst through the alleged barrier. But as the Trump presidency keeps sinking lower, past what seemed to once be rock bottom, it begins to suggest a peculiar possibility: Could it be that Trump has no floor, either?